Democratic presidential candidates Joe Lieberman and Wesley Clark have decided not to campaign in the initial caucus state of Iowa, gambling on winning the nomination with a later surge in the primary race.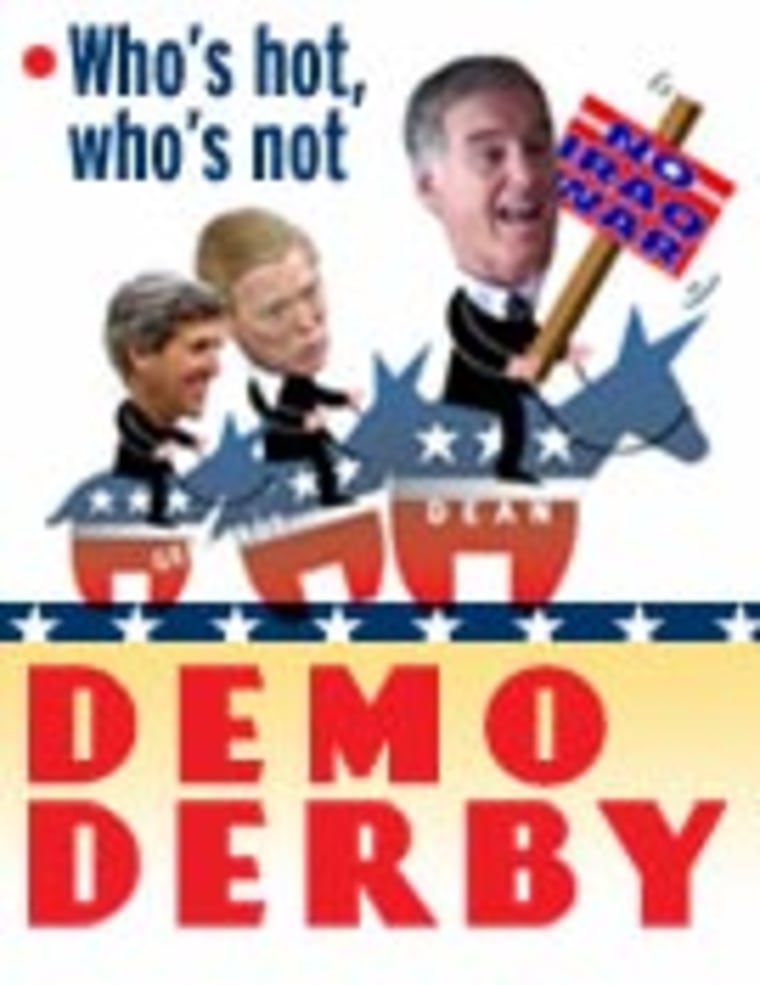 LIEBERMAN AND Clark have decided not to spend their money in a state they probably have no chance of winning. Their decisions allow them to shift money to New Hampshire and other states with later nominating contests.
Howard Dean and Dick Gephardt are fighting at the top of the polls in Iowa, with John Kerry also jostling for a top showing in the Jan. 19 caucuses.
Clark spokesman Matt Bennett said the retired Army general's month-old campaign cannot compete with Dean's highly organized Iowa field operation or Gephardt's 15-year history of building relationships in the state.
"We have made the decision that we don't have the time or the money to compete there," Bennett said.
Lieberman will open four new offices in New Hampshire that will be staffed in part by redeployed Iowa field operatives, aides said. He'll also add staff in South Carolina, Arizona and Oklahoma.
"Unlike years past, this time around there are nine early primary states, not just two," Lieberman campaign manager Craig Smith said in a statement. "After much consultation, we decided to focus our resources on where they will prove most effective. Without a doubt, we feel this is the winning strategy for Joe Lieberman to win the nomination."
All along, Lieberman's strategy has focused on states beyond New Hampshire, particularly Arizona, Delaware, Oklahoma and South Carolina. Those states hold their nominating contests Feb. 3. But with Dean, Kerry or Gephardt expected to win in the first two states, he won't be the only candidate pursuing that strategy.
Lieberman is a hawkish moderate who preaches moral values and supported the war against Iraq. He opposes the across-the-board tax increases proposed by some Democratic candidates, arguing in favor of tax hikes targeted on wealthier Americans. He is betting that his positions will have more appeal in more conservative western and southern states than among liberal caucus-goers in Iowa.
Bennett said Clark will try to do well in New Hampshire, but does not expect a win there with the lead built by Dean, a former governor of next-door Vermont, and Kerry, a senator from neighboring Massachusetts.
"Let's face it, we're running against essentially two favorite sons," Bennett said. "So we want to do well in New Hampshire, but we are not setting the bar too high. We want to do well and come out as the clear alternative to whoever is in the lead at that time."
Few have attempted to bypass Iowa since the caucuses came to prominence in 1976, when Jimmy Carter used the state as a springboard to the White House. Those who have skipped the state since have had little success.
Then-Sen. Al Gore opened a campaign in Iowa in 1987, but noisily withdrew, complaining that the caucuses were dominated by liberals and promising to make his stand in southern Super Tuesday voting. His campaign quickly fizzled.
Arizona Sen. John McCain skipped Iowa in the 2000 election cycle. He scored some success in states such as New Hampshire and Michigan, but his campaign faded and he lost the Republican nomination to President Bush. The only other bypass of Iowa came in 1992, when Iowa Sen. Tom Harkin ran for the nomination and other candidates, including eventual nominee Bill Clinton, opted not to challenge him on his home turf.
© 2003 Associated Press. All rights reserved. This material may not be published, broadcast, rewritten or redistributed.