With both the reconstruction of Iraq and the United Nations' influence over events there hanging in the balance, the split that has paralyzed the Security Council for over a year closed Thursday just long enough for a unanimous vote granting a U.N. mandate to the U.S.-led postwar effort in Iraq. But whether the world's powers will follow with action the hopeful words contained in the resolution remains uncertain.
While diplomats are quick to discount the idea that the vote is a full reconciliation or that major powers will now contribute troops to the multilateral force created by the resolution, it did show that Iraq's chief occupiers, the United States and Britain, and the powers that opposed the war last winter, China, Russia, Germany and France, felt the stakes in Iraq are now too high to risk further diplomatic disunity.
"We're finally seeing some longer-term thinking on both sides," said an African diplomat whose nation is on the council. "Not everyone is happy, but that is what a compromise is."
SOMETHING FOR EVERYONE
The resolution gives the United Nations' full backing to a multinational force that would remain under U.S. command and "urges Member States to contribute assistance to this mandate, including military forces." Drafted by the United States, Britain, Spain and Cameroon, it also asked for financial donations, though U.S. officials have said they are not expecting major help in this area, either, until sovereignty passes from U.S. to Iraqi hands.
Still, the vote is an unvarnished victory for the Bush administration and its chief diplomat, Secretary of State Colin Powell, who argued against those inside the government who wanted to press on unilaterally. Sensing that a compromise was possible — and that even staunch European opponents of what the United States and Britain did last spring were becoming worried about a runaway postwar situation — Powell insisted on trying once more and on offering compromises. The resolution will require that the Iraq Governing Council produce a timetable for a new constitution and elections to be published by Dec. 15, faster than Washington had wanted but short of the French demand that a timetable be part of the resolution.
It also gives U.N. Secretary-General Kofi Annan a greater role in political reconstruction and calls for the interim occupation authority to report to Annan regularly on progress.
Officials say further compromise, perhaps on the issue of how post-war funding is administered, may also be in the wind.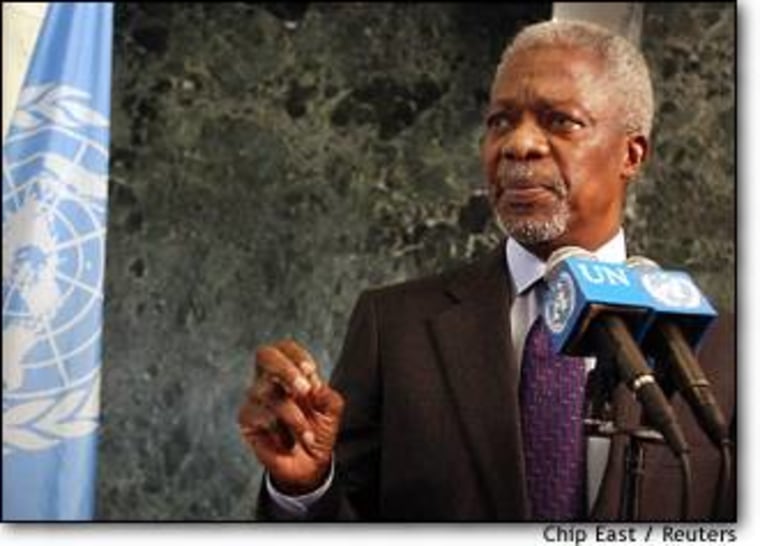 Most of all, however, the vote appears to be an acknowledgment by both sides that disunity among the five permanent Security Council members* was now threatening their own interests as much as the interests of their rivals.
"Above all, the unity of the international community must be preserved as much as possible," said Catherine Colonna, spokeswoman for French President Jacques Chirac.
NEW DYNAMIC
The United States had been reasonably certain of getting the resolution passed when the sun rose over New York on Thursday since none of the five permanent members had indicated a determination to use its veto power. But it was thought that France and possibly Russia and China, too, might abstain.
U.S., British and Spanish diplomats continued to push for unanimity, however, and Wednesday night made significant progress.
Perhaps the most interesting turn of events was the active role played by China in brokering the compromise. Normally reticent on issues that do not directly affect its own interests, China quickly adopted a middle stance between the calcified European and stubborn U.S. positions after the draft resolution was presented last week, urging both sides to compromise for the sake of presenting a united front on Iraq.
Diplomats say that intensive talks between the U.S. and Chinese delegations late into the night on Wednesday convinced China that a flawed U.N. mandate would be better than none at all. When China agreed to support the resolution, Russia quickly followed.
On Thursday, Russia's President Vladimir Putin organized a three-way conference call with Chirac and German Chancellor Gerhard Schroeder to argue to case for a united position. At the end, according to German and French officials, the three had agreed to vote in favor.
UNCERTAIN EFFECT ON THE GROUND
In spite of a diplomatic victory for Washington, it remains unclear how the vote will change the difficult situation in Iraq.
Even as they agreed to support the resolution, for instance, Germany and France quickly restated their reluctance to contribute troops. The two powers remain unhappy that that none of the weapons of mass destruction cited by the United States and Britain as the casus belli so far have materialized and are at pains to point out at every turn that they were skeptical of those claims from the beginning.
Nonetheless, Washington is very hopeful that the resolution will provide the "necessary fig leaf," as one U.S. official put it, for other powers to send troops.
"A lot of countries shied away from it because of the impression that they would be supporting the occupation," says the official, who asked to remain anonymous. "With this resolution, sending troops can be portrayed as helping to end the occupation. How they justify it to their own population is of little relevance to us."
For months now, the United States and Britain have been lobbying Turkey, India, Pakistan and South Korea to contribute troops. Turkey has now agreed to send up to 10,000, but U.S. officials say the need is far greater, for a variety of reasons:
Some U.S. troops have now been in Iraq for more than six months and may stay a year or longer without foreign relief, contributing to morale problems.
There is a feeling among military officials that U.S. forces, as symbols of the superpower, are drawing fire that a U.N. multinational force might not.
Military officials also have warned that without large new foreign deployments, they might otherwise have to mobilize further National Guard and Reserve forces.
The administration is eager to reduce the size of the U.S. force, and thus its exposure to casualties, as the crucial 2004 election year looms.
A substantial U.S. presence is planned for the foreseeable future — most of it slated for Baghdad and the "Sunni triangle" north of the capital, where attacks by a mix of Baathist loyalists, Iraqi nationalists and foreign fighters continue to run at a rate of more than 20 per day.
Just as important for the United States, the resolution asks member states to make "substantial" financial contributions to the reconstruction of Iraq. The administration has been under enormous pressure at home because of a recent request to Congress for $87 billion to pay for postwar costs — including some $20 billion to rebuild Iraq's government and infrastructure. Hopes pinned on attracting billions in foreign capital at an Iraq "donors' conference" in Madrid next Thursday and Friday were dimming. The effect of the United Nations' own appeal for aid is yet to be seen.
* The permanent members are Russia, China, the United States, Britain and France.
(Michael Moran is MSNBC.com's senior correspondent. The Associated Press contributed to this report.)