/ Source: Financial Times
Since it tends to be associated with the shaga- delic 1970s, it is hard to believe the lava lamp is celebrating its 40th birthday. But although it seems somewhat younger, the ultimate retro "light entertainment" gadget has lived life at the sharp end - first as a mass-market pop icon, then as a tired old has-been, and later as a modern classic (a designation bestowed on it by the British Design Council in July 2000).
Today there is a lava lamp on a permanent exhibit in the Smithsonian museum, Washington, D.C., as well as a growing trade in vintage lamps as demonstrated by America's online fanzine, "I'm looking for an Aztec with Sun Gold lava," writes one subscriber. "I have 64 lamps - including 31 Midnights and 16 Centurys," boasts another. Still, life for the cosmic kitsch object was not always thus.
Originally called the Astro Lamp and fathered by Edward Craven-Walker, a naturist and inventor from Dorset, the creation of colored globs of oozing wax suspended in water (mixed with a cocktail of "secret ingredients") and encased in an illuminated glass tube was launched in 1963 and became an instant hit; sales ran into the millions.
The seeds of cult status were sown early, with the product taking cameo roles in popular 1960s television programs such as The Prisoner, Dr. Who, and The Avengers. Sales peaked in 1973, when the cosmic glow of ambient light made the perfect accessory for orange shag pile and mind-expanding drugs.
U.S. rights were purchased in 1965, by the Chicago-based Lava Manufacturing Company (now Lava World), which launched an equally successful range of "motion lamps," including the classic Lava Lite. The lamp has never been out of production on either side of the Atlantic, but it faded into obscurity in the 1980s.
Then, in the 1990s, young entrepreneur Cressida Granger bought Craven-Walker's Poole-based company, Crestwell Ltd., renamed it (after the bubbling force in the 1960s sci-fi movie Barbarella) and rebranded the lava lamp to appeal to a new generation of young buyers. In the last years of the 20th century, more lamps were sold than ever before.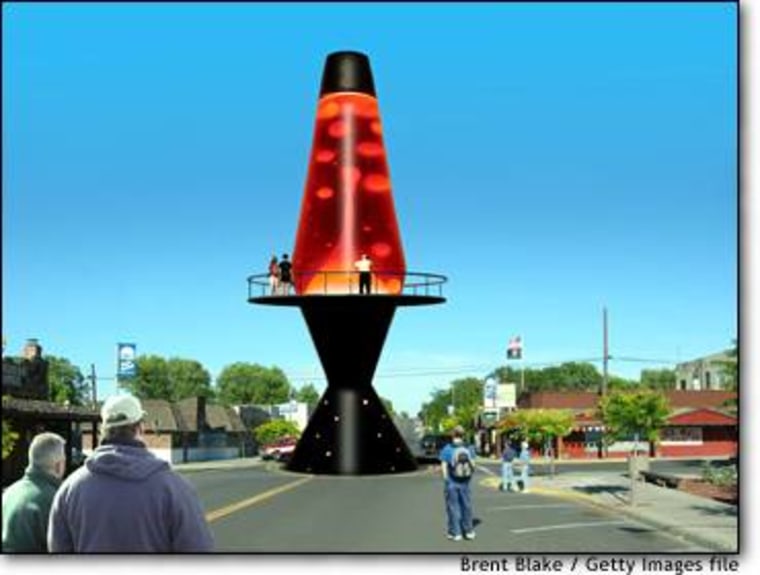 Though they are rarely worth much more than £100 ($170), collectors now seek out vintage lamps, such as early Crestwell models, the Astro Baby (1966), the Jet and the Galaxy (1972), as well as later-generation, landmark editions - the rocket-shaped Telstar (1993), or the more recent Fluidium, a 21st century take an the original Astro designed by Ross Lovegrove.
The early Consort and Continental models, and the Lava Coach Lantern are popular with American "lava junkies". America celebrated 35 years of "lava lite" in 2000, with a $3,500 limited edition "megalamp," consisting of a 5 foot glass sheath containing 10 gallons of goo. And in Britain, Mathmos has just released a 40th anniversary range of lava-free techno lamps including the sound-activated, mood-changing Tuba. Will this become a cult classic, too?
Perhaps, but history shows you need to be prepared to endure a decade of fashion oblivion before they become collectable.