1977 was a glorious time for airlines, the last glow before deregulation. That was when Dayna Vogt decided she wanted to be a flight attendant. Even now, with U.S. airlines on the down side of a ho-hum economy, she's upbeat about a line of work with small salaries and big-time stress: "I love my job," she says, "I love what I do. I'm really good at it." But that job has vanished, and her career in the air may be done.
After a quarter-century as a flight attendant with TWA — until it was bought by American two years ago — Vogt now finds herself with few options in an industry desperate to trim itself into financial shape. She was laid off last week, along with most flight attendants who once worked for TWA.
After that many years in the skies, a flight attendant is usually at the top of industry seniority lists, which determine not only pay but flight assignments and who's first to be laid off. And during her short time at American, Vogt finally reaped the advantages of all that experience, earning a top salary of around $50,000.
Before that, though, TWA paid her about $30,000 a year, far short of her household budget of $42,000, which supported her and her three children. (She was divorced in 1988 and says her ex-husband has paid almost no support costs.) To make up the difference, she picks up overtime shifts and occasional part-time clerical work. Though she could work high-profile international routes, she flies domestic so she can stay closer to home.
Vogt's troubles can in part be traced back to the glum economy of the past few years, which accelerated U.S. airlines' long-standing distress and relentless efforts to cut costs. But she was also caught in a bit of management legerdemain by AMR, Inc., American's parent company: As part of its deal to buy TWA, American's negotiators faced pressure from both carriers' unions on how it would merge TWA's employees with its own. In the end, TWA workers were mostly at the bottom of the seniority lists.
As such, the airline considers Vogt and her coworkers' hire dates to be 2001 — and as such, they are at the top of the list for layoffs, with all 1,800 former TWA flight attendants expected to be among 3,100 furloughed by American this summer.
"For American to be laying off people with 25, 30, 35 years of experience and keeping on a 22-year-old with three years of experience who doesn't have a family to feed or a mortgage to pay — and they're allowed to do it — that's not right," she says.
It's a sentiment echoed by many former TWA employees who have enlisted federal lawmakers from Missouri — TWA headquarters was in St. Louis — and filed lawsuits to change the terms of the labor deals. American maintains the agreements were already approved by its unions.
Between the constant rush to catch her next flight, grabbing a moment in the kitchen to cook for her kids and maybe a couple hours to exercise, things are hectic at Vogt's small home outside San Diego. Her daughter Chelsea, 18, graduates high school this year and her youngest son Kasey, 16, has one more year to go. Her older son Oryan, 20, is back at home after breaking his back last summer while attending California State University at Chico. Oryan is in community college, but has hopes of going to Cal State Santa Cruz next year. Chelsea is also planning for community college, but wants to go away to school. Vogt has no idea how she would pay tuition.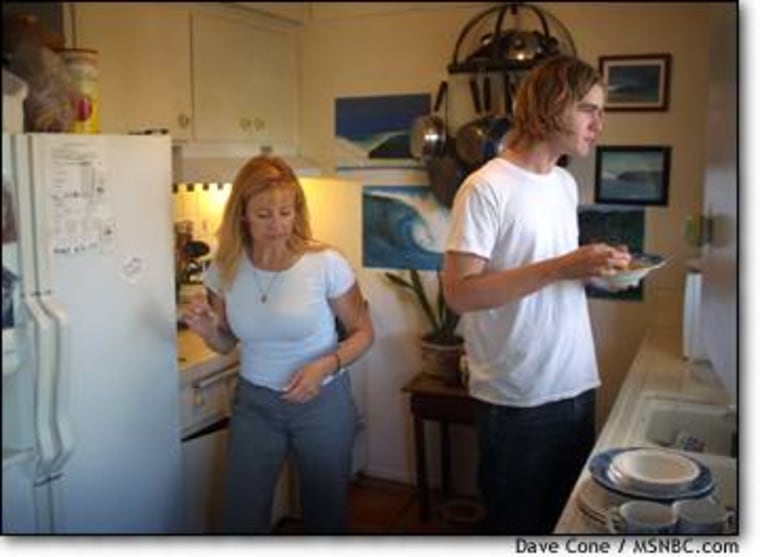 "I'm going to have three kids in college by next year," she says. "They're slow to get some of these messages, but necessity is that they're going to have to figure it out."
But the real scare for her is the prospect of losing her medical coverage. With everyone still at home, she estimates payments for a COBRA extension to her insurance would average $500 a month. Just as worrying are the outstanding liabilities on her home, purchased in 1999, which she has already refinanced once and taken a second mortgage on, largely to pay medical bills for her children.
"It's just so scary if you're out of work and somebody gets sick and you own something," she says. "And now I own a house. I can be wiped out in one illness."
And forget long-term plans. After bills are paid, Vogt says, she usually has just a few hundred dollars in her bank account. Due to a leave of absence from 1988 to 1995, pension cuts by former TWA owner Carl Icahn and a messy handoff of TWA's pension system during the buyout, Vogt estimates her retirement benefits would net about $40 a month.
At this point, her biggest challenge is to find a way to keep earning and keep her family insured. She hopes to find at least a part-time job in the same industry, perhaps on the ground this time. She's chasing a couple leads, including one with a low-fare carrier.
Otherwise, she's facing unemployment checks and a long search for a new career. Some 26 years after being drawn in by the promise of globe-hopping adventure, Dayna Vogt's biggest concern is just holding on her home and providing the basics for her family. "It was a huge miracle to us to buy a house ... and I don't want to lose it," she says. "There's no protection for anybody like me."