Americans will give up a lot in a recession, but the county fair apparently is not high on the list of sacrifices they are willing to make.
Organizers of many fairs and festivals around the country say they're doing booming business this summer as families pass up expensive out-of-town trips in favor of cheaper ways to have fun.
With hundreds more state, county and arts fairs to come in August and September, it's impossible to draw final conclusions about whether the fair business will finish up or down for the year, according to the International Association of Fairs and Expositions. But organizers of some fairs that have already come and gone said they did just fine despite the tough economic times.
Evidence of Americans' love affair with the fair has been on display at the Elkhart County 4-H Fair, which opened Friday and runs through Saturday.
Fairgoers have been lining up outside Nedderman's Sirloin Tip Steak stand, waiting for the concession's celebrated beef chunks, mashed potatoes and sautéed mushrooms. A bargain, with a drink, at $11.
"Who cares about the economy? We got steak and taters!" bellowed one man as he joined the end of the line.
This hard-hit community, which has one of the highest unemployment rates in the U.S. at 16.8 percent in June, is deeply loyal to this annual event, billed as the second-largest county fair in the nation. Even though budgets are tight and many fairgoers unemployed, few were willing to pass up what may be their only splurge of the summer.
"We may pay our utilities a little later," said Howard Mishler, laid off by Monaco Coach last August but taking in the sights with granddaughters Faith and Hope, "but we still bring the kids to the fair."
Vicki and Bart McGlinsey said they have lived very frugally since she was laid off in January from a printing company that served the RV industry. They have cut every nonessential they can think of, but not the fair.
"Believe it or not, this is the biggest thing we've done all year," said Vicki McGlinsey. "We never go anywhere."
Reports of similar devotion have been pouring in from many parts of the country, particularly from fairs that have reached out to people who are hurting in the tough economy.
San Diego fair draws record crowd
At the 22-day San Diego County Fair in California, organizers sold half-price "season tickets," distributed discounted food coupon booklets and offered free admission to the unemployed for one day. By the time the fair ended this month, organizers reported record attendance of nearly 1.3 million.
"I think a lot of people (who) perhaps aren't going to be able to take long vacations are coming to the fair," said Catherine McKnight of Reno's Fish and Chips, a vendor at the fair. 
Yvonne Biely, events director for the Santa Barbara County Fair in California, also reported big crowds at the festival, which opened last week in Santa Maria. She said the attendance was further evidence that more families were taking what travel experts have labeled the "staycation" — staying close to home rather than hop in the car for a long trip out of town.
"It is an affordable venue," Biely said. "They can come here — they don't have to travel a long distance and spend a lot of money on gas."
That's what attracted Belinda Shifflett of Glasgow, Va., to the Salem Fair in Salem, Va. On opening day, July 2, discounted wristbands let fairgoers enjoy all the rides they could ride for a flat $10.
"For the money, you can't beat it," Shifflett said. "You just can't beat it for the money."
The Salem Fair, which closed July 12, recorded a 25 percent increase in ticket and food sales over last year, building on the third-biggest opening in its 22-year history, said Carey Harveycutter, director of the Salem Civic Center, which hosted the event.
A successful fair attracts big revenue
That's why organizers of fairs and festivals have tried to hold the line on budget cuts even as the recession has cut into their funding. Summer fairs can mean big revenue for municipalities that are struggling during the recession.
More than 77,000 people who turned out for the annual Common Ground festival, which ended July 12 in hard-hit Lansing, Mich. That was down about 5 percent from last year's attendance, but fairgoers still generated a $5 million economic impact for the city, organizers said.
"People came, they had a good time, they spent some money," said Rich Kelley, a vendor at the festival. "I'll tell you what — there's no recession in Lansing this week."
Meltdowns on the midway
But other fairs haven't been able survive long enough to welcome the crowds of summer, and some of those that have are cutting cut back:
In Newport, Ky., the annual Arts Festival was merged with the annual Jazz Festival to save money. Then, earlier this month, the city canceled the combined festival, which was supposed to open this Friday. The city said it didn't draw enough advance ticket sales and commitments from artists to break even.

The Cayuga County Fair in Weedsport, N.Y., had to rely on last-minute sponsors to step in and keep the event alive this month after fundraising fell sharply. Even then, organizers cut some features and scaled back the musical acts. "Funding has been very, very tough," said John Lester, the fair's director.

For the first time in 30 years, there will be no Navy warship in Rockland Harbor for the Maine Lobster Festival, which opens July 29. The Navy said it couldn't send one for reasons that included budget restrictions.

In Hartford, Conn., organizers of the Riverfront Recapture festival, which opens in September, had to cancel an appearance by the famous dance company Pilobolus because they couldn't raise enough money to book the act. "We're very disappointed, because the Pilobolus performance has become one of the most eagerly anticipated events on the Riverfront each year," said Joe Marfuggi, the festival's president.

And when the Great New York State Fair opens Aug. 27, there will be only seven musical acts. There were 11 last year, but to save money, the state slashed its funding for entertainment at the fair by $1 million.
That's one reason that Elkhart County fair organizers express pride that the locals are still turning out – horrid economy or no.
While they would not provide early attendance numbers, anecdotal reports suggested the gate was within hailing distance of past years, when the nine-day fair has attracted some 250,000 to 300,000 annually.
That's a good sign for a fair that has raised about $1.5 million annually in recent years. Elkhart County residents typically spend $25 to $50 apiece, though 10 percent spent more than $250, according to organizers.
Signs of recession among the festivities
But that's not to say that the recession is absent from the sprawling fairgrounds. It's visible in the strained budget of 4-H exhibitors, in families cutting back on spending for games and concert tickets and in the last-minute availability of commercial space.
Blake Huston, manager of Mid America Shows, which provides rides and concessions here and at about 200 events across the country each year, said his company has seen a 20 percent decline in the number of fairgoers playing booth games from last year, while rides and food concessions are up a bit.
His theory: Paying to play a game does not assure that you will win a teddy bear, but when you pay for a ride you're sure to get what you paid for.
Another early indicator that fairgoers are being more cautious with their money is that fewer people are buying tickets on the "floor" of the major concerts, said Robin Haag, executive director of the fair.
"It used to be this major decision: Did you want the convenience of a reserved track seat, because then you can go out and enjoy the fair until 10 minutes before the show, or were you willing to sit in the grandstand for three hours to have a free seat?" she said.
But while the free seats in the stadium bleachers were packed this year for a concert by Three Dog Night, the crowd in the $25 seats down in front of the stage was sparse.
"People are giving up the convenience factor for economic reasons," said Haag.
Livestock shows, auctions walloped
The heart and soul of the fair — livestock raising and showing by kids in 4-H clubs — also has taken a hit, in part because Elkhart County cut its contribution to help balance its strained budget.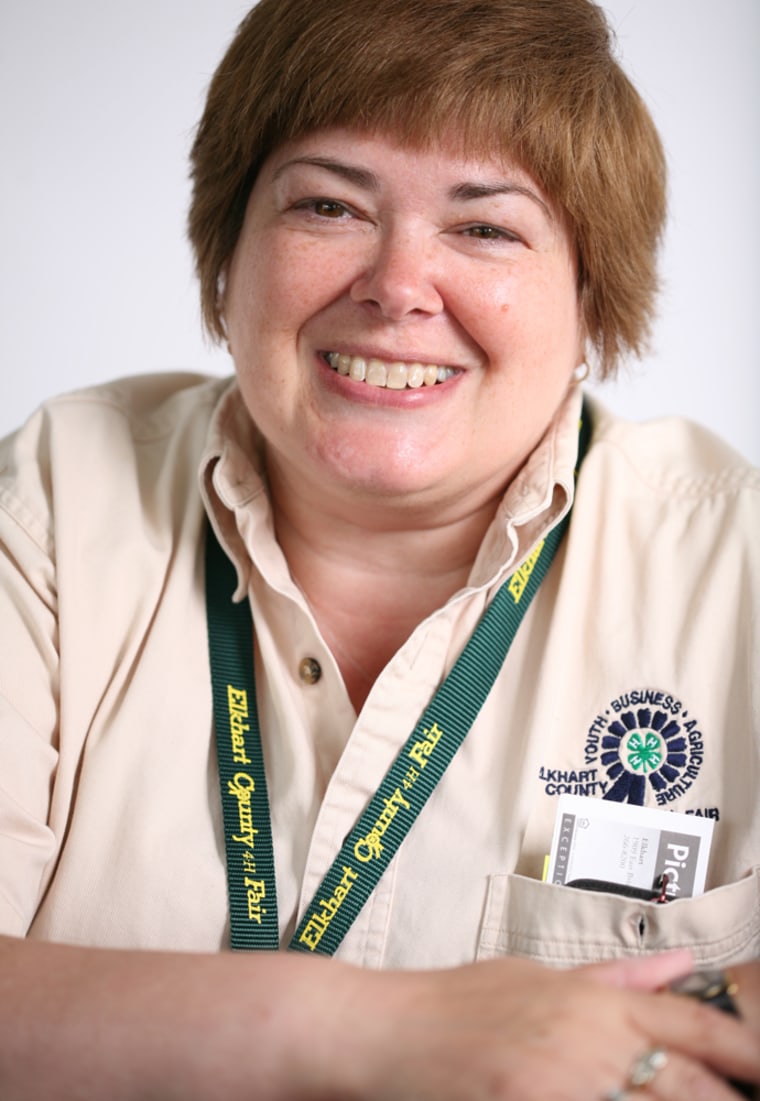 The county's 4-H clubs received $20,000 from the county this year — $12,000 less than in 2008. Next year, because of ongoing budget cutting, the clubs have been told to expect nothing.
"We've cut trips, supplies and cut recognition of volunteers,"  said 4-H organizer Laurie Sula. "This program runs on volunteers."
In their scramble to fill the hole in the budget, 4-H held a countywide geranium sale earlier this year, raising several thousand dollars. Still, Sula said she fears the program will suffer next year.
"If it gets bad enough, we're going to have to start charging for enrollment," she said. "And this is not the time to charge families for extra money, because everyone is strapped."
Some participants already appear to have dropped out.
Gary Kauffman, a member of the Elkhart County Beef Club Advisory Board, said the high price of feed has discouraged many participants from entering the beef and swine competitions this year.
"We probably have 20 less steers this year due to the economy being down," said Kauffman, who has been coming to this fair since he was 10 and whose kids are involved in the livestock competitions and sales.
And some 4-H members who have stayed the course are feeling pinched between high feed prices and depressed prices in the auction arena.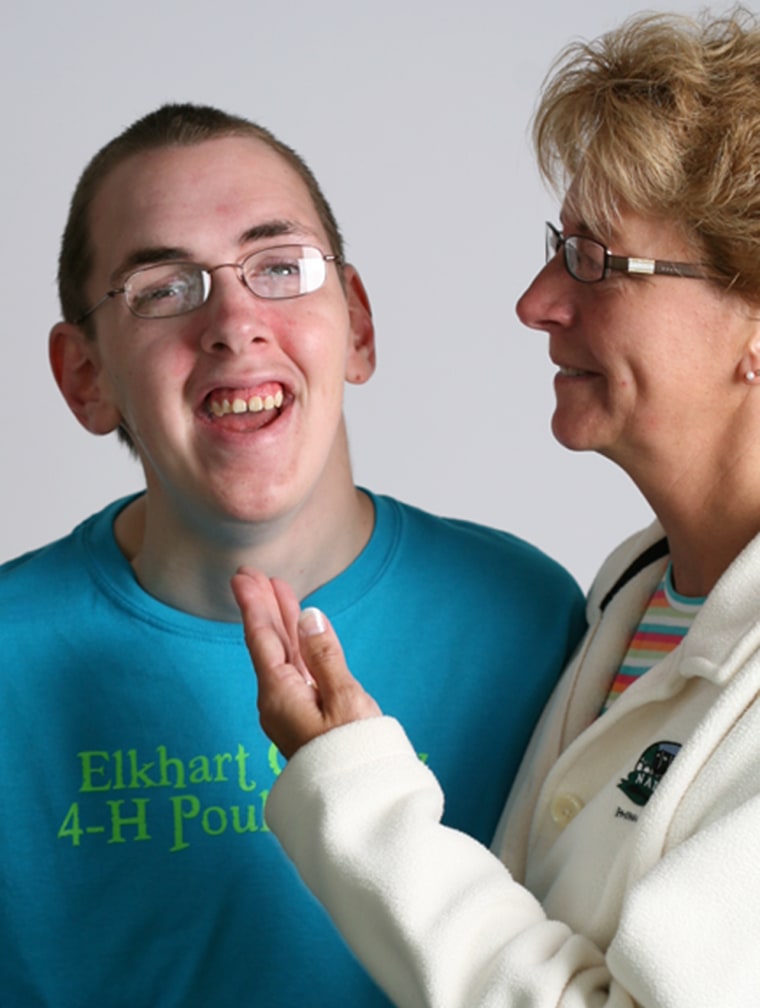 Deb and Steve Shively, from nearby Wakarusa, came to the fair to support their son, Alex, a high school sophomore who was showing his pig — a cross York spot barrow pushing 300 pounds.
They are hoping the pig is a money-earner, but they're not certain they'll be able to recoup the $250 that the barrow cost as a piglet six months ago and the $500 that it cost to fatten him up, said Steve Shively.
"Last year Alex auctioned off his pig for $1,200 and we broke even," he said. "This year we expect to lose some money, but it will all depend on the auction."
Any loss would be hard to justify for a family that is living on Shively's salary as a high school woodworking teacher and coach, has one child attending Purdue University and is supporting another who just graduated from Purdue and has not yet been able to find a job.
Diminished returns in the sales ring also may mean a diminished future for some 4-H kids. Last year's livestock auction netted more than $850,000, much of which typically goes to college savings, fair organizers say.
Livestock shows have been similarly kicked in the teeth at other fairs. At last week's Eaton County Fair in Charlotte, Mich., for instance, prize money for the 4-H livestock competitions was eliminated. In past years, the state government has distributed about $1.5 million to 86 county fairs across Michigan to promote agriculture — the state's No. 2 industry — but it killed the prize money this year to help close a mammoth budget deficit.
Instead of cash prizes, winners got "just a ribbon or trophies, no money," said Theo Savage, president of the Eaton County Fair Board.
The poor economy also intruded into this year's Elkhart County Fair in another, more hopeful way. The Fair Board pulled together a last-minute Green Energy Technology exhibition scheduled for Friday, waiving registration fees for companies that are trying to develop products in a sector that some local leaders hope will help lead the area out of recession.
"We have some entrepreneurs here looking to capitalize on what they believe will be a sign of economic direction for the country, and so we're featuring that this year," said the fair's advertising director, Wayne Kramer. "That may grow. … I think if all goes well this year, we could easily see this as a continuing focus at the fair."