/ Source: Forbes Traveler.com
An angel and a pirate may not be what you expect to find vacationing at a five-star luxury resort nestled among 1000-year-old palm trees in the south of Gran Canaria, one of Spain's most stunning islands. But that's what you'll discover at the Grand Hotel Residencia, where Australian supermodel Miranda Kerr, one of Victoria's Secret's most jaw-droppingly beautiful angels, can be seen relaxing on the sun deck with Orlando Bloom, her "Pirates of the Caribbean" boyfriend.
The sculpted white sand dunes of Maspalomas beach are only a short walk away from the Grand Hotel Residencia, which provides the seclusion and natural beauty today's supermodels say they crave. Tropical gardens and a heated freshwater pool surround the resort's two-story villas designed by French architect Alberto Pinto. The hotel's spa services include Ayurvedic treatments, an aqua gym and a staggering array of beauty treatments to keep photogenic guests looking glamorous.
Travelers clamoring for a glimpse of other uber-svelte beauty queens will find them at hotspots like Badrutt's Palace in St. Moritz, where Claudia Schiffer has been a guest. The chic mountain resort is located in the southern part of the Swiss Alps and provides a healthy dose of Champagne-sipping starlets. Badrutt's has seven restaurants, four bars and deluxe suites that cost up to $19,200 a night in peak season. Liz Hurley and Kate Moss are known to frequent the King's Club, a star-studded nightspot owned by the hotel.
Kristin Hutton, a Badrutt's Palace spokesperson, says the palace is popular with celebrities and models because the staff is "accustomed to dealing with high-profile guests who require a certain level of discretion, attention and service." Indeed, Badrutt's gives the word "luxurious" a whole new meaning: The hotel provides butlers on every floor, certified concierges and on-site stores like Cartier, Gucci and Versace.
Supermodels yearning for more discreet vacations opt for private villas or boutique hotels at a safe remove from the public, according to Melissa Sarrazin, a manager at IMG Models. Sarrazin says that while "models differ in their ideas of the ideal getaway vacation," they often "stay away from the large resorts and more commonly prefer renting a charming house."
Beautiful bad girl Kate Moss also seeks out low-key getaways. Moss recently made headlines when her Topshop boss, billionaire Sir Philip Green, treated her and rock-star boyfriend Jamie Hence to a vacation worth $200,000 in Mallorca, Spain. In previous trips to the island, Moss has checked in at La Residencia Hotel, a charming hideaway nestled in the hills of Mallorca's northwest coast. Guests at this picturesque refuge can luxuriate in a four-bedroom villa that comes with its own heated pool and views of the Mediterranean Sea. Moss isn't the only celebrity in town: Aging A-listers Andrew Lloyd Webber, Michael Douglas and Catherine Zeta-Jones all own homes here.
The once-quiet fishing town of Montauk, N.Y., is another destination rapidly becoming a favorite among fashionistas, with the new Surf Lodge leading the movement. Since its opening in June, the relaxed hotel designed by Robert McKinley has already attracted male supermodel Tyson Beckford. The 32 modern rooms flaunt views of the water, private decks adorned with a hammock, and glass-walled spa bathrooms. Combining the laidback spirit of Montauk with the Hamptons' stylish (if sometimes stiff) elegance, it's no wonder Ralph Lauren, Cynthia Rowley and Donna Karan are also fans.
When away from New York, Czech bombshell Karolina Kurkova—one of the youngest models ever to grace the cover of Vogue at the tender age of 17—calls The Standard Hotel in Miami Beach her home away from home. Guests here enjoy free use of the lavish spa, which includes a plunge pool, mud lounge and Roman-waterfall hot tub. Legendary fashion photographer Bruce Weber recently shot a "Summer Camp" series for W magazine at The Standard, the cover of which featured Kate Moss, Daria Werbowy and Lara Stone tucked in one of the hotel's beds.
With a salary hovering north of $33 million and one of the world's most stunning female figures, it's no surprise that Brazilian bombshell Gisele Bündchen often chooses her native Brazil to vacation. Attending Carnival in Rio this year, she was spotted lounging at the Copacabana Palace pool. Bündchen is also said to favor the spacious penthouse at Marina All Suites, a luxury boutique hotel situated across from the ocean in the affluent neighborhood of Leblon. The hotel's colorful décor captures Brazil's sexy charm, and enormous suites offer panoramic views of the sea. Naomi Campbell has also been spotted here.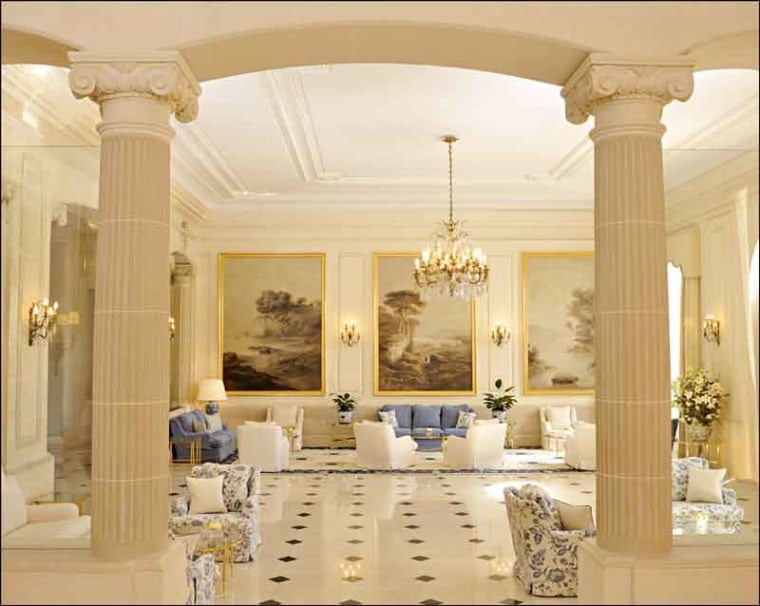 Not all supermodels head for the beach to relax. Fellow Brazilian beauty Adriana Lima, another of Victoria's Secret's dazzling angels, jetted to the stunning Amangani Resort in Jackson Hole, Wyo., in winter 2009, where she married Serbian basketball player Marko Jaric. With a heated quartzite-tiled 35 meter outdoor swimming pool, elegant suites that overlook the Teton Mountains, and a restaurant with redwood walls illuminated by a wood-burning fire, it's no wonder supermodels head for the wild west to unwind.
Perhaps more than most supermodels, Heidi Klum's business acumen has dispelled the myth that models are lacking in the intellect department. As a Victoria Secret starlet, executive producer of "Project Runway", wife of musician Seal, and mother of three children, this German wonder-woman is no stranger to success. Klum and Seal own a villa in Costa Careyes, Mexico, an upscale development located on a 30,000-mile nature reserve between Puerto Vallarta and Manzanillo. Favored among well-heeled celebrities for its unspoiled beaches, exotic architecture and bohemian spirit, the 50-villa community has been seducing the likes of Christie Brinkley, Claudia Schiffer, Uma Thurman and Giorgio Armani since it opened.
Wayne Hudson, a representative of Costa Careyes, the company founded by Gian Franco Brignone that builds and rents villas in the area, says that privacy is "the single biggest appeal" of the development to stars like Klum and Seal. "In Careyes, which is a small isolated community, they have extreme privacy from the outside world. And the Careyes residents who are VIPs for a variety of reasons just treat them as another member of the community."
Costa Careyes isn't the only secluded Mexican getaway ideal for the genetically blessed. Longtime American beauty icon Brooke Shields is on the list of models known to have graced the rooms of the Esperanza resort in Cabo San Lucas. The Esperanza features a 2,000-square-foot penthouse suite with 24-hour butler service, a stone-terraced, multi-level restaurant with views of the Sea of Cortez, and, of course, the ultimate necessity for famous sunbathing beauties: a private beach.