/ Source: The Associated Press
Shrinking business activity, fewer new orders and lower employment sapped some modest momentum from the U.S. services sector in July, although economists said the setback likely was a blip and not the start of a troubling trend.
The Institute for Supply Management on Wednesday said its services index clocked in at 46.4, down from 47 in June. It's the 10th straight month of decline as any reading below 50 indicates the sector is shrinking.
Analysts had expected a reading of 48 in July, according to poll by Thomson Reuters. The index had risen for four straight months through June.
The service industries included in the ISM survey, including retailers, financial services, transportation and health care, make up more than 80 percent of the country's economic activity. Any turnaround in the sector requires improved consumer spending.
"This is probably just a temporary blip ... (and) a reminder that this will be a 'two steps forward one step back' kind of recovery," said Capital Economics senior U.S. economist Paul Ashworth.
The manufacturing sector, meanwhile, showed more signs of life. The Commerce Department said Wednesday that factory orders rose 0.4 percent in June, the fourth gain in five months. Analysts had expected a drop of 1 percent.
The increase, propelled by higher prices for petroleum products, could be another signal that the hard-hit sector is beginning to recover. The ISM on Monday said its companion survey of the manufacturing sector rose to 48.9 in July from 44.8 in June, and that survey's chair said he expects growth next month if current trends continue.
Still, Wall Street moved lower on the worse-than-expected reading of the services sector. The Dow Jones industrial average lost about 90 points, or nearly 1 percent, to 9,228 in morning trading. Broader indices also fell.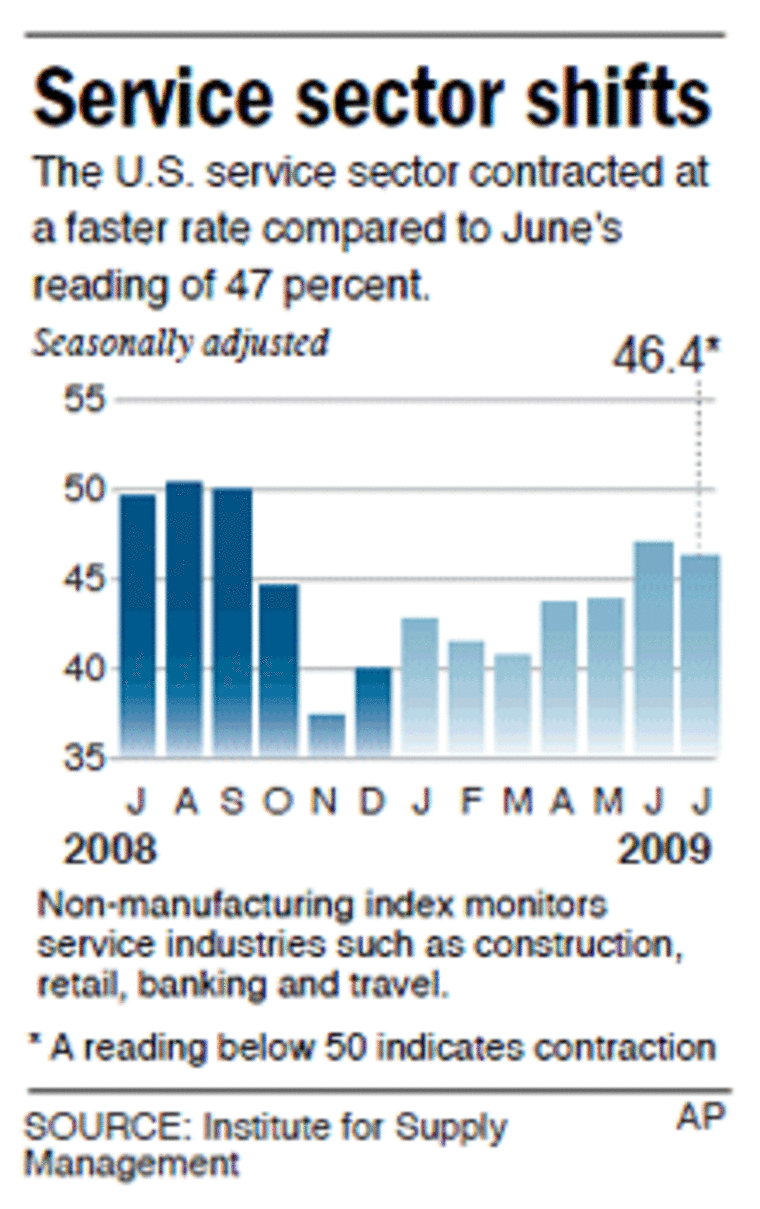 Rising unemployment has dampened the consumer spending that service-producing businesses depend on. Earlier this week, the government said that spending, adjusted for price changes, dipped 1 percent in June, while American incomes dropped 1.3 percent. Last week's gross domestic product report also showed evidence of a big drop in consumer spending in the second quarter.
Trying to explain the unexpected dip in the ISM index last month, the survey's chair said summer activity often slips as plants shut down and people go on vacation.
"You have to look at trends," Anthony Nieves said during a conference call. "You can't go by a one-month spike upwards or downwards."
In the ISM survey, business activity, production, new orders and employment all reversed gains from June. Employment has shrunk 18 times in 19 months and businesses still believe their inventories are too high.
The index is based on a survey of the Tempe, Ariz.-based trade group of purchasing executives in 18 industries.
Service companies' payrolls fell $17.5 billion in June, the Commerce Department said Tuesday in its report on spending and income.
US Airways said it would cut 600 ground jobs this fall. This week, the publisher of the Milwaukee Journal Sentinel said it would slash 92 jobs as the current advertising slump continues to ravage the newspaper business.
"The ISM report is a modest setback for recovery enthusiasts, but likely just means the long-awaited expansion will be subdued and choppy rather than delayed," BMO Capital Markets economist Sal Guatieri wrote in a research note.