/ Source: The Associated Press
The Czar-boro man? When Vladimir Putin rode a horse bare-chested through a rustic region of Siberia, it produced astonishing images casting him as a rugged Russian outdoorsman.
In the official photographs and video, shown on state television, Putin cultivates the macho image that Russians appear to love as they look to him to keep the country stable and strong more than a year after he stepped down as president.
Putin was shown fishing and swimming the butterfly stroke in an icy river in the Tuva region of southern Siberia. He posed while sitting in a tree, wearing khaki pants and T-shirt with a canvas bush hat.
But the most astounding image was of 56-year-old Putin riding a horse through the mountains, his bare chest on full display.
While Americans may think of the Marlboro man, for Russians the more powerful association is the warrior heroes of Russian fairy tales who rode horseback and defended Russia from foreign invaders.
'Master of the Russian universe'
"They are trying to play on Russian folk traditions," said Yevgenia Albats, editor of the political magazine New Times.
"The message is: I am the master of the Russian universe," she said. "I go to our roots, to nature, the land that is not occupied by anyone. I am the one and only warrior in these lands."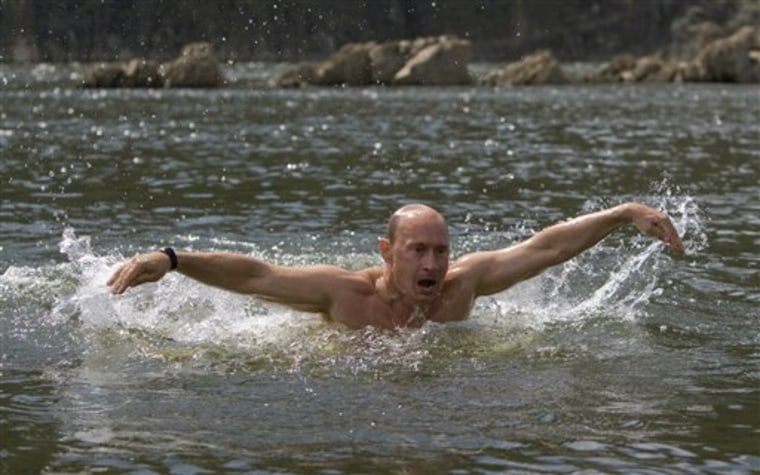 The shot of Putin posing in the tree drew comparisons to Nightingale the Robber, a character from a popular Russian folk epic who lives in a nest and has mystical powers. It was this picture that the Kremlin-friendly newspaper Izvestia put on its front page Wednesday, with more inside.
In visiting Tuva earlier this week, Putin was returning to the area where he and Prince Albert II of Monaco vacationed two years ago and where Putin first caused a sensation by fishing in a mountain river stripped to the waist.
Those photographs from August 2007, posted on the Kremlin Web site and splashed all over the press and Internet, produced a storm of gossip and speculation.
Putin was nearing the end of his second presidential term and had not yet announced his future plans. Some saw the public display of his muscular torso as a sign he had no intention of giving up power. They were right.
He passed on the presidency in 2008 to Dmitry Medvedev but few of the levers of power.
When the global financial crisis hit Russia last year, reversing eight years of solid economic growth under Putin's presidency and threatening to undermine his legacy, some wondered whether Putin could survive. His position seemed doubly shaky because as prime minister he has direct responsibility for the economy.
But Putin has taken to his new role, traveling the country, reaching out to ordinary Russians and giving wealthy business owners their marching orders to keep factories running and workers paid. Many Russians see Putin as understanding their difficulties and believe he alone has the ability to bring Russia through the hard times.
In Tuva, Putin was invited to the home of a shepherd, who then provided the prime minister with a horse for the ride. Putin was accompanied on the way by the shepherd's young son and afterward thanked the boy by giving him his expensive Swiss watch.
"See that you don't lose it," Putin said as he put the watch on the boy's wrist, telling him that he should remember to tighten the band. He then patted the boy on the back and shook his hand.
Putin keeps up his image
The latest photographs reignited discussion on Russian blogs about gays in Russia, with much of the debate devoted to whether the shoot presented Putin as something of a gay icon.
His 2007 camping trip with Prince Albert was satirically compared to the movie "Brokeback Mountain," a love story about gay cowboys.
That is not how most Russians see the shirtless pictures. "Putin's great," one blogger wrote. "He does sports and keeps himself in shape."
Putin, who is married with two grown daughters, has long cultivated a macho image. He has often been shown on television skiing down mountains and practicing judo, in which he has a black belt.
He has co-piloted a fighter jet, sailed on a nuclear-powered submarine and just last weekend descended 4,600 feet to the bottom of Lake Baikal in a mini-submarine on a four-hour mission to inspect crystals containing natural gas.
All of his exploits have been widely publicized, thanks to the government's control of the major TV stations.
Putin's summer holidays spent getting back to nature and fishing resonate with many Russians. They also provide a stark contrast to the yachting and globe-trotting lifestyles of many of Russia's super rich.
Energetic, strong and sharp-witted, Putin has long been compared to his predecessor, Boris Yeltsin, who was weakened by heart disease and embarrassed Russians with his drunken antics.
But in recent months, it is the contrast to Medvedev that has been more striking. The president shares nearly equal time with Putin on national television, but the bookish 43-year-old Medvedev is most often seen in coat and tie, presiding at meetings, engaged in diplomatic formalities or handing out awards at Kremlin ceremonies.
Putin has not ruled out returning to the presidency when Medvedev's term ends in 2012.
More on Vladimir Putin