/ Source: The Associated Press
A car bomb tore through a crowded market in a Kurdish area in the disputed city of Kirkuk on Thursday, killing at least five people in the latest attack to signal rising tensions in northern Iraq.
U.S. officials have warned that disputes between minority Kurds and Arabs over oil and land threaten to erupt into a new front in the Iraq conflict while violence elsewhere declines.
The fears have taken on new urgency as the U.S. military prepares to withdraw its forces from the country by the end of 2011. Prime Minister Nouri al-Maliki, a Shiite, and Kurdish leaders met earlier this week and promised to try to overcome their differences.
Several bombings in recent weeks also have raised concern about the readiness of Iraqi forces to take over their own security more than a month after U.S. troops withdrew from urban areas as part of a plan to pull out entirely by the end of 2011.
Dozens wounded in attack
Thursday's attack, which occurred about 8 p.m. in a restaurant-packed market area in Kirkuk's Rahim Awaa district, also wounded 30 people, according to police spokesman Col. Sarhat Qadir.
Samad Hajer, a 45-year-old cigarette vendor who was wounded by shrapnel, said he and his stall were knocked over by the force of the blast.
"I was sitting near my stall, but suddenly a big explosion took place," he said. "I blame the security forces for allowing the terrorists to carry out this cowardly attack, because no police or army patrol has passed through our area for a while."
A car bomb killed two people in another Kurdish area in Kirkuk last week.

Violence has declined sharply over the past two years, but the U.S. military has warned it expects Sunni insurgents to step up attacks aimed at provoking sectarian conflict with Kurds and Shiites.
A roadside bomb also struck a car full of Shiite pilgrims in southern Baghdad on Thursday, killing one and wounding four others, said police and medical officials, speaking on condition of anonymity because they were not authorized to talk to the media.
The pilgrims were making their way to the southern holy city of Karbala to mark one of the main Shiite holidays — the birth of Imam Mohammed al-Mahdi — known as the "Hidden Imam" — who disappeared in the ninth century.
Girl, 15, jailed over bomb bid
Separately, officials said a teenage Iraqi girl who claimed she had been strapped with explosives by her husband's female relatives has been sentenced to seven and a half years in prison for attempting to blow herself up at a checkpoint in northeastern Iraq.
Rania Ibrahim was sentenced Sunday in a juvenile court for the attempted attack on Iraqi security forces near Baqouba in August 2008, said Diyala provincial Judge Zaid Khalaf.
There were conflicting accounts about her arrest, which occurred at a time the number of attacks by female suicide bombers was on the rise. The increase prompted U.S. and Iraqi forces to step up efforts to train more female police to search women for explosives.
U.S. officials said the 15-year-old turned herself in after being hooked up to the explosives against her will. Iraqi police said she was caught by a patrol after arousing suspicion while walking in downtown Baqouba.

Videotaped confession
After her arrest, a videotape of Ibrahim's confession, made in the presence of reporters, was widely broadcast on TV.
In the first part of the video, Ibrahim was seen standing in a street, both hands cuffed to a metal grid attached to a wall behind her. A police officer is later heard saying she apparently had been drugged. Another officer opens her robe, and shouts out to his colleagues, apparently to confirm he spotted a vest.
Police later said the vest was packed with 33 pounds of explosives. A police photo showed it had six compartments, including two stuffed with what looked like tubes and four holding packages covered in cling-wrap.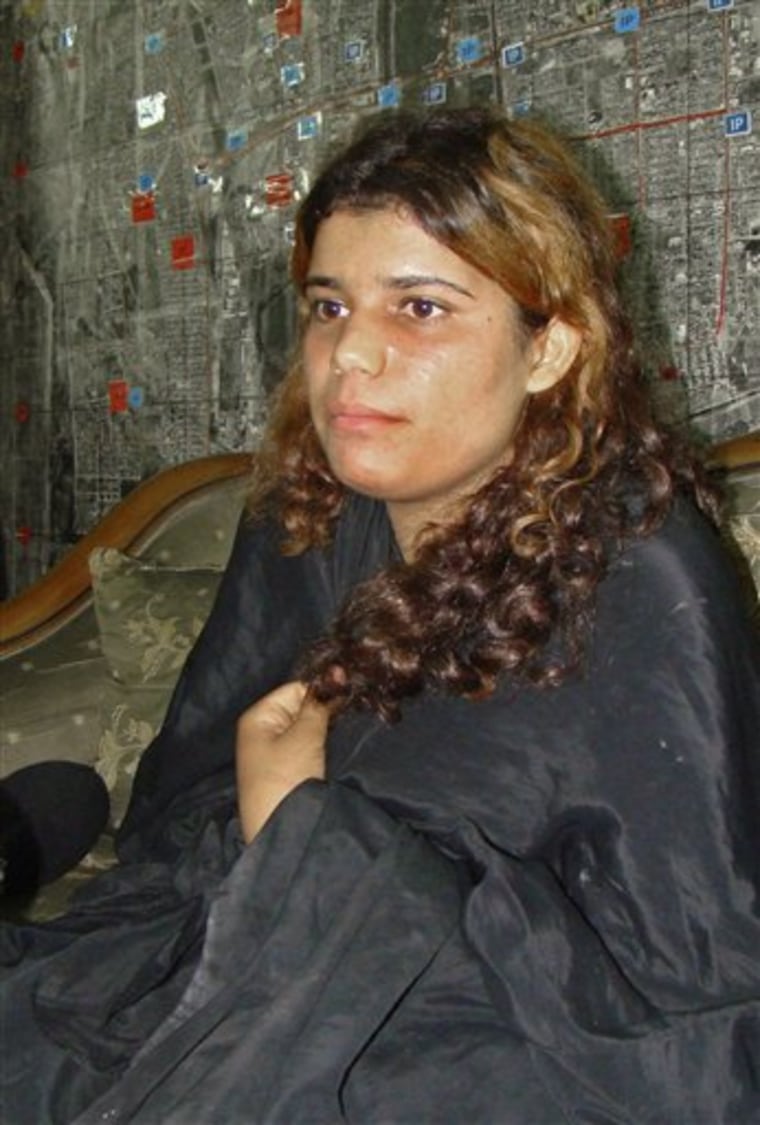 In the second part of the videotape, Ibrahim first said she did not know the women who gave her the vest, saying they were strangers. But a few moments later, she said the explosives were strapped to her by female relatives of her husband. She said she was shown the vest's two detonators and told how to use them.
Throughout her trial, Ibrahim stuck by the story that the two women put the vest on her, said provincial police spokesman Maj. Ghalib al-Karkhi. But the court focused on the fact that Ibrahim was in possession of an explosives vest and was caught wearing it, rather than her conflicting confession, he said.
Many Iraqi women wear long robes, ideal for covering bulky suicide vests, and Iraqi policemen hesitate to pat them down at checkpoints because of cultural taboos.
Last year, female suicide bombers attempted or successfully carried out 32 attacks, compared with eight in 2007, according to U.S. military figures. The attacks have continued this year — the latest on April 24 when two women with explosives hidden in their purses struck Shiite worshippers in Baghdad, killing 66 people.
More on: Iraq