Question: Can you tell me a little bit about Birdies for Breast Cancer?
Kerr: My mother was diagnosed with breast cancer in 2002 and it devastated me. She waited a couple weeks until after I got done playing in the U.S. Women's Open to tell me, because she knows how much I love that tournament. Then she told me, and I was driving from the U.S. Women's Open after that up to Canada to play in a tournament. I got so sick that I couldn't play in the tournament because I was so stressed out. I'll never forget it. Well, that sparked the idea that I wanted to do something.
I talked to some people that I knew, saying, "Well what can I do?" Just threw some ideas around and came up with this Birdies for Breast Cancer program, which was founded in 2003. It started out very small, where I donate $50 for every birdie, $100 for every eagle. It may not seem like a lot of money, but with the amount of birdies that I make on tour, it ends up being a significant amount at the end of the year. Got my sponsors involved; Mutual of Omaha, Audemars Piguet, Lacoste, and they either make donations or they match me. Since 2003, we've raised nearly $1 million for our Birdies for Breast Cancer Foundation, and now I have other LGPA players involved as well, and a program where I've created something called Team Birdies where a bunch of my friends can get together and people can pledge for them.
Birdies for Breast Cancer is a pledge program where I pledge money for every birdie that I make and get my sponsors to match me. We have events annually. We're going to have our fifth annual charity outing on Aug. 14 at Liberty National Golf Club in Jersey City, with the proceeds going to the Cristie Kerr Women's Health Center at Jersey City Medical Centerl. It's going to be an amazing event.
Q: What is your role for the event? What role do you play in the entire organization?
Kerr: I am the hostess. We may have a surprise emcee — I can't tell you, but I am the hostess of the event. I am in charge of making sure everybody has a great time and making sure people reach into their pocketbooks and we raise a lot of money.
This is our fifth golf classic, and we have committed to Liberty National that we're going to have our event there for probably the next five years. The Firemans are very good friends of ours, and they own the golf club and I represent the golf club so its an amazing collaboration. They are huge contributors to Birdies for Breast Cancer.
Q: Is there a moment or experience at Birdies for Breast Cancer that has resonated with you?
Kerr: There are many. The one that comes to mind was a couple years ago in 2006 when I won the CN Canadian Women's Open just outside of Toronto. A gentleman came up to me on the final round right when I was walking to the tee and handed me this Canadian quarter that had a pink ribbon in the middle of it. I'm like, "Oh, that's cool," and I stuck it in my bag. And I ended up winning. I was seven shots back and I ended up winning. It was amazing because his wife was a breast cancer survivor and then had another relapse, and basically she wasn't doing well. It was like, "Hey, you gave her a great joy having that quarter, winning and raising money for breast cancer ,which is what you do."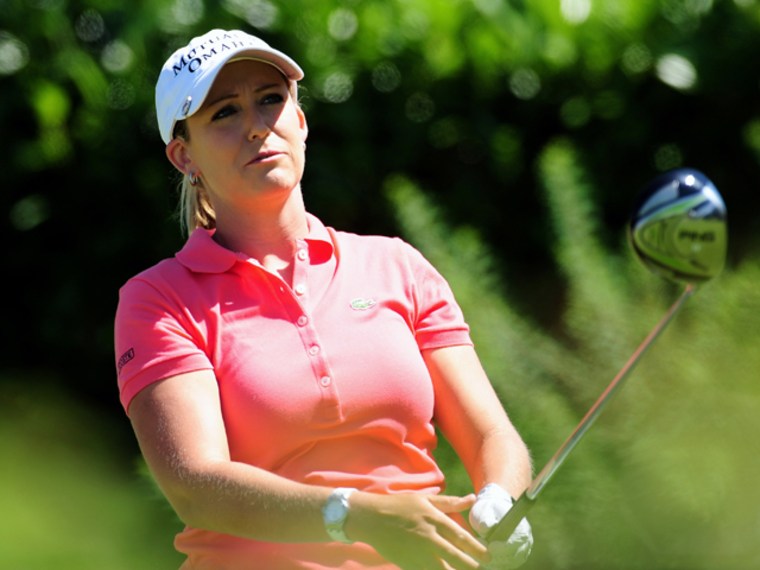 He wrote this very heartfelt letter to us. She ended up passing away a month after the event. We ended up subsequently donating money to the foundation and starting something in her name and it was just a tearjerker all around. This is why we do what we do. You give people hope that they can be diagnosed early and treated, you give people hope even when they're not gonna make it, that their life means something, and that there are people out there that will be their champions. That's one of the stories that comes to mind and makes you realize that even if it's hard running a foundation and pulling people, "Hey, you need to do this, hey, you need to do that," or stressing out about your event, in the end that's the very small price to pay for what you're doing to help people.
Q: What do you hope to accomplish by having this event? Is there anything else that you want to tell people about Birdies for Breast Cancer?
Kerr: Birdies for Breast Cancer is its own 501 (c)3 foundation. You can go to cristiekerrgolf.com which links up with birdiesforbreastcancer.com and click on making a pledge for either myself or one of the Team Birdies members. People can also make a direct donation right there on the spot. We have PayPal and all of our money goes toward breast cancer research. We vet every organization that we give money to ensure they have a very clean record, as do we, and that their money goes to a good cause.
I wanna make it known to the public that this is an amazing cause. I'm just one person who chooses to do this with her life, and this is an amazing thing for me. One of the most special things that I can do is giving back to others.
Interviewed by Kelly Rippin, NBC News