/ Source: msnbc.com news services
Pakistan's Taliban chief was killed by a CIA missile strike, a militant commander confirmed Friday — a severe blow to extremists threatening the stability of this nuclear-armed nation and a possible boost to U.S.-Pakistani cooperation in fighting insurgents who wreak havoc along the Afghan border.
Pakistani officials vowed to dismantle the rest of the network run by Baitullah Mehsud regardless of who takes over, a move seen as essential to crippling the violent Islamists behind dozens of suicide attacks and beheadings in the country.
Already, the Taliban were holding a "shura" council in the lawless, rugged South Waziristan tribal region to choose Mehsud's successor, intelligence officials and militants told The Associated Press, speaking on condition of anonymity because of the sensitive nature of the information. It was unclear when they might reach a decision.
Pakistan considered the al-Qaida-linked Mehsud its No. 1 internal threat. He was suspected in the assassination of former Prime Minister Benazir Bhutto and many other assaults. He claimed responsibility for some, including an audacious attack on a police academy in March that killed 12 people.
His death would be a victory for President Barack Obama and a nod to the Bush administration, both of whom have relied heavily on the CIA-controlled missile strikes to take out militants in Pakistan's wild northwest. The U.S. had a $5 million bounty on Mehsud, whom it considered a threat to the Afghan war effort.
White House spokesman Robert Gibbs said Friday that the administration could not confirm the death, but was aware it was the growing consensus among "credible observers." A senior counterterrorism official said that while the U.S. is still working on final identification, authorities now have strong indications that Mehsud is dead. The official spoke on condition of anonymity to discuss intelligence reports.
"If he is dead, without a doubt, the people of Pakistan will be safer as a result," Gibbs said.
Islamabad officially protests the missile strikes, although many analysts suspect the two countries coordinate on the drone-fired attacks. Mehsud was killed with one of his two wives Wednesday in his South Waziristan stronghold, his militant aide said.
"I confirm that Baitullah Mehsud and his wife died in the American missile attack in South Waziristan," Taliban commander Kafayat Ullah told AP by telephone.
Pakistani leaders said they were getting the same reports and were reasonably sure of their accuracy but did not have forensic evidence such as a body for irrefutable confirmation. Final confirmation could take days or weeks.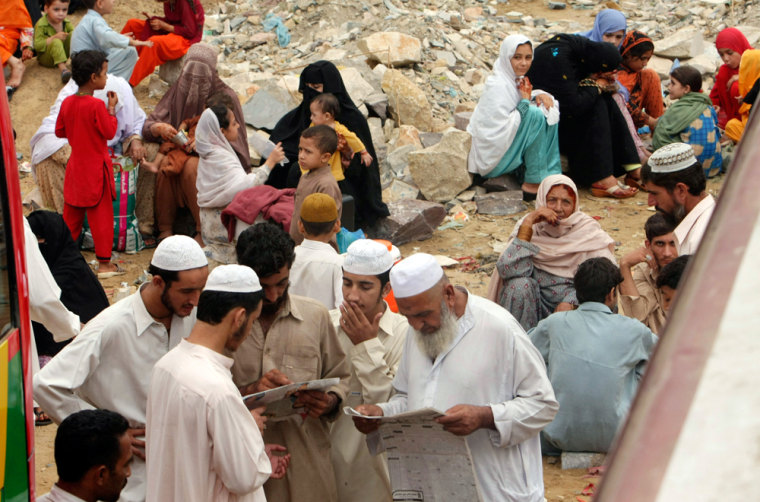 A tribesman who spoke on condition his name not be used said the missile struck Mehsud's father-in-law's house. He said a doctor was treating the Taliban leader there for a kidney ailment. The tribesman said he attended Mehsud's funeral.
Pakistani officials would not say they coordinated with the U.S. on the strike, although they insist they cooperate with U.S. and Afghan forces on border-related operations. Intelligence sharing between Washington and Islamabad has been increasing in the past year now that Pakistan has a civilian government and has shown a growing willingness to battle militants in its borders.
There apparently was no official criticism or popular outcry against the missile strike that killed Mehsud, despite public fury over other U.S. attacks.
The U.S. for years considered Mehsud a lesser threat to its interests than some other militants because most of his attacks were focused inside Pakistan, not against U.S. and NATO troops in Afghanistan.
Three times in two years, the Americans turned down Pakistani requests to target Mehsud, according to a former Pakistani security official who spoke on condition of anonymity because he was not authorized to release information to media.
While U.S. officials would not comment directly on the Pakistani assertion, they said Mehsud has been a target for some time although there may have been targeting disagreements.
A U.S. counterterrorism official who spoke on condition of anonymity to discuss intelligence matters said that there are sometimes conflicts over tactics, even as the broader goals remain the same.
Earlier this year, however, U.S. drones began repeatedly striking Mehsud's territory in Pakistan's South Waziristan region as his power grew and concerns mounted that violence could destabilize Pakistan and threaten the region. In addition, some of Mehsud's fighters were suspected of attacking supply convoys for U.S. and NATO forces through Pakistan.
Whether Pakistan will now aim for militant leaders that are a greater threat to the U.S. — such as those led by Maulvi Naseer Wazir in South Waziristan, Hafiz Gul Bahadur in North Waziristan or the Haqqani group — remains to be seen, although the U.S. success in taking out Mehsud could be a strong nudge.
Fueled by his alliances with al-Qaida and other militant outfits, Mehsud rose to the peak of Pakistan's militant pyramid thanks largely to his brutality and Pakistan's unwillingness to take him on. A 30-something son of a potato farmer who once taught physical fitness, Mehsud was soft-spoken but brash enough to once hold a news conference.
Three Pakistani intelligence officials said the most likely successor was Mehsud deputy Hakimullah. Two other possibilities were Azmat Ullah and Waliur Rehman. The officials spoke on condition of anonymity because of the issue's sensitivity. Interior Minister Rehman Malik also named Qari Hussain, known for training suicide bombers.
The Tehrik-e-Taliban Pakistan, or Pakistan's Taliban Movement, was already a loose coalition, and rivalries were common. It has the potential to fracture even more now that its boss is dead.
"Baitullah was an unusually effective leader, capable of pulling together disparate militant forces and maintaining discipline ruthlessly. Now there's an opportunity for the Pakistanis to try and peel off elements within the TTP, or at least encourage splits that are likely to develop on their own in the aftermath of Baitullah's death," said Daniel Markey of the Council on Foreign Relations.
Military might will have to be a key part of that approach. In this, Pakistan's record is not inspiring. It has regularly staged military operations that it says have cleared out insurgents, only to see the groups re-emerge. It also has a record of striking peace deals with insurgents, which critics say have helped the Taliban.
A February 2005 peace deal with Mehsud appeared to give him room to consolidate and bolster his troops, as well as kill off dozens of pro-government tribal elders. By December 2007, Mehsud was named the Pakistani Taliban head.
Malik, the interior minister, said Pakistan's military was determined to finish off the group so it "is eliminated forever."
Mehsud, unlike other militant leaders, made the Pakistan government his target, using suicide attacks and assassinations to shake the foundations of this country. He expanded militant attacks beyond the lawless tribal regions, wreaking death and destruction in the country's major cities and angering a Pakistani leadership that had long tolerated other militant groups.
That transformed the diminutive, bearded Mehsud into the most feared militant in the country — a ruthless figure with links to al-Qaida and to the leadership of the Taliban across the border in Afghanistan.
South Waziristan is a key base for militants, and it is treacherous for the army — mountainous and underdeveloped with a leaky border with Afghanistan, little government infrastructure and home to fiercely independent, heavily armed tribes hostile to outsiders.
Although Mehsud's stronghold does not directly border Afghanistan, he was known to have ties to other commanders acting on the frontier. In Afghanistan, Defense Ministry spokesman Gen. Mohammad Zahir Azimi said Mehsud's fighters would sometimes cross into eastern Afghanistan to help a ruthless Afghan insurgent leader, Siraj Haqqani.
"He was an international terrorist that affected India, Pakistan and Afghanistan," Azimi said.
Analysts said Mehsud's link to al-Qaida partly explained his rise. U.S. intelligence has said al-Qaida set up its operational headquarters in Mehsud's stronghold and neighboring North Waziristan.
In June, Pakistan said it was launching an operation against Mehsud in South Waziristan. Although airstrikes began, the offensive never went full-scale. In the meantime, U.S. missile strikes continued and increasingly targeted Mehsud, raising speculation that the Pakistanis were hoping — or even coordinating with — Americans to kill Mehsud first.
Mehsud has no record of attacking targets in the West, although he has threatened to attack Washington.
He is suspected of being behind a 10-man cell arrested in Barcelona in January 2008 for plotting suicide attacks in Spain. Pakistan's former government and the CIA have named him as the prime suspect in the 2007 killing of Bhutto. He has denied a role.
Last year, Mehsud held a rare news conference in South Waziristan.
"It is the top desire of my life to obtain martyrdom, I have strong feelings for the martyrdom in my heart," he said. "To be a martyr, to be wounded or arrested — we consider it as a sacrifice."
More on: Pakistan | Baitullah Mehsud