/ Source: The Associated Press
A double truck bombing tore through the village of a small Shiite ethnic minority near the northern Iraqi city of Mosul, while nine blasts wracked Baghdad Monday in a wave of violence that killed at least 48 people and wounded more than 250, Iraqi officials said.
The attacks provided a grim example of U.S. military warnings that insurgents are targeting Shiites in an effort to re-ignite the kind of sectarian violence that nearly tore the country apart in 2006 and 2007.
The U.S. military has stressed that despite the rise in attacks, the Shiites are showing restraint and not retaliating as they did more than two years ago when a similar series of attacks and bombings provoked a Shiite backlash that degenerated into a sectarian slaughter claiming tens of thousands of lives.
The deadliest blast on Monday was a double truck bombing in Khazna village, just east of Mosul, home of the Shabak, a small Shiite ethnic group in the north.
The Shabak who have their own distinct language and belief system are part of the mosaic of ethnic and religious minorities in Iraq's north that include Yazidis, Assyrian Christians, Turkomen Shiites and Kurds — all of whom have been targeted in the past by Sunni Arab insurgents.
The two explosives-laden trucks went off nearly simultaneously and less than 500 yards (meters) apart, killing at least 28 people and wounding 138, said police and hospital officials.
The U.S. military confirmed at least 25 were killed.
No one has claimed responsibility for the attack, but it bore the hallmarks of al-Qaida in Iraq and other Sunni insurgents who remain active in Mosul and surrounding areas.
Rescuers dig through the rubble
Witnesses described a chaotic scene of rescuers searching through the rubble of at least 15 houses that were destroyed. Many of the dead and wounded were sleeping on their roofs because of the summer heat.
The explosions left a 7-foot (2 meter) crater and reduced the neighborhood to piles of bricks, twisted metal and smoking debris.
Family members pulled the wounded from the debris and carried them to safety, as ambulances wailed through the neighborhood.
Women sat on mounds of rubble crying and the men sifted through the debris trying to recover what belongings they could.
Mahmoud Hussein, 28, said he was asleep on a roof, about 150 yards (140 meters) away from the truck bombs, when then explosion flattened his house.
"If we had slept inside, we would have been killed," said Hussein, who received a head wound from flying debris.
Qusay Abbas, who represents the Shabak minority as a member of the Ninevah provincial council, blamed security forces for failing to secure the area on the eastern outskirts of Mosul, which the U.S. has called the last stronghold of al-Qaida in Iraq.
"I blame everyone who wants to divide Iraq, and every sectarian official shoulders responsibility for this crime," Abbas said.
The village was a relatively easy target because it lacked many of the security measures prevalent in larger cities. A similar attack by a suicide truck bomber against a small Turkomen Shiite village on Friday flattened a mosque and killed 44.
Neighborhoods in capital struck
Bombs also went off in Baghdad despite the security gains there that have prompted the Iraqi government to order the removal of nearly all the blast walls in the city within 40 days.
The first bomb was hidden in a pile of trash that exploded about 5:50 a.m. near a group of day laborers drinking tea in the religiously mixed neighborhood of Amil, killing at least seven people and wounding 46, officials said.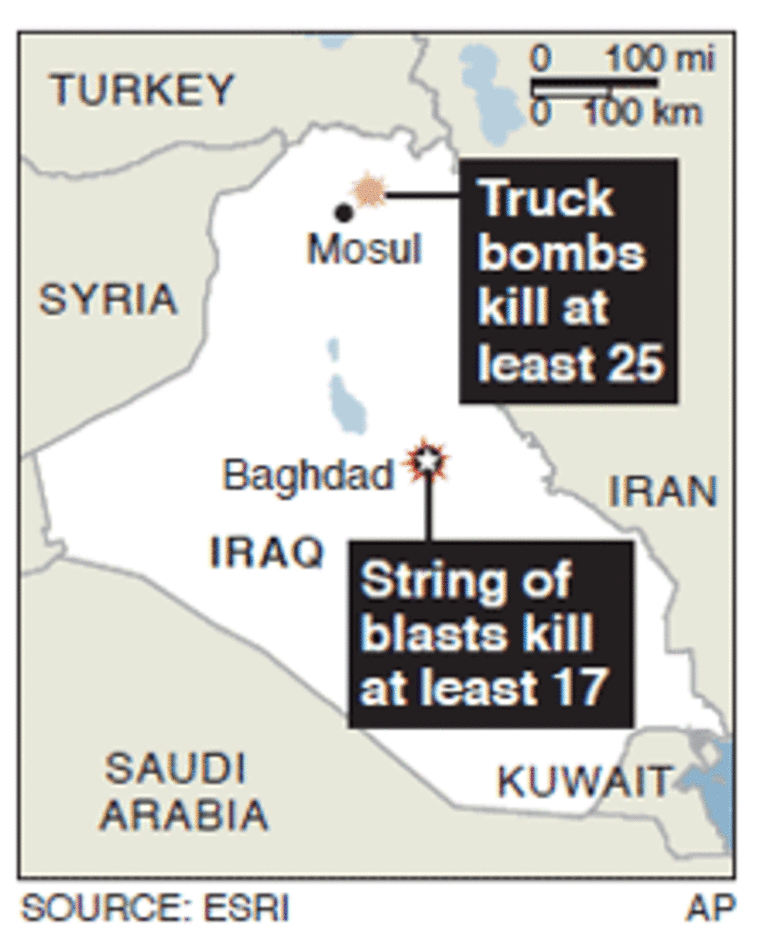 About 10 minutes later a car bomb targeted construction workers elsewhere in western Baghdad, killed another 10 people and wounded 35, according to police.
Three bombs also exploded in the mainly Sunni neighborhood of Azamiyah shortly before 7 a.m., wounding a member of a government-backed paramilitary group, an army official said.
Three other bombs later went off elsewhere in the city, wounding a total of 10 other people, police said.
All the officials spoke on condition of anonymity because they weren't authorized to release the information.
The attacks also have raised concerns about the ability of Iraqi security forces to contain violence as U.S. combat troops wind down duties as part of a withdrawal plan that would see all American forces out of Iraq by the end of 2011.
The U.S. has said the insurgency is waning, though still capable of pulling off sporadic, high-profile attacks that target primarily civilians and security forces.
But Prime Minister Nouri al-Maliki and other lawmakers have said Iraq's security forces are able to deal with the violence.
"What is happening in Baghdad, Mosul and other cities is not about the abilities of the security forces, but about the changing strategy of al-Qaida and other terrorist groups," said Firyad Rawandozi, a Kurdish lawmaker.
Meanwhile, the brother of an Australian contractor killed in Baghdad's protected Green Zone told reporters that his family was "terribly distraught."
Iraqi authorities have arrested Daniel Fitzsimmons, a British contractor, over the shooting deaths of Paul McGuigan of Britain and Darren Hoare of Australia. Fitzsimmons could be the first Westerner to face an Iraqi trial on murder charges since a U.S.-Iraqi security pact lifted immunity once enjoyed by foreign contractors.
"No one wants to think the worst, do they?" Rodney Hoare told reporters in Brisbane, Australia, on Monday.
"It's such a tragedy and everyone's hurting deeply."
More on: Iraq