/ Source: Forbes Traveler.com
Sometimes, food alone cannot make a meal. A significant part of tasting a meal is the mindset you are in. This means flavors, even from a simple dish, and your overall enjoyment in a restaurant can be radically enhanced by the right atmosphere and setting.
For example, many believe that fish and seafood taste better in view of water. It's not that the composition of the food is actually any different, but rather that when your brain is stimulated your reception to seafood is altered.
Wise restaurants can put a smile on your face or get you excited as soon as you walk in the door, and well before you take your first bite. As the percentage of independent restaurants in the United States grows smaller and corporate chains modeled after just a handful of concepts explode, offbeat and non-traditional concepts tend to stand out even more.
At San Francisco's Supper Club you are treated to a multi-sensory dining experience that extends far beyond your taste buds. Anything can happen here and every night the entertainment is different. You dine in your private bed in an all-white industrial space, while in between courses you might get a massage or see an aqua ballet or a fashion show.
Dark dining, either blindfolded or in pitch-black rooms, is a concept that arose in Germany and Switzerland in the late '90s and has begun to appear in various parts of the States to much applause, including at Opaque in Los Angeles.
The multi-course menus are served by blind waiters and selected in the light, thus diners see nothing for several hours. Diners frequently call the experience "mind opening" and "an awakening of the senses."
In rural Wisconsin, a Scandinavian restaurant with live goats munching on a grass-covered roof is obviously going to be the talk of town. While menu items at Al Johnson's Swedish Restaurant like Swedish pancakes with lingonberries or pickled herring are exotic, few will argue that the goats and grass roof outside have not had an equal hand in keeping the restaurant in business for six decades.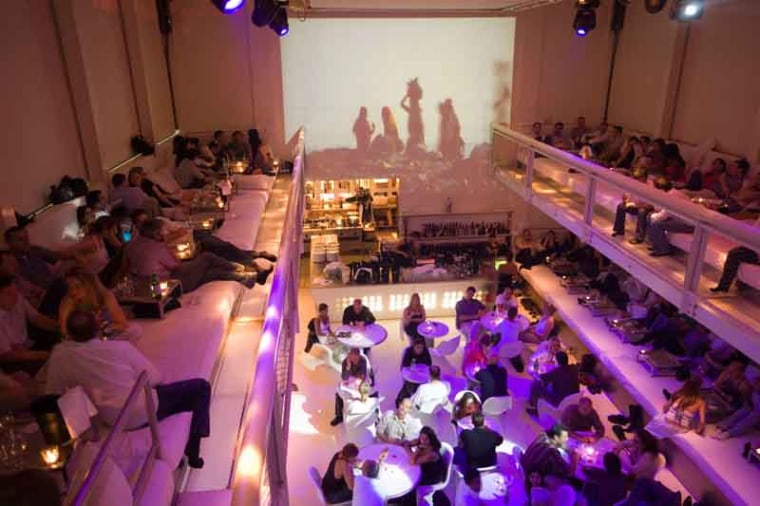 An element of secrecy, commonplace in bars and clubs in New York and L.A., gives guests a sense of pride when they enter. You feel privileged to be there. This is the case at what seems to be a run-of-the-mill Milwaukee warehouse where you must give the covert password to the doorman.
The Safe House's location is hard to find and the food is typical American pub grub, yet since the 1960's the place has been the city's go-to place to bring visitors. If you don't know the password, don't worry—you can hop on one leg (or whatever the doorman asks you to do), with everyone at the bar watching on TV screens.
A restaurant can transport you to another time and place. You can be walking down the street in Manhattan one moment, and the next you are being led through a subterranean labyrinth into a feudal era ninja castle at Ninja New York.
The $3.5 million design takes the concept to great lengths, but the dramatically presented Ninja Art Dishes and performances from the "ninja" servers involving throwing stars, swords, smoke, and explosions take theatrical dining to new heights. And while the food may not always live up to the dining experience; sometimes a little character can go a long way.