/ Source: The Associated Press
Myanmar's generals have again succeeded in isolating democracy leader Aung San Suu Kyi, but her fleeting emergence during a grueling trial showed that her steely resolve and charisma remain intact.
A Myanmar court on Tuesday convicted the 64-year-old Nobel Peace laureate of violating her house arrest by allowing an uninvited American to stay at her home. Her sentence of three years in prison with hard labor was quickly commuted to 18 months house arrest after an order from the head of the military-ruled country, Senior Gen. Than Shwe.
Suu Kyi has been in detention for 14 of the last 20 years, and the extension will remove her from the political scene next year when the junta holds its first election since 1990. Her party won in the polls then but was never allowed to take power.
Her conviction and continued detention were condemned by world leaders and sparked demonstrations in cities from London to Japan. The European Union began preparing new sanctions against the country's military regime and a group of 14 Nobel Laureates, including the Dalai Lama and Archbishop Desmond Tutu, called on the U.N. Security Council to take strong action against the country.
President Barack Obama termed Suu Kyi's conviction a violation of "the universal principle of human rights" and said she should be released immediately.
U.S. Secretary of State Hillary Rodham Clinton called for the release of more than 2,000 political prisoners, including John Yettaw, the American Suu Kyi was charged with harboring. He was convicted along with her and sentenced to seven years' imprisonment with hard labor.
Outcome 'never in doubt'
One of Suu Kyi's lawyers, Nyan Win, said that she had instructed her defense team to proceed with an appeal and that they had applied for permission to meet with her Wednesday.
Supporters had suggested that the government would look for ways to keep Suu Kyi isolated until after the elections.
"The outcome of this trial has never been in doubt," said Jared Genser, president of Freedom Now and Suu Kyi's international counsel, noting that her continued detention was in "clear violation" of their own laws.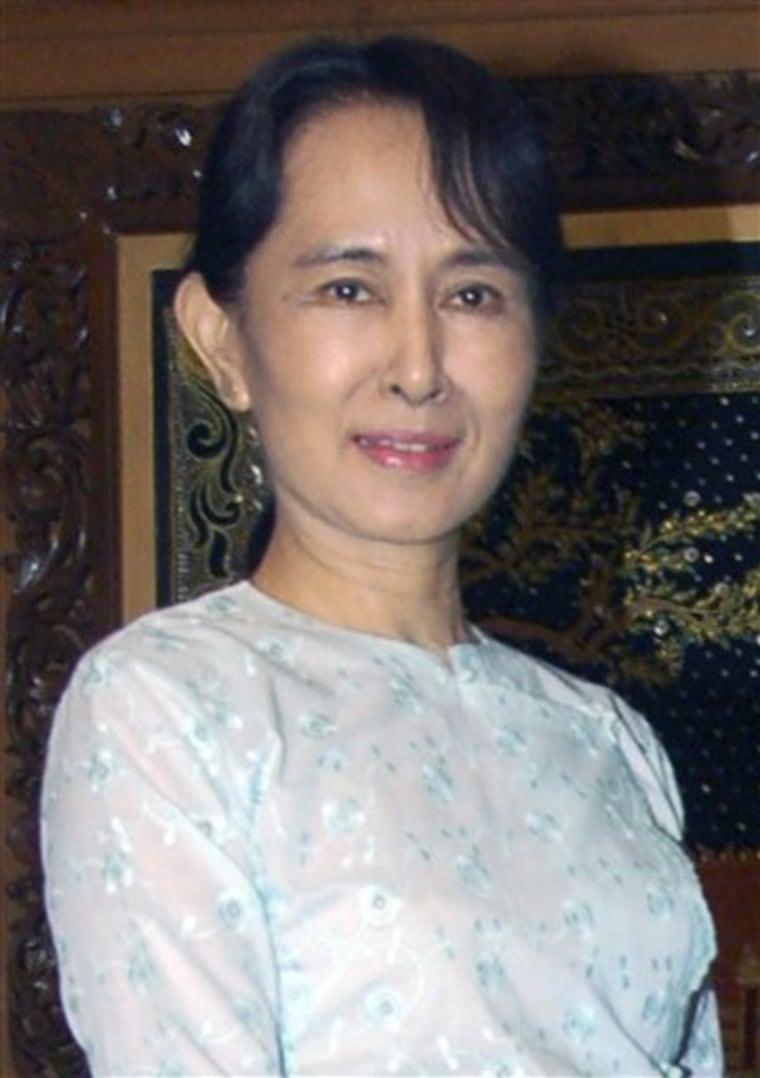 But even locked away in her crumbling lakeside mansion, Suu Kyi — daughter of the country's slain independence leader, Gen. Aung San — remains a potentially powerful force in the country that has remained under harsh military rule for nearly half a century.
Josef Silverstein, professor emeritus at Rutgers University and a Myanmar expert, said that while Suu Kyi may never lead the country, her influence will continue.
"She wants a peaceful and united Burma with the people drawing strength from her example," said Silverstein, referring to the Southeast Asian nation by its old name, which is preferred by many of the ruling military's critics.
Suu Kyi was shown leniency because the junta wished to avoid international criticism and ease internal pressure, said Win Tin, a senior member of her National League for Democracy party.
"This is a clever decision by the government," said Win Tin, an ex-prisoner released last year after serving almost 19 years. Suu Kyi could have received a maximum sentence of five years' imprisonment at hard labor.
Back to daily routine
Suu Kyi looked alert but tired during the 90-minute court session. She stood as the verdict was announced and then thanked foreign diplomats for attending her trial.
"I look forward to working with you in the future for the peace and prosperity of my country and the region," Suu Kyi said in a soft voice to diplomats seated nearby. She then was led out of the courtroom.
Officials said Suu Kyi, who had stayed in a prison guest house during her trial, was driven back to her lakeside villa in a six-car convoy. One of her party members tied yellow ribbons to the gate and two nearby trees as a gesture of welcome.
Suu Kyi will likely return to her pretrial routine: daily meditation, listening to radio news broadcasts and waiting for the occasional, censored mail.
During her trial, which ran for more than 12 weeks, diplomats and supporters said they were impressed by Suu Kyi's grace under pressure, rebuking those who criticized Yettaw's act as foolish, sharing her birthday chocolate cake with prison guards and thanking envoys for their support.
"She commanded her team and in many ways the room," said British Ambassador Mark Canning of her courtroom appearance.
Not just by chance
Some commentaries describe Suu Kyi as an accidental leader, having returned to her homeland after two decades abroad to nurse her dying mother just as an anti-regime uprising erupted. She was thrust to the forefront of pro-democracy demonstrations in 1988, which were brutally crushed.
But Silverstein and others note her rise to Myanmar's democracy icon wasn't simply by chance. As a teenager overseas, Suu Kyi developed an intense interest in her father, who was gunned down by political rivals when she was just a toddler.
She wrote a short biography and seemingly adopted her father Aung San's sense of nationalist mission, military-like discipline and a stubborn streak. Her mother, Khin Kyi, espoused a strong moral code and the nonviolent struggle of India's independence leader Mohandas K. Gandhi, to whom Suu Kyi has since been compared.
Defying the 1988 crackdown which may have killed thousands — no official tally was ever released — she helped found the National League for Democracy party to restore elected government. With her popularity posing a threat to their power, she was placed under house arrest in 1989, and thousands of her party's members jailed.
Detained since 2003
Despite the repression, her party won a landslide victory in a 1990 general election, but the army refused to recognize the results and retained power.
She was awarded the Nobel peace prize in 1991 for her nonviolent struggle for democracy, but only in 1995 was she freed amid hope for political reconciliation. She was periodically detained after that whenever her party seemed to be posing a challenge.
The junta gave Suu Kyi permission to leave the country to see her family when her husband died in 1999. But she refused, fearing she would never be allowed to return.
She has been detained continuously since May 2003, after her motorcade was attacked by government-backed mob.