At age 15, with a baby due in October, Stephany Celis already has racked up more than $400 in medical bills for prenatal care at the Maple City Health Care Center.
Even with a steep discount on the clinic's sliding scale for fees, the debt threatened to swamp the fragile finances of the uninsured Goshen High School student and her family, who struggle to get by on her father's wages from a local scrap yard.
And it's a bill that might have remained unpaid – along with the others that will follow — if not for an innovative program that allows cash-strapped patients to swap skills and services to reduce what they owe.
"I help out and I get paid," said Stephany, who fills in as a receptionist two afternoons a week at a local homeless outreach agency, earning $10 an hour in medical credits.  "They lower the cost and it makes it easier."
Dubbed "More than Money," the clinic's program was started last fall after it became clear that the deepening recession was forcing growing numbers of patients to default on their medical bills, said Dr. James Gingerich, the center's founder and medical director.
"We have all these people who are unemployed and desperate," said Gingerich.
The Goshen program reflects a nationwide trend as more providers offer patients the option of paying for the non-covered costs of medical and dental care without a direct exchange of cash.
"I have not paid a penny to my cardiologist in four years," said Larry Usner, 54, who runs Louisiana Barter, an independent trade exchange based in Lafayette, La.
Instead, Usner said, he's covered the costs of insurance co-payments for six angioplasty surgeries, not to mention his dentist's bill for $8,000 in veneers, by swapping services from the radio and television advertising business he also operates.
Longtime rural tradition There's long tradition of bartering for health care, particularly in rural areas, noted Ron Nelson, a physician's assistant and co-founder of the National Association of Rural Health Clinics. In more than 30 years of working at rural clinics, he's been offered a strange range of payments for his services.
"I've received everything from chickens to vegetables," he said. "I've had people cut up logs for me."
But the current recession has left more people more desperate, which may be driving the surge in alternative payment arrangements.
"We've seen a significant increase in people with no resources," Nelson said.
Nationwide, two types of health care trades appear to be growing. There are direct exchanges, where the provider and patient work out specific deals, and there are barter exchanges, in which members clients earn and receive points or "trade dollars."
"Health care is definitely one of the most widely used services," said Rob Benson, vice president of ITEX, the nation's largest trade exchange based in Bellevue, Wash.
In the past year, the number of health care providers who've joined the firm's 24,000 members has jumped by 45 percent, Benson said. Overall, health care transactions have risen by 4 percent over the period, he said. Dentists, optometrists, chiropractors and podiatrists are among the most popular swapping specialties.
At Favorpals, a fledgling online bartering service, health trades already make up 20 percent of the transactions, said Zeo Solomon, a co-founder of the site.
"It's one of the hottest items we're swapping," said Solomon, who started the site last November.
At Craigslist, the popular one-stop swap site, posts to the bartering category have more than doubled this year. A quick check of Craigslist sites from Los Angeles to Boston to Omaha, Neb., revealed dozens of people seeking to trade skills or products for medical care.
Lisa Hermanek-Roth, 43, of Omaha, is a bartering veteran who recently advertised on her local Craigslist site for someone who would provide orthodontic work in exchange for construction drywall services.
"This is the first time I've tried it for medical services. But I found out my daughter needed braces and it's just the cost," said Hermanek-Roth, mother of 13-year-old Channing, whose braces could top $4,000.
So far, she's received a few inquiries, but hasn't finalized a deal. But after 20 years of participating in cash-free commerce, Hermanek-Roth says she's confident she'll be able to work out something. "It's just a matter of time," she said.
Chiropractors and other medical providers whose specialties often are not covered by insurance also have turned to bartering. Jason Markijohn, 33, a chiropractor who recently started a new practice in Glendale, Colo., advertised on Craigslist that he'd swap care for a sprinkler system or other services.
"The benefit for the patient is they're getting their health taken care of," he said. "... I get people in the door that will build my list of paying or insurance clients."
In general, medical providers are permitted to barter for payment, so long as they follow general guidelines. For those who receive reimbursement through Medicare or Medicaid, the value of the compensation can't exceed normal fees. And anyone who barters for any goods or services, including health care, is expected to report transactions valued at $600 or more to the Internal Revenue Service.
The American Medical Association has taken no position on bartering, said Robert Mills, a spokesman.
"We encourage providers to work with patients to set an appropriate fee," he said.
In troubled times, the definition of appropriate fees may change.
In Goshen, for instance, the number of clients who couldn't pay their medical bills doubled last summer from the normal range of 2 to 3 percent, said Gingerich, the Maple City clinic's medical director.
That troubled the clinic staff, not just because of the financial loss but also because the center's mission is to improve the community through health care.
"We've tended to think of medical care not as a commodity that's bought and sold," said Gingerich, who started the clinic two decades ago as an experiment in social justice.  "We think of bad debt as a manifestation of a broken relationship."
To repair that breach, clinic organizers realized they'd have to offer people a way to resolve their debt without cash, he said.  "We don't think about this as a write-off. We think about this as an investment in the community."
To that end, the More than Money program offers those who can't pay their bills a chance to earn credit by working at any of several participating nonprofit agencies. So far, 29 people have participated, just a tiny fraction of the clinic's 5,000 patients.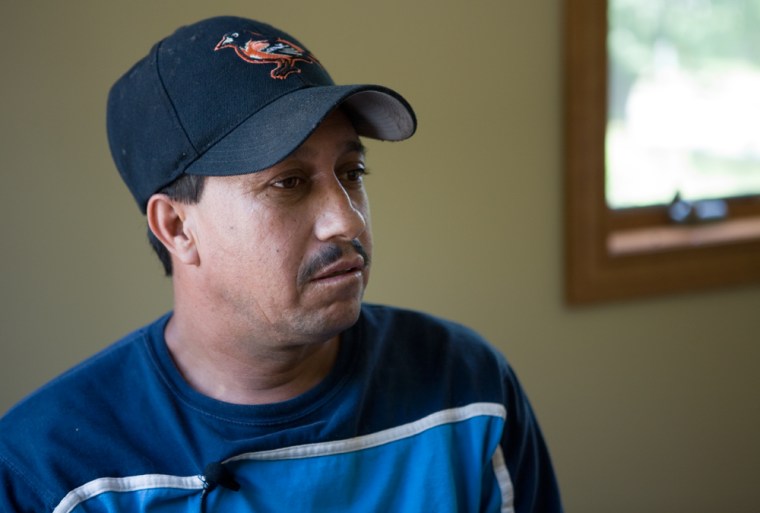 That group includes Arturo Castillo, 42, who faced about $1,000 in medical bills caused by troubles with kidney disease and gallstones and medical care for the youngest of his eight children, who range in age from 6 to 23. The family had no private insurance and didn't qualify for government aid, said Jennifer Hire, who administers the clinic program.
Castillo became reluctant to seek medical care because he was ashamed of the debt, a common problem, noted Gingerich.
"But when people don't get care, they get worse and it costs everyone more money," he said.
Then Castillo joined the More than Money program, which allowed him and two of his sons to do renovation work for La Casa, a local agency that provides low-income housing.  Within three days, the men had paid off the family's debt.
Castillo, who speaks only Spanish, explained his relief through an interpreter.
"I felt good because I was able to get out of this problem," he said. "It felt good to be able to work."
For Stephany Celis, the hours the 15-year-old mother-to-be spends at The Window, the homeless outreach agency, do more than help reduce her debt.
"I think it's nice because it's helping everyone at once," said Stephany, who helps greet an estimated 200 people a day at the front desk, often assisting those who don't speak English.
Dawn Renze, who runs the outreach program, agrees. The Window provides a range of services to a burgeoning population of homeless and low-income people, including groceries, hot meals, a clothes closet, laundry facilities, a computer center and other services.
She agreed to participate in the Maple City clinic program as a way of augmenting her paid staff, but also as an investment in the community.
That's the beauty of bartering, whether it's for skills, services or products, especially at a time when everyone is short on cash, Renze said.
"It's a chain effect," she noted. "It's pay it forward, basically."