/ Source: The Associated Press
Most students try not to think about school during the summer. But a number of them took to the streets on a sweltering August day to talk up public education to people who might normally enroll their children in private or parochial schools.
Clad in T-shirts promoting "The Choice," about 100 students, parents and administrators went door-to-door on a recent Saturday, asking Richmond homeowners to give their neighborhood schools a second look. Joining them was Virginia's first lady Anne Holton, a product of city schools.
The $50,000 campaign by a school system still trying to rebound from a long history of racial segregation and white flight is an example of efforts under way in several cities to retain students. School districts are highlighting improvements to halt declining head counts so they can retain their funding, especially in light of drastic state budget cuts.
"People are still stuck with perceptions of yesteryear, and are not really aware of what we have to offer today," Richmond Superintendent Yvonne Brandon said. "It's not perfect, but be a part of the solution and become invested now."
Like other urban school districts, Richmond, where 88 percent of students are black, 7 percent are white, and 71 percent are eligible for free or reduced-price lunches, has struggled on many fronts.
Campaign highlights schools' accomplishments
Still, the color brochures distributed by volunteers spell out what's going well, including: All city high schools have met state accreditation standards; every city elementary school offers foreign-language instruction; and the number of students enrolled in Advanced Placement courses grew by 275 percent over the past year.
Other urban school systems have undertaken similar recruitment campaigns, including Detroit, Milwaukee and Washington, D.C., all districts that continue to lose students, which translates into less money to maintain educational programs.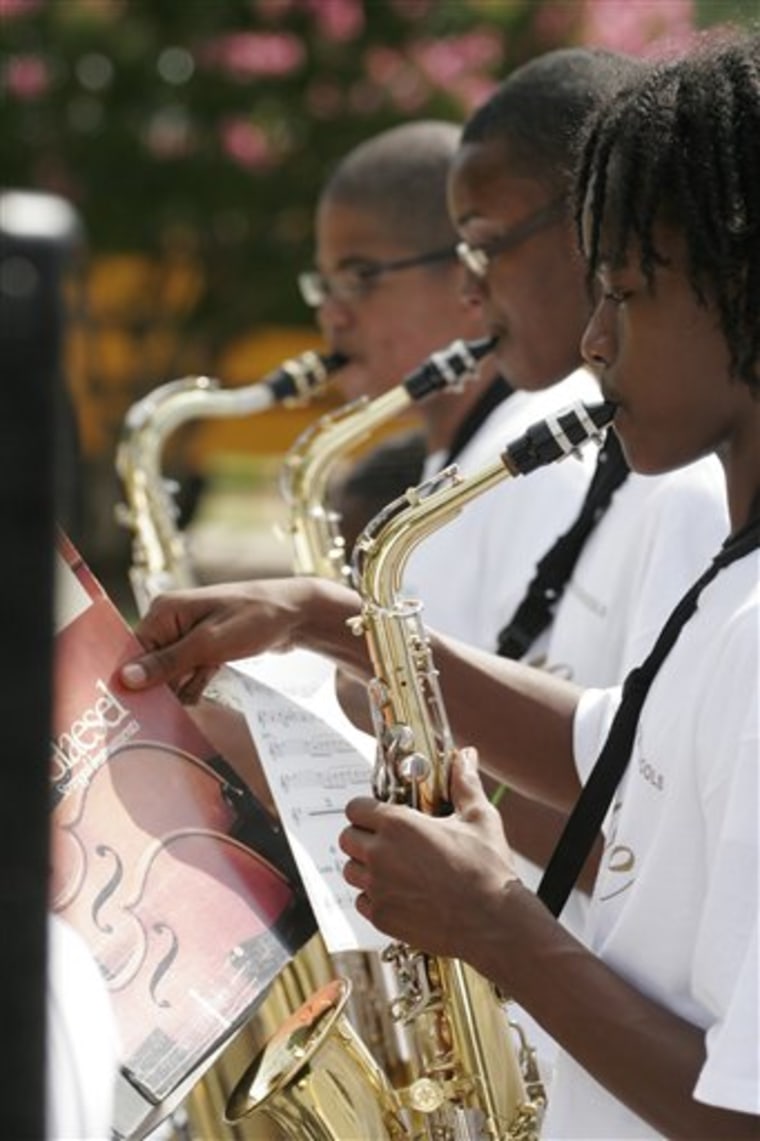 Detroit's fiscally troubled system has lost more than 45 percent of its students over the past decade, leading to scores of school closures. The district this month launched a $500,000 "I'm In" campaign to keep students in the district, enlisting the help of ex-NBA player Derrick Coleman and comedian Bill Cosby and donations from private companies — including pro-bono work from advertising and public-relations agencies, spokesman Steven Wasko said.
The school system gets about $7,560 in state funds for each enrolled student. Its enrollment target is 83,777, and "any student above that translates into more funding," Wasko said.
But Michael Van Beek, education policy director at the libertarian-leaning Mackinac Center for Public Policy, says that despite such marketing efforts, Detroit, Grand Rapids and Flint, Mich., continue to lose students at a remarkable rate.
"At urban schools that have a track record of continuing to underperform, parents are still voting with their feet," Van Beek said.
In Richmond, middle-class families are starting to attend a handful of their local schools but many continue to move to the suburbs or opt for private or Catholic education.
About two-thirds of the city's 34,800 school-age children were enrolled in public schools last school year. A decade ago, three-quarters of Richmond's school-age kids were enrolled in city schools.
Gov. Timothy M. Kaine and Anne Holton's three children grew up attending Richmond schools, decades after Holton and her siblings were among the first white students to attend formerly black city schools after a federal judge ordered busing in 1970.
Her father, Gov. A. Linwood Holton, made a point to escort his children to their new schools, images that were captured in photographs published across the country.
Holton thinks people should notice what's going on now in many schools, including solid academics and extracurricular activities. Her daughter, Annella, for example, enjoys theater classes — and Holton is pleased by attention given to the arts despite tough economic times and the pressures of high-stakes testing.
She said her children have benefited from attending classes with students of different races, religions and socio-economic backgrounds.
"I see a lot of people paying a lot of money for private schools or moving to the suburbs," Holton said in an interview. "They need to look into it and give it a try."
Family recounts great experiences
Carolyn Waters and her daughters, Rosa and Isabel, were among families that walked through neighborhoods near their home in early August, hanging brochures on doorknobs and mailboxes.
Rosa, 16, and Isabel, 12, have always attended city schools, and say they've had great experiences with classmates and teachers.
"We have a lot of neighbors who go to private schools," Rosa said. "If they educated themselves about Richmond Public Schools, they would consider them."
Noah Boyle said he has a 2-year-old daughter, and hasn't decided what to do yet. Holton and Brandon asked him to consider the school down the street, Southampton Elementary. Boyle said later that he'd have to consider school conditions, class size and his daughter's potential classmates.
In Milwaukee, public schools have had to market themselves aggressively against a parallel system — schools that accept federal tuition vouchers, city schools spokeswoman Roseann St. Aubin said.
About 80,000 students attend Milwaukee's public schools, while 40,000 attend private and voucher-supported schools. Also, thousands of nonwhite students opt to attend suburban schools under a school-integration program that started in 1976, she said.
Milwaukee's efforts have included print and broadcast ads, direct mailings, appearances at the Wisconsin State Fair, a Mexican Fiesta event and enrollment marathons, St. Aubin said. The district has about $184,000 to spend on student recruitment this fiscal year.
"Urban districts are starting to cry out in one voice," St. Aubin said. "We are working so hard to make improvements in a very structured manner, and under the gun to do so. We're accountable, and we do deserve a second look."