/ Source: The Associated Press
Like so many things in Hollywood, Ryan Jenkins' life was not as it seemed.
The wealthy and handsome son of a well-known Canadian architect had recently finished taping appearances on two reality shows when he checked into a luxury oceanside hotel on Aug. 13 in San Diego with a former model in tow.
Less than 48 hours later, the woman was dead and Jenkins had gone from a sweet-talking, suave contestant on VH1's "Megan Wants a Millionaire" to the prime suspect in a gruesome — and mysterious — murder.
The saga culminated Sunday when Jenkins was found dead of a suicide, hanging by a belt from a coat rack in a run-down Canadian motel. Now, authorities on both sides of the border are scrambling to answer questions about the murder of Jasmine Fiore and learn the details of Jenkins' last days.
Authorities have still not recovered Fiore's car, a white Mercedes-Benz, and they believe it could be the place where Jenkins killed Fiore or where he mutilated her, cutting off her fingers and pulling out her teeth.
"We're trying to determine if that vehicle was the crime scene, if it transported the body or if it was where the murder occurred," said Buena Park police Sgt. William Kohanek. "We're not able to just exclude anyone else from being involved. We're just not able to say that yet."
The final months of Jenkins' life were not short of drama.
From Calgary to Hollywood
Jenkins left a real estate job in his native Calgary earlier this year to pursue a Hollywood career and found some success. He was recently a contestant on the VH1 reality show "Megan Wants a Millionaire," in which wealthy young men tried to win over a materialistic blonde. An episode featuring Jenkins aired the same time that police sought him for Fiore's murder.
Jenkins played a prominent role in the episode, renting an Aston Martin and wining and dining the star of the show at a French restaurant. "A sexy car for a sexy girl," he told Megan Hauserman before whisking her off to the high-end restaurant.
"I'm so James Bond and I'm gonna rock it," said Jenkins, who also was a participant in an as-yet-unaired competitive reality series, "I Love Money 3." VH1 said Monday it was canceling the show.
Jenkins and Fiore met in Las Vegas in March, shortly after Jenkins finished taping for "Megan Wants a Millionaire," and they married on March 18, according to court documents. The couple separated shortly afterward, but had reportedly reconciled.
Lisa Lepore told The Associated Press last week that her daughter had the marriage annulled in May. However, there were no court records of an annulment in either Nevada, where the couple was married, or in Los Angeles County, where they most recently lived.
Friends said Fiore was a model who worked mainly in Las Vegas and Los Angeles, doing gigs such as being bodypainted at parties. She also was an aspiring actress and singer and had a bit part in a small 2008 horror science-fiction movie, "The Abandoned," according to the Internet Movie Database.
Stormy relationship
Her relationship with Jenkins was stormy. Court records from Las Vegas show Jenkins had been charged recently with hitting Fiore in the arm. In his hometown of Calgary, Jenkins was sentenced to 15 months probation in January 2007 for assaulting a girlfriend.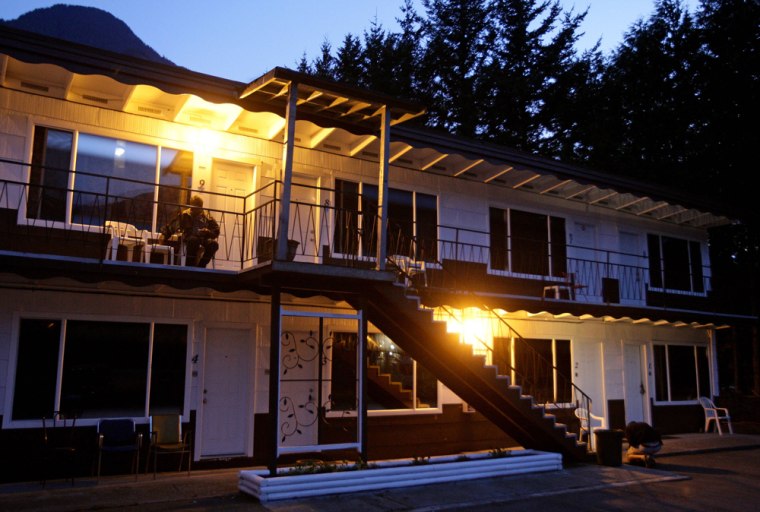 Despite their troubles, Jenkins and Fiore were trying to make it work as recently as two weeks ago. They went to San Diego together and checked into a picturesque oceanside resort — the last time Fiore was believed to have been seen alive.
Two days later, Fiore's nude body was found stuffed in a blood-stained suitcase thrown into a Buena Park trash bin. Her fingers and teeth had been removed — presumably to hamper attempts to identify her — and police learned her name by tracking the serial number on her breast implants.
Soon, the 32-year-old real estate executive was making his escape to his native Canada, eluding authorities from two countries in 1,000-mile dash by car and speedboat to the Canadian border.
On Thursday, the same day authorities held a news conference announcing charges against him, a woman checked Jenkins into The Thunderbird Motel in Hope, British Columbia, as he waited in a car with tinted windows.
Motel manager Kevin Walker said the woman paid cash — the equivalent of $130 American dollars — for three nights' stay. Walker said he never saw the woman or the car again.
'Looked stressed'
Adam Curt, 19, a motel employee and Walker's nephew, said Jenkins "looked stressed out," adding: "He wouldn't look anybody in the eye."
The motel manager said when the couple didn't check out, he unlocked the room and found Jenkins dead.
"I cracked the door and there he was, hanging there in front of me, feet touching" the floor, Walker said.
Police carried out bags of Jenkins' belongings, including his laptop computer, Walker said.
Woman linked to Jenkins ID'd
Police said Monday they have identified the woman who checked in for Jenkins and are investigating whether she would face charges. Her name was not released and she is not in custody, said Sgt. Duncan Pound of the Royal Canadian Mounted Police. He said the two had a history together.
An autopsy was conducted in British Columbia, and preliminary results appeared to confirm Jenkins' death was a suicide.
"We are awaiting toxicology results, but we're not expecting our findings to change," said Jeff Dolan of the B.C. Coroners Service.
Hope is about 100 miles from Point Roberts, Wash., the last place Jenkins was reported to have been seen before entering Canada. Police believe he took a speedboat from Blaine, Wash., across a bay to Point Roberts, and then walked across the Canadian border.
Jenkins' mother, Nada, who lives in Vancouver, said in a brief telephone interview that she can't believe her son killed his ex-wife and that she's sure the evidence will eventually prove his innocence.
'We need to clear his name'
"He was good, he's kind and we need to clear his name," she said, weeping.
Fiore's mother, Lisa Lepore, said Monday on NBC's "TODAY" show that she had a mixed reaction to news of Jenkins' death.
"It brings some closure to what's been going on," said Lepore, who lives in Maui, Hawaii. "We don't have to worry about looking for him anymore or being worried that he is a threat to any other women or men."
It was a threat that no one picked up on as the smooth-talking Jenkins advanced through the various stages of "Megan Wants a Millionaire." During the dinner date with Megan in the latest episode, Jenkins displayed a sheepish grin throughout the meal, and when Hauserman asked him why he was smiling, he had a pick-up line at the ready: "I smile when I look at you."
The night concluded with a brief make-out session, and Jenkins — who earned the nickname "Smooth Operator" on the show's set — expressed his trademark cockiness and bravado as he assessed his chances with Hauserman.
"She's hot, I'm hot. I got this in the bag."