The video game rumor mill has been churning out some remarkably accurate gossip this month. The latest tongue wagging to turn out true: Microsoft is indeed slashing the price of its Xbox 360 Elite game machine from $399 to $299.
After months of leaked details and blurry photos making the rounds on the World Wide Webs, Microsoft early this morning confirmed that it is not only dropping the price of the Xbox 360 Elite with its 120-gigabyte hard drive starting Friday, but it will also cut the price of the Xbox 360 Pro from $299 to $249. The Xbox 360 Pro fire sale will last until supplies run out … and then the machine, with the 60-gigabyte hard drive, is gone for good.
(Msnbc.com is a Microsoft-NBC Universal joint venture.)
Meanwhile, Microsoft will continue selling its Xbox 360 Arcade — a version of its console that comes with a memory unit but not a hard drive — and will keep the price at $199.
"This is really about setting ourselves up for keeping our momentum going strong through the holidays," said Microsoft spokesperson David Dennis.
Of course, it might also have a little something to do with the recent news from Sony.
Sony kicked the three-way console competition back into high gear last week when it introduced the new — a skinnier and lighter PS3 with a 120-gigabyte hard-drive and a $299 price tag. That price tag represented a whopping and much-needed $100 drop for the PS3, which had found itself trailing in third place behind its competitors — the Xbox 360 and Nintendo's Wii.
Which brings us to the question on everyone's mind: What will Nintendo do now?
The wee little Wii — which from a hardware-only perspective packs nowhere near the punch of the Xbox 360 or PS3 — is currently priced at $249. With the powerful Microsoft and Sony gaming machines now priced closely, if not on par with the Wii, many analysts believe Nintendo must do something to keep its console competitive this holiday and beyond … and must do it quickly.
"Nintendo is the one that's going to see sales suffer," said games analyst Michael Pachter of Wedbush Morgan Securities. "They're going to have to respond."
Analyst Michael Cai, vice president of video game research at Interpret LLC., points out that the Wii has been on store shelves for almost three years, but Nintendo — unlike its competition — has never dropped the price of its game machine.
"And they can't just go on forever," Cai says. "I think they need to do something soon."
But Nintendo executives say they see things differently.
"As we sit here today, we think we're in a very strong position going into the key holiday time period," Nintendo of America president Reggie Fils-Aime said in an interview Wednesday.
When asked whether Nintendo will cut the price of the Wii by the end of the year, Fils-Aime said, "All I can tell you is that our global president (Satoru Iwata), as recently as a couple of weeks ago, indicated that we had no plans to change the price for the Wii console."
The race is on
No matter what Nintendo does or does not do, the console horse race has gotten a whole lot more interesting now that Sony and Microsoft have cut prices on their machines.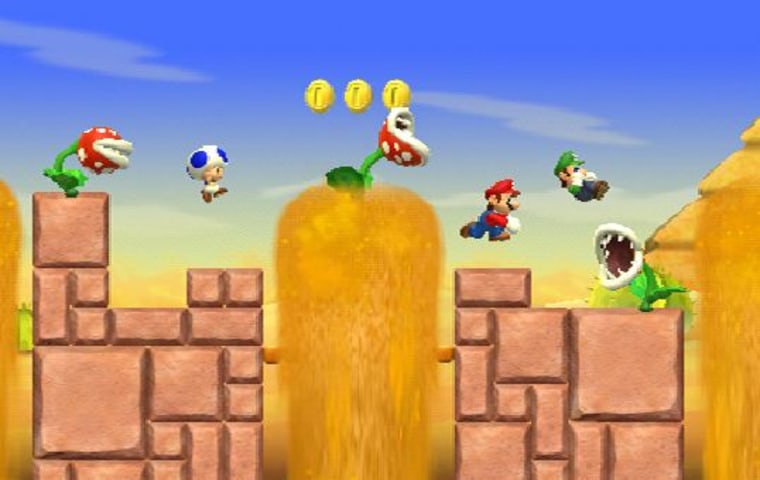 And considering the tough economic times in general, and the recent bad news regarding the video game industry in particular, interesting is a good thing.
Earlier this month, market researcher NPD Group announced that sales of game hardware, software and accessories in July dropped 29 percent from the same period last year — with July marking the fifth straight month to show a sales decline this year.
But NPD analyst Anita Frazier has said that price cuts can have a significant impact on console sales. "Based on history, price cuts generally increase month-over-month unit sales in the range of 40-60 percent," she told Gamasutra.
Pachter told msnbc.com that he believes Sony — with its redesigned PS3 — will see the biggest gains. But it won't be good news for everyone.
"What I actually think is going to happen is Sony's market share gains are going to come at Nintendo's expense," Pachter says. "And Microsoft is going to chug along the way they've been with relatively flat sales and I think Microsoft is going to be OK with that."
That is, the NPD Group's console sales figures for the United States last month showed that Microsoft had sold only 1 percent fewer Xbox 360s in July this year compared to July of last year. It was also the only console to see increased sales during the first seven months of this year over last. Meanwhile, during July, Sony sold 46 percent fewer PS3s than last year and Nintendo sold 55 percent fewer Wiis.
"I think what is likely is that Wii sales are going to drop more," Pachter says. "You can't really justify buying a Wii for $249. You get 'Wii Sports' with it but no hard drive, whereas you can get a PS3 with a Blu-ray player and a 120-gig hard drive and built-in Wi-Fi. And you can get an Xbox 360 with a 120-gig hard drive and access to Netflix and Facebook. It just doesn't make sense to buy a Wii for $50 less."

To cut or not to cut
Cai expects that Nintendo will try to make the Wii more appealing by bundling it with new games. Pachter agrees, and suspects they'll bundle the Wii with the new "Wii Sports Resort" within the next four to five weeks. But he also thinks that if Nintendo watches their sales drop in the coming months, they will have to respond with a price cut of their own.
For that matter, Pachter also believes that if Microsoft sees the Xbox 360 sales drop significantly in the coming months and the PS3 sales rise, they might deliver an even deeper price cut on their machine, perhaps down to $249.
But Cai says that the Wii, with its broad appeal and adoption by the most casual of gamers and non-gamers, is not necessarily competing head-to-head with the PS3 and the Xbox 360 in the same way those two machines are competing against each other.
"The value proposition of the Wii is different and the target audience is also different so they probably feel less pressure," he says. "But also, if you look at their sales number, it's not been very good recently."
Nintendo of America chief Fils-Aime also offers up numbers to explain why the company is comfortable with the choices it is making.
"The fact remains that we represent about 52 percent of all current-generation home console sales so far this year, and about 44 percent of all current-generation software sold this year, and that's a total of 29 million units of software," he says.
He adds that Nintendo is responsible for six of the top 10 selling games so far this year.
"Essentially Nintendo revenues are effectively flat year-on-year, down minus 2 percent," Fils-Aime says. "Comparatively, the balance of the industry — so our competitors combined — is down minus 23 percent.  So clearly our competitors are the ones under pressure to change their tactics through the balance of the year."
Three cheers for the consumer
No matter how this plays out in the coming months, "for the consumer, you're getting a lot of choice now for under $300 bucks," Pachter says.
Indeed, consumers will have a lot to consider when deciding which game console to buy this holiday season. Cai and Pachter point out that each machine has its strengths and weaknesses.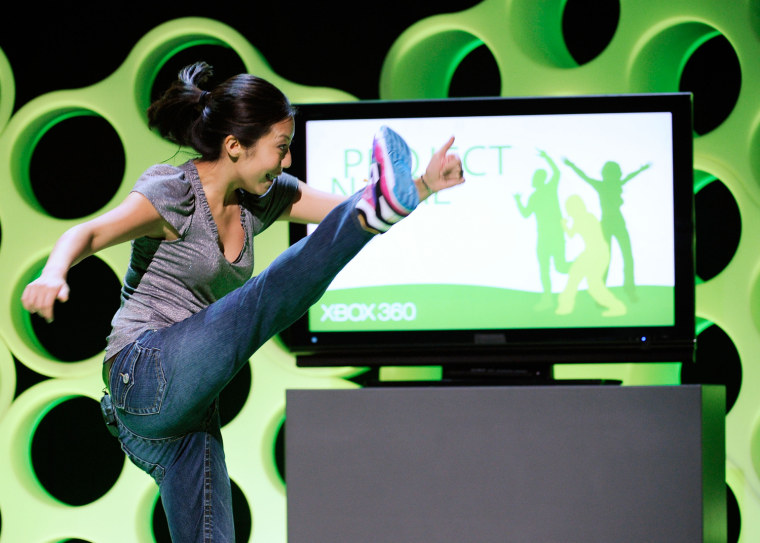 Both Xbox 360 and PlayStation 3 are powerful machines with 120-gigabyte hard-drives and $299 price tags. But the PS3 comes with built-in Wi-Fi capabilities and a Blu-ray DVD player.
The PS3 Network offers online gaming and downloadable movies as well, but the Xbox 360 really shines thanks to Xbox Live, a more robust online option that often delivers exclusive downloadable gaming content, downloadable movies and access to streaming Netflix, among other things.
The Wii doesn't have a hard drive or high-definition graphics, but it does have its innovative and easy-to-use motion-sensing controls, is the most family-friendly of the consoles and gives players access to Nintendo's legendary first-party games.
"From our perspective it all comes down to the games,"  Fils-Aime said. "It all comes down to the best software available."
Cai adds that with the price difference disappearing, "The interesting thing will be: How do these three consoles differentiate against each other — especially as the Xbox 360 and PS3 also plan to introduce motion-sensing technologies."
With both Microsoft and Sony recently announcing that their game machines will have motion-controls of their own in the coming months, Pachter predicts consumers can look forward to the 2010 holiday season when Nintendo finally introduces the rumored Wii HD. After all, if Xbox 360 and PS3 are going to hop aboard the Wii's motion-control train, the Wii will have to add some bells and whistles of its own to stay competitive with the Xbox 360 and PS3.
But that's just a rumor. And you know how rumors are.
Rumor-mongering be gone! Winda Benedetti is spreading nothing but the truth on