/ Source: The Associated Press
Genteel Edinburgh would never want to boast — but its tea, scones and palatial history is every bit as enthralling as London's — and can be had for a fraction of the price and at a much more leisurely pace.
As a bonus, this Georgian gem is small and endlessly walkable with history along every cobblestone street.
Getting around: Walking is the best way to see Edinburgh. With streets like the Royal Mile, which stretches from the Palace of Holyroodhouse to Edinburgh Castle, tourists can amble from site to site and soak up the history along the way. The castle, perched high, is a good landmark for finding your way, viewable from many points within the city.
The terrain is hilly. After all, the 100-square-mile (259-square-kilometer) city is built on volcanic crags. It's easy to get lost among the winding streets and alleyways, but that's all part of Edinburgh's charm.
If time is short, or if you want to see some of the city from the height of a double-decker tour bus, hop on. The local bus system, Lothian Buses, offers single one-way tickets for $2 (1.2 pounds) or unlimited one-day travel for $5 (3 pounds), and goes throughout the city.
If you want to learn some history on your travels, check out Edinburgh Bus tours. They have four bus lines, each featuring a different colored bus, that hit all the major tourist stops, either with recorded or live guides. Day passes can be bought outside Waverly Rail Station starting at $25 (15 pounds) for all four lines, or two days plus a boat cruise along the Firth of Forth for $40 (24 pounds).
You can even get a two-day pass with entry to the Palace of Holyroodhouse, the Castle and the Queen's yacht, Britannia, for $64.25 (38.50 pounds). The price is steep but if you visit all three sites (which cost $55 or 33 pounds alone), you end up saving enough money to treat yourself to afternoon tea.
And hang onto your tickets. They offer discounts at attractions like the Royal Botanic Garden and the Scottish Whiskey Experience, where you can ride in a whiskey barrel. Details can be had at: http://www.edinburghtour.com/.
Historic sites and museums: Edinburgh's central area is so rich in history that it's a UNESCO World Heritage Site. The organization cited the architecture and juxtaposition of the Old Town, which dates to medieval times, with winding streets and alleys, and the New Town, steeped in stately Georgian architecture.
Start your visit at Edinburgh Castle, which defines the city's skyline. It's at one end of the Royal Mile, a touristy stretch that leads past museums, shops, churches and of course, pubs, to the Palace of Holyroodhouse, the official residence of the Queen when she visits Scotland.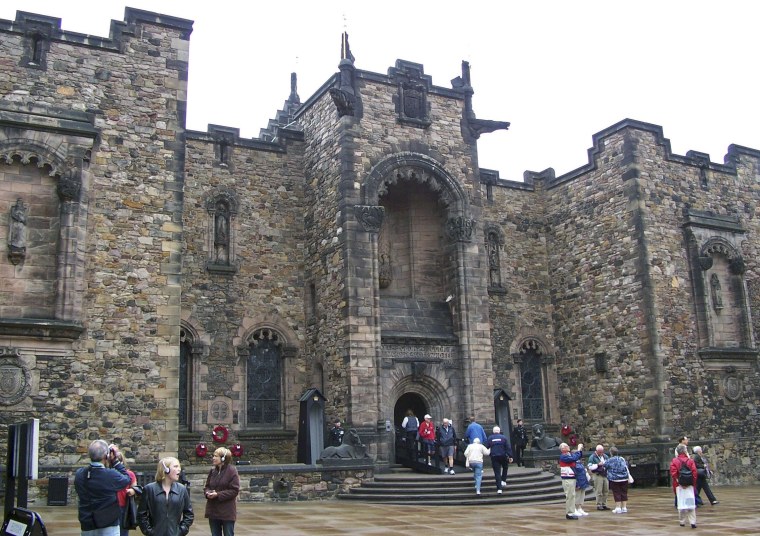 Entry to the castle starts at $21.70 (13 pounds). Audio guides, which most major sites have, can be purchased for just under $6 (3.5 pounds). Play around with the old cannons, look into Medieval churches, see exhibits on Scotland's royal history and the crown jewels, and soak up views of the city from on high. Don't miss the 1 p.m. cannon blast.
Check out the famed spiral of St. Giles' Cathedral and the old Parliament House. Then head east on the Royal Mile — be careful, its name changes — and you can see how Britain's monarchy lives in modern times by touring the Palace of Holyroodhouse. It's open to the public as long as Queen Elizabeth is not visiting. The $16.70 (10 pound) tour fee includes an audio tour that takes you around the castle, the abbey and gardens, sharing insights like how Mary Queen of Scots' secretary and possible lover was murdered by her husband.
Just outside the Palace is Scotland's Parliament, which meets in one of the most strikingly modern buildings in the city. The building, which opened in 2004, is a flamboyant mix of curvaceous metal and wood and was criticized early on for how different it looks from the rest of the city.
But the building commands attention and is worth a look inside, for free. It's bright, airy and welcoming. Visitors can see the debating chambers. There are also tours and an exhibit in the main entrance on Scotland's parliamentary history. For more information, click here.
The National Museum of Scotland, another example of Edinburgh's modern architecture, has free guided tours and audio headsets. Visitors learn about Scotland's history from the clan feuds on, and see the Runic alphabet in use, along with artwork dating to modern day. Next door is the Royal Museum of Scotland, a Venetian palace that houses collections of natural history. Both museums are free.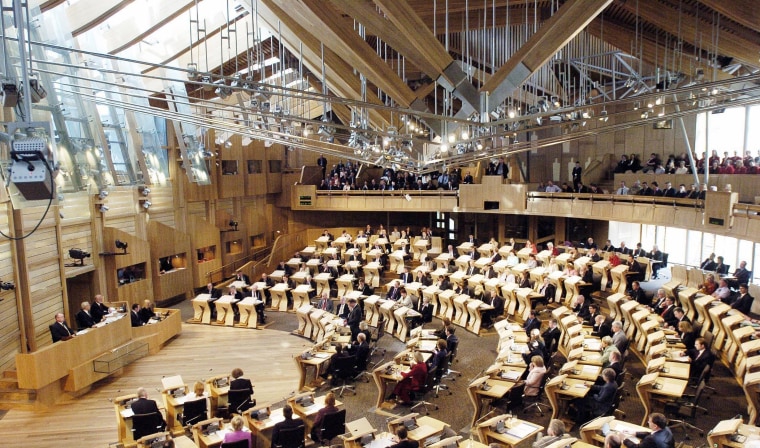 Away from downtown, along the port of Leith, check out the queen's newly retired yacht, Britannia. It offers a look at how the royal family traveled at sea for decades until the boat was retired in 1997. Visitors go through a mall called Ocean Terminal to board the 412-foot-long (125 meter-long) ship docked outside.
Aboard the yacht, visitors can see the queen's sleeping chambers — separate from her husband's — and the room where Prince Charles and Princess Diana slept on their honeymoon, along with the dining room where the queen hosted state dinners.
Sample the free fudge made on board (try the whiskey flavor) and indulge in the toasty scones and tea in the cafe on the enclosed top deck, where you can pretend you're a queen traveling around the world. You also get excellent views of the Forth Railway Bridge, a feat of Victorian engineering that is considered the world's first major steel bridge.
Food: Fast food abounds, but head to the pubs for fish and chips or haggis, typically for about $13 (8 pounds). (Yes, I ate a plate of haggis — boiled offal wrapped in sheep's stomach — washed down with beer, and it was wonderful: thick, chunky, oaty and meaty.) Greyfriars Bobby's Bar, just opposite the National Museum of Scotland, serves a quick dish of haggis with tatties (mashed potatoes) and neeps (mashed turnips).
A monument sits outside the pub to its namesake, a Skye terrier named Greyfriars Bobby who belonged to police constable John Gray. Gray died in 1858; the dog kept watch over the grave for 14 years until his own death. Disney made a movie about the loyal dog in the 1960s.
For a midday pick-me-up try Cafe Lucano downtown. The bright, Italian cafe just off the Royal Mile has half-priced baked goods most afternoons. Espresso and a scone runs about $5 (3 pounds).
Local supermarkets offer prepared meals, from egg salad sandwiches to ethnic food — curry chicken, or even sushi, for a fraction of the price of restaurants.
Entertainment: Live music can be found in many pubs. Sandy Bell's, near the University of Scotland, has traditional Scottish musicians performing most nights of the week, with no cover charge. Tiny and lively, if it's crowded you can't even see the fiddlers, but that doesn't matter. You can certainly hear them. Try a half-pint of beer, about $3.30 (2 pounds).
UNESCO has declared Edinburgh a "city of literature." Home to Scotland's favorite son, poet Robert Burns, it's also where Sir Arthur Conan Doyle found inspiration to create Sherlock Holmes and where J.K. Rowling started writing her Harry Potter series. Try a literary pub tour for about $14 (8.50 pounds) or go it alone with a free literary tour podcast.
Edinburgh is also known for its festivals, from books to film, throughout the year. Chances are, when you're going, something will be on. The Scottish International Storytelling Festival is scheduled for Oct. 23-Nov. 1, a fiddle festival is planned for November and Edinburgh's winter wonderland sets up in the Princes Street Gardens with a market and ice rink in the weeks before Christmas.
If you're planning a trip to next summer, the city comes alive throughout most of August with the Edinburgh Fringe Festival, considered the largest arts festival in the world with 30,000 performances from dance, to theater, to comedy and music. Check out http://www.edfringe.com/ and download the iPhone application, which uses your GPS location to tell you where the nearest event is. Many events require tickets.
For a full listing of Edinburgh's festivals, Click here.
Lodging: Decent accommodations can be had without spending a fortune. I stayed at the Grassmarket hotel near the Royal Mile in peak summer and after hunting online for a deal, got it for $79 a night (48 pounds), with private bath.
For more inspiration go to: http://www.edinburgh.org/guide/.