Chris Fine has been selling remote-controlled cars, boats and other hobby items for 27 years.
These days, he's hoping he'll be able to hang on another few months.
"I hope I make it to December because I'm going to do everything in my power," Fine said on a recent day in which he had sold a paltry $26 in items by midday. "I've got to figure out a way to survive."
As the recession has gripped the nation over the past year and a half, Fine said monthly sales at his store, Mid-Hudson Hobbies in Middletown, N.Y., and online business, Fine Design, have tumbled by more than 50 percent.
Perhaps most disturbing, Fine said entire swaths of business — such as his customer base in hard-hit Michigan — have fallen away completely amid rising unemployment rates there and elsewhere.
For many, he suspects, it's an easy choice between buying a new hobby item and paying the utility or food bill.
"This is disposable income," he said. "If people have any extra income, they come in."
Although the recession has been a struggle for all U.S. retailers, there is evidence that it has been especially difficult for the nation's smaller, independent retailers. With Americans cutting back drastically on their spending, some stores have lost business as shoppers have turned to cheaper discount chains, while others have found that their customers have simply gone without the kind of discretionary items some small retailers sell.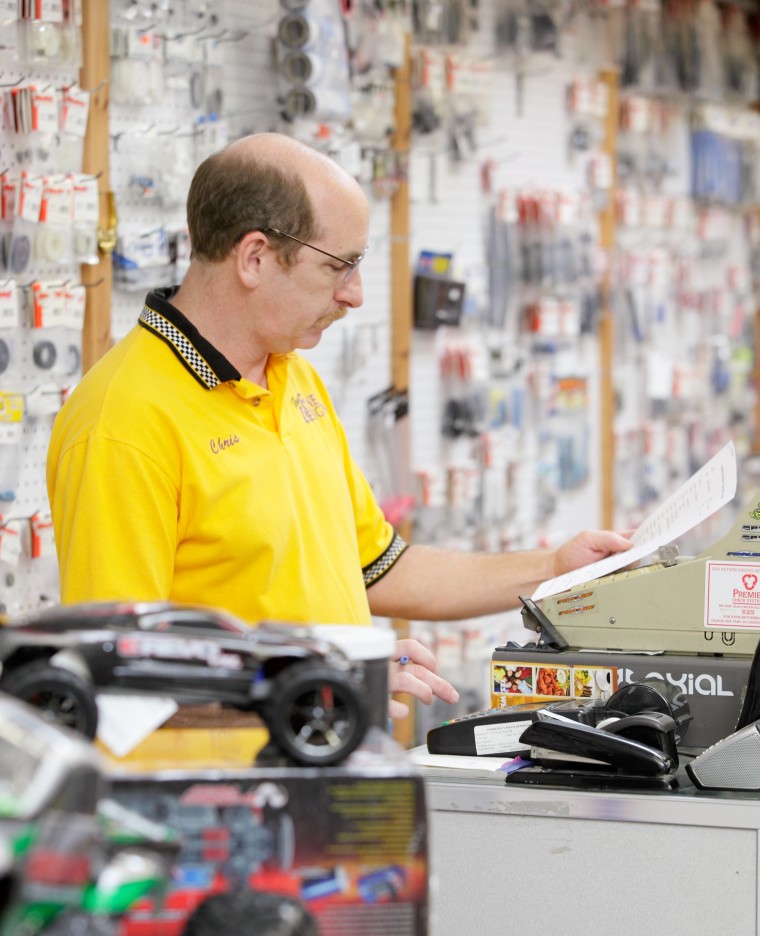 Sales at privately held retailers fell 3.63 percent on average for the first seven months of this year, as compared to an average drop of 1.34 percent for publicly held companies in the same period, according to Sageworks Inc., which provides financial data on privately held companies. The data is based on financial records from thousands of accountants.
The focus on penny pinching is especially hard for small retailers that deal in widely available items, like books or music, and may find it difficult to match the prices at big chain or online discounters.
"Those are the ones that have had the biggest challenge and have really had to find ways to add value to their service," said Jeff Milchen, co-founder of the American Independent Business Alliance, which helps community businesses band together to promote their businesses.
In addition to the drop in business, experts say small businesses may be having a tougher time in part because they don't necessarily have the cash reserves to make it through a deep trough. The credit crunch has exacerbated that problem, leaving some small retailers unable to obtain credit to either ride out the storm or keep the inventory they need to stay in business.
"Independent businesses obviously are smaller and don't have the financial wherewithal to survive a sustained downturn maybe in the same way that their bigger counterparts do, and so that's obviously a concern," said Stacy Mitchell, a senior researcher with the Institute for Self-Reliance, which promotes local community development.
Faced with few other options, many small business owners may also find that they have to rely on their personal savings or credit cards to stay afloat, meaning that any businesses troubles can quickly translate into personal financial problems as well.
Burning through savings
To keep his hobby business going even as sales have plummeted, Fine and his only remaining employee – his brother – have stopped taking paychecks, and he's burned through much of his savings. Nevertheless, he said he's behind on his home mortgage and worried about whether he'll be able to pay next month's rent on his store.
Meanwhile, he's watching many of his competitors go out of business, along with several other local businesses in the downtown area where he's located.
He said he's also facing stiffer competition from his suppliers, some of whom have dropped prices on their own mail-order retail business in order to attract more customers.
On a recent night, Fine said he was up until 5:30 a.m. tinkering with his Web site and racking his brain for other ways to pump up his business. It's a position he never dreamed he'd find himself in.
"It's very frustrating to be at this point in my life, at 50 years old, to have to worry about this," he said.
Perhaps the worst part of  Nishan Shepard's day is the drive home.
"I go home every day and see a new store boarded up," said Shepard, who has run Rockridge Kids in Oakland, Calif., for the past 17 years.
As he's watched so many of the other local businesses in this once-vibrant shopping district succumb to the recession, Shepard said he's also struggled to accept that his business has had to change substantially.
Customers that once regularly splurged on high-priced toys are now shopping for cheaper items, or not at all. Last holiday season, he said, "We didn't sell a product that was $79.99 and up."
To cope with the recession, Shepard said the store, which sells toys, strollers, furniture and other items, has started agreeing to discount an item when a customer requests it, something he'd never previously done in 17 years business.
Meanwhile, he's also increasingly overhearing one customer offer to sell another customer their used strollers or other items, effectively taking a sale away from him right in his own store.
To avoid drastic measures such as cutting his staff of nearly 20, Shepard said he's rooted around for ways to save money on things like phone bills and warehouse space. He said that's allowed him to keep his competitive advantage: expert advice and customer service.
Meanwhile, Shepard himself is dealing with a drop in income as well as a substantial hit to his retirement savings, meaning he's had to cut back on spending himself.
"It does bother me to some degree, but it also makes me understand when my customers come in and don't spend as much as they might have two years ago, or are looking for bargains," he said.
Pockets of hope
Despite the difficult times, Milchen, of the American Independent Business Alliance, said he is heartened to see that many businesses have fought aggressively to keep customers coming in. In the past year and a half, he said, there's been much more interest in small businesses banding together to form community alliances for marketing and other purposes.
He's also seeing more consumer interest in community-supported agriculture, in which locals buy produce directly from area farms. As people think more carefully about what they spend money on, he thinks some are also giving more consideration to where their dollars are going.
"There are clearly people who have shifted their spending to Wal-Mart, and I think there's another group of people who have responded to the recession by making an extra effort to support businesses that are owned by their neighbors," said Mitchell, of the Institute for Self-Reliance.
After months of fretting, Shepard said he and some other local business owners recently realized that they simply have to get comfortable with the idea that business will not be like it once was.
Shepard also realized that he had been spending so much time worrying about the business that he'd stopped taking time to enjoy his work. He likens it to the period after the Sept. 11 terrorist attacks, when many stores opted to close their doors.
"We decided to stay open, first of all because I'm stubborn (but also because) I just wanted to hear those kids come in, laughing and playing at the train table. I knew it would make me feel better," he said.
These days, he said, "I've started listening to the kids again. … That's what keeps me going."