/ Source: The Associated Press
Juanita Sims has lived in the notorious Jordan Downs project in Watts for nearly four decades, raising eight children behind the barred windows of the cramped barracks-like apartments.
She moved in shortly after the Watts riots in the 1960s left nearly three dozen people dead and made the South Los Angeles community a national symbol of urban decay.
Now Sims fears she'll have to leave, just as Watts emerges from years of neglect with a proposed urban village of shops, homes and businesses that would force the demolition of Jordan Downs.
"I'm not afraid to move, but what my fear really is is: Where?" said Sims, 73, who sat at a kitchen table against a wall covered in peeling white paint. "That's what I'm concerned about: Where are we going?"
The proposed demolition of the sprawling complex of two-story cinder-block buildings is part of an audacious but as of yet unfunded $1 billion effort by city housing officials to remake a large swath of the hard-luck neighborhood into a national symbol of rebirth.
Residents recall broken promises
The Los Angeles Housing Authority has pledged to relocate residents within the community, but some of Jordan Downs' 2,300 tenants are skeptical, noting local agencies' broken promises of providing job training and wireless Internet service.
"The plan is to put everybody out," said resident Arthur Jenkins, gesturing toward the homes with both arms as he stood on a sidewalk. "The plan is to build condos."
Jordan Downs, which dominates a parcel of blight the size of 40 square blocks that includes a school and an abandoned factory, was originally built as temporary housing for factory workers during World War II.
The project and the surrounding neighborhoods became engulfed in poverty in the following decades. In August 1965 rising tensions between residents and law enforcement culminated with riots that raged across 50 square miles for six days. Thirty-four people were killed, more than 1,000 injured and 600 buildings were damaged or destroyed.
Since then, Jordan Downs and the rest of Watts has remained a hot spot for crime and poverty. Just a third of the project's residents between 18 and 60 years old are employed, and households average less than $16,000 annually. Jordan Downs' robbery rate this year is five times the city's rate based on population.
Situation of desperation
The statistics portray a situation of desperation for many residents at the project, where a tall black metal gate separates the apartments covered in splotchy salmon-colored paint from the surrounding neighborhood of faded stucco houses.
Clothes lines cut across the project's patchy lawns where, on a recent afternoon, a circle of bleary-eyed men sat on tattered furniture while a few children entertained themselves by dragging a discarded VCR down the sidewalk by its cord.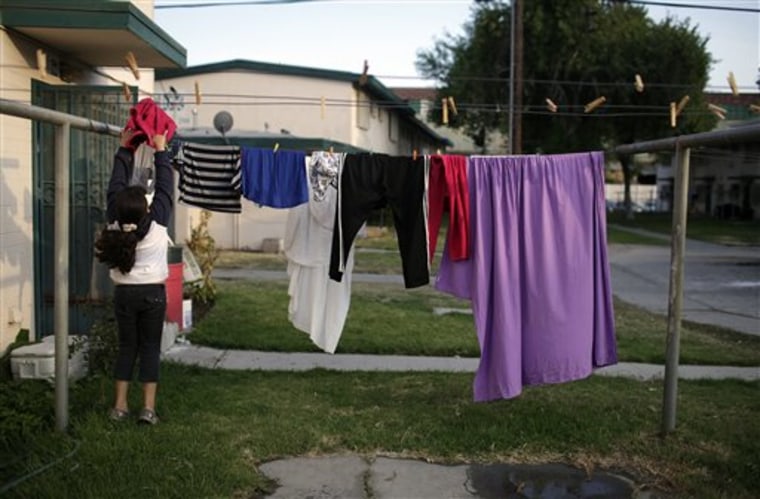 Jordan Downs is much safer, however, than it was in the past several years, when members of the notorious Grape Street Crips gang used empty homes as drug dens, bordellos and dogfighting venues. Police boosted patrols in the area and in 2006 installed a network of video surveillance cameras. The result: a 41 percent drop in robbery the first half of this year compared to the same period of 2004.
Still, Jordan Downs remains a trouble spot for police, and residents said they remain careful to avoid the project's many blind corners.
The city's public housing officials hope their redevelopment project will help tenants feel safer by drawing middle-class residents into the area. They say living among people outside the poverty cycle — along with a planned new corps of case workers to help impoverished residents find good-paying jobs — will raise living standards.
"I see this as a way to invest in the people in such a way as hasn't been done in Watts in forever," said John King, a Housing Authority director.
Plans for the new complex are being drawn up, but officials say it will likely include a mix of townhouses and apartment buildings, peppered with shops and interspersed with small parks and athletic fields.
Other cities, such as Atlanta, St. Louis and Washington, boosted family incomes and reduced crime by replacing traditional public housing with mixed-income development, but most had to displace some low-income residents.
King said his agency won't move any Jordan Downs residents from their neighborhood and has taken pains to get the tenants' support. The agency spent $160,000 to fly a committee of community members to visit successful housing projects in other cities.
Neighbors need reassurance
Richard Alford, one of eight Jordan Downs residents on the 30-person committee, said he tries to reassure his neighbors about the project, but the Housing Authority needs to take tangible steps to improve residents' lives, such as offering job counseling.
"You've just got to start showing stuff to the residents, and then they'll say, 'They're serious,'" he said. "You have to give people something they can touch."
Past disappointments make some residents question whether they're included in the Housing Authority's plans.
A federal audit released in 2005, for instance, found that a $13 million program that began in the 1990s to provide work experience for residents of Jordan Downs and other projects helped few tenants and was plagued by mismanagement and conflicts of interest.
Police, meanwhile, failed to deliver the wireless Internet service that residents were promised as part of the network of surveillance cameras installed in 2006. Deputy police Chief Charlie Beck said the Internet service has been delayed by a funding snag that will soon be overcome.
Many also have friends and family who were given rent vouchers and relocated to homes in Southern California's desert some 60 miles from Los Angeles in the late 1990s, when the Housing Authority redeveloped the Aliso Village projects across town.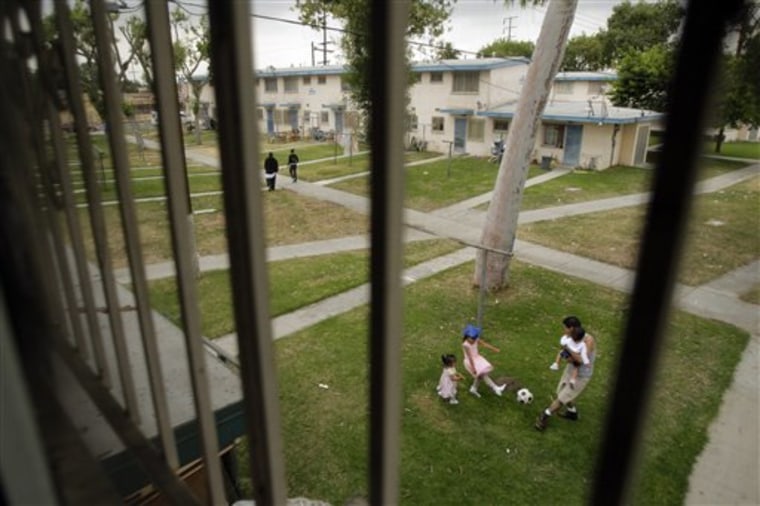 The agency's plan — to be paid for with yet-to-be-raised private investments and government grants — calls for Jordan Downs' residents to be shifted around the community as it takes form.
Redevelopment could begin as early as 2011 with the demolition of the hulking abandoned warehouse of deteriorating corrugated metal that overlooks the project from an adjacent parcel. A first wave of residents would be moved into new homes built on that site so the apartment units can be cleared for fresh development.
The Housing Authority said the area will have some 2,100 homes when redevelopment is complete — triple the current number — to accommodate middle-class newcomers. It hasn't announced when it would begin tearing down the many low-slung buildings that comprise Jordan Downs.
Sims said she can't imagine having to leave her longtime home in the project, but acknowledged she might not have a choice.
"I just don't see moving right now," she said defiantly as her 9-month old great-grandson clung to her leg and squealed. "But it's not for me to say."