/ Source: The Associated Press
Guy Heinze Jr. arrived home from a night out to find a gruesome scene — seven people dead, a cousin with Down syndrome clinging to life and another critically injured.
"My dad's dead, my uncle's dead. There's like six. My whole family's dead!" Heinze said, struggling to describe the scene to a dispatcher after his neighbor called emergency and handed him the phone. "It looks like they've been beaten to death. I don't know what to do, man."
Moments later, the 22-year-old went back inside and discovered his cousin Michael still breathing.
"Michael's alive, tell them to hurry!" Heinze yelled in the background as a maintenance man at the mobile home park stayed on the phone with the dispatcher. "He's beat up! His face is smashed in!"
A 12-minute call released Monday provided some of the only details about a crime — which the county police chief calls the worst murder case in his 25 years on the job — that has this coastal Georgia community on edge.
Heinze's cousin, whom police identified as 19-year-old Michael Toler, died later at a hospital, bringing the total slain to eight. A ninth person remained in critical condition Monday. Police have not named any of the other victims and said they have no suspects.
They have released little information about the case because they do not want to jeopardize the investigation, frustrating residents who want to know if they should be concerned about their safety.
The Georgia Bureau of Investigation was conducting autopsies, but Glynn County police, who would release results, declined to do so. The FBI is also investigating but referred calls to county officials.
'He's freaking out'
Heinze's neighbor, Margaret Orlinski, told a dispatcher she was half-dressed Saturday morning when Heinze ran to her door at New Hope Plantation, a mobile home park on the grounds of a historic plantation a few miles north of Brunswick, a city of about 16,000 between Savannah and Jacksonville, Florida.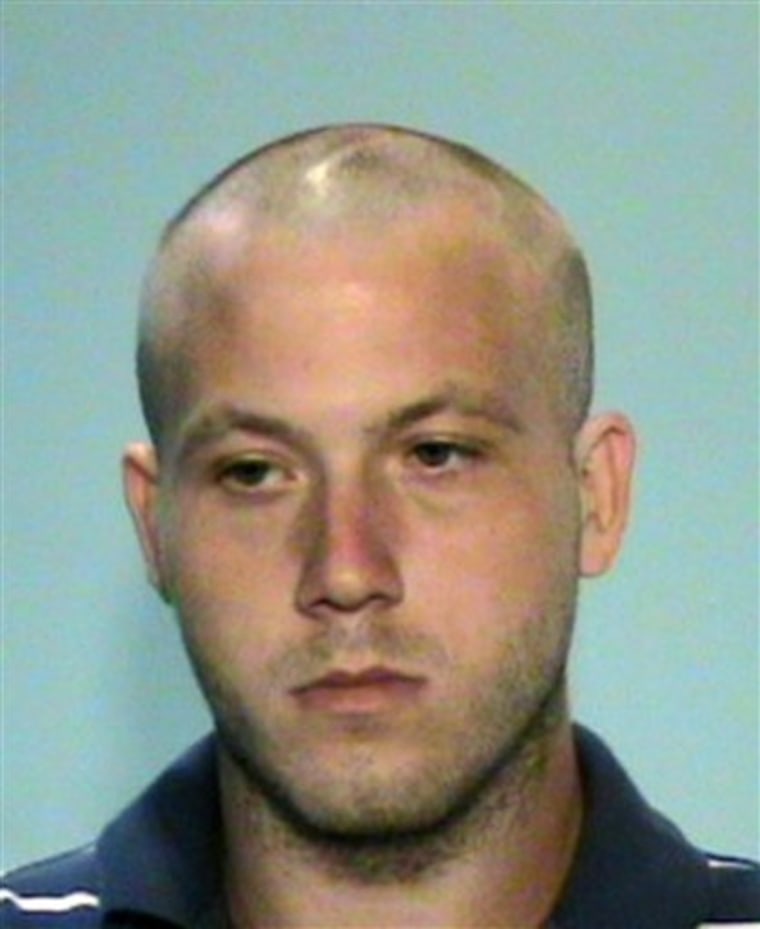 "He sounds hysterical. I can't understand him," Orlinski said on the call. "He's freaking out."
Orlinski declined to speak with a reporter when contacted by phone Monday.
"I have no comment," she said. "This is my neighbor and my friend who was brutally slain."
Heinze talked to the dispatcher, then gave the phone back to Orlinski and ran back into his home. When he returned, he told the dispatcher he had no idea who could have done it.
"I have to call my brother," he said. "I gotta tell him my dad's dead."
Several hours later, police arrested Heinze on charges of drug possession, tampering with evidence and lying to a police officer. County Police Chief Matt Doering said he isn't calling Heinze a suspect in the killings, nor is he ruling him out.
Heinze's attorney, Ron Harrison, met with him Monday in jail and said his client was "deeply saddened, very distraught." Harrison also said Heinze was not involved in the killings.
"He denies any involvement in the murders, and he's looking forward to getting this whole thing behind him," Harrison said in a brief phone interview. "It's just sad beyond belief."
Reward offered
A tentative court hearing was set for Wednesday. Meanwhile, police in the county, known for its green marshes, bustling port and placid islands, pleaded for the public's help and offered a $25,000 reward.
"We still believe there is a person or persons responsible for this somewhere out there, and we're looking for them," Doering said Monday.
In a second emergency call, Gail Montgomery, property manager of the park, said an employee had just told her about the bodies and she heard screams from the house.
"I don't get why they are screaming," Montgomery whispered. "Please hurry."
The dispatcher was overheard asking a colleague to call animal control, saying the family at the home was known to have a "vicious dog." Meanwhile, Montgomery wondered, apparently referring to the attacker, or attackers, "If the dog was there, how could they get in?"