/ Source: msnbc.com contributor
LED LCD TVs from Sony, Samsung, LG and others have joined the parade of garden-variety LCD and plasma TVs on the shelves of retailers. But before you say, "Not another acronym!" consider the energy savings and enhanced picture of this new breed of LCD HDTV.
"Almost every customer who looks at the LED-lit HDTV for the first time immediately says, '"Wow! How did they do that?' " says Best Buy Product Process Manager Andre Sam. "The most important advantages for consumers are deep blacks, shadowy details, smooth motion, vivid colors — all with much less heat and energy consumption."
LED, short for light-emitting diode, refers to the method of backlighting or illuminating the screens of these new TVs. Traditional LCD models use Cold Cathode Fluorescent Lamps as the lighting source. These are thin fluorescent tubes with a panel that diffuse the light throughout the screen evenly.
LED LCD high-definition TVs, sometimes more accurately called LED-lit HDTVs, replace the Cold Cathode Fluorescent Lamps lighting with LEDs. To further confuse matters, some models such as the Samsung's 46-inch UN46B7000 ($2,799) use LEDs around the edge of the screen while others, like LG's 47-inch LG 47LH90 ($2,400) use a full-screen array of LEDs.
The majority of LED-lit models use white LEDs, while Sony's XBR8 line of TVs, including the 46-inch KDL-46XBR8 (around $2,500 retail), uses RGB — Red, Green and Blue —LEDs. The colored LEDs increase color intensity and accuracy.
'Skinny' TVs
Each type of configuration has unique characteristics.
Samsung's edge-lit LED TVs have a skinny supermodel profile. "One thing that sets Samsung LED TVs apart from other HDTVs is the incredible thinness of the set," said John Revie, senior vice president of visual display marketing at Samsung Electronics America.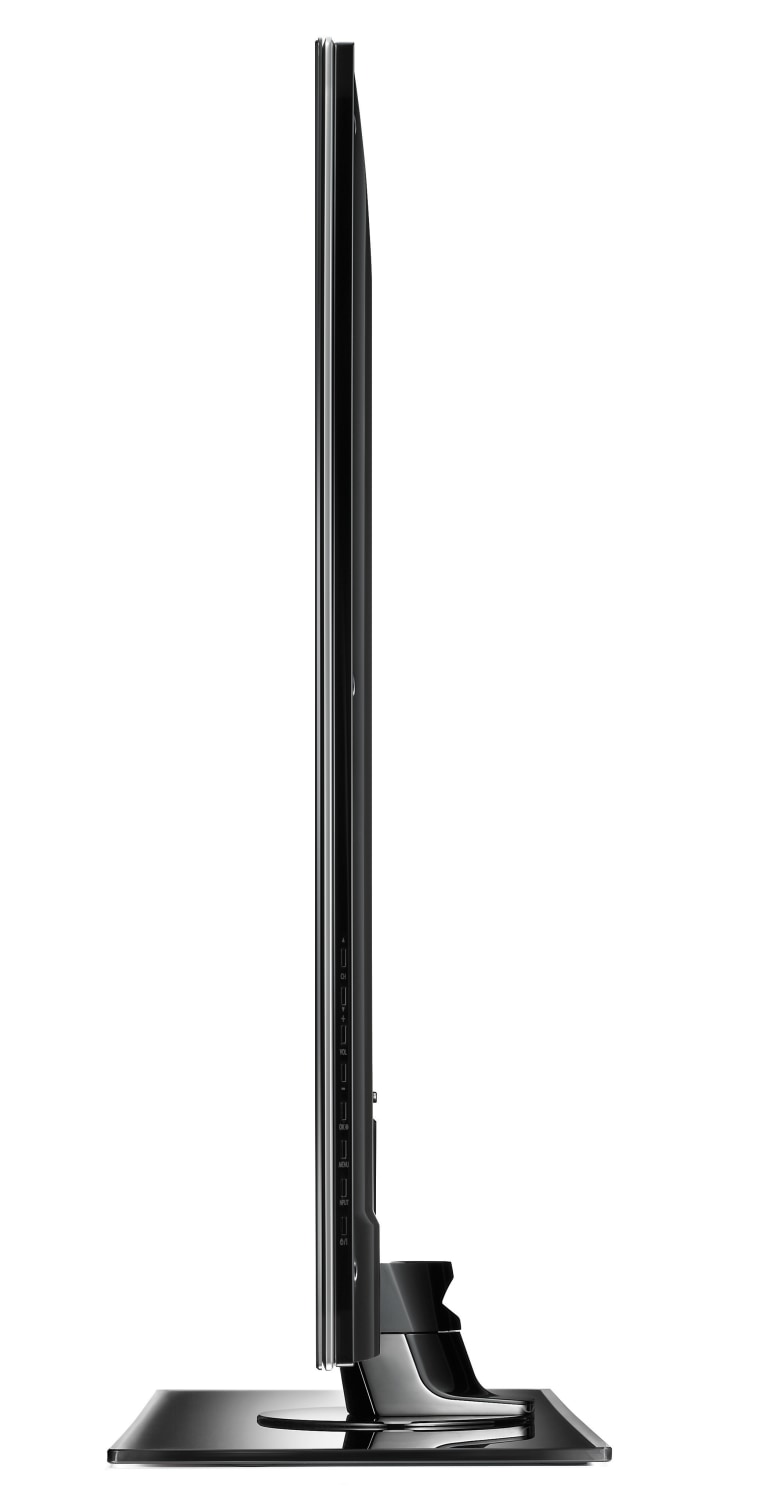 "At just 1.2" (deep) and lighter in weight that than other models, they are easy to maneuver and wall-mount."  
The Samsung line of sets, like most edge-lit LED TVs, are Energy Star v3.0 compliant and use up to 40 percent less electricity than regular LCD sets, Revie said.
While the form and energy savings may be appealing, edge-lit LED models suffer from many of the same performance issues that dog traditional LCD technology. Uneven lighting and grayish black levels are often evident.
Videophiles are advised to look for an LED LCD that features a full-screen array of LEDs and local dimming. A fully-array configuration supplies even backlighting, as opposed to a perimeter of LEDs which give off diffused, potentially inconsistent backlighting.
The greatest benefit is the ability to turn individual LEDs on and off, a feature called local dimming.
Contrast, the difference between light and dark in video images, is noticeably superior to edge-lit sets. The high contrast is achieved by turning off individual LEDs to boost dark or black areas of the picture. Plasma high-def TVs are known for producing the richest colors and deepest blacks, but full-array LED LCDs are closing the gap.
THX certification
LG, one of the major proponents for full-array LED technology, has several models that have been given THX certification, meeting a set of stringent video standards set forth by George Lucas' technology and certification company.
Tim Alessi, director of new product development at LG Electronics, explains the appeal of their LED LCDs: "LED backlighting takes picture quality to a new level by combining some of the best attributes from plasma and LCD into one platform. Details such as plasma-like black levels and color reproduction, as well as the trimmer profile and lower power consumption of LCD, combine for a set that's pretty hard to top."
Typically, full-array LED LCDs sacrifice some of the energy efficiency and have slightly deeper enclosures than their edge-lit counterparts.
For the ultimate performance in LED-lit LCDs, at a hefty price premium, Sony offers the XBR8 line. Called "TRILUMINOS RGB LED" it uses full-array RGB LEDs with local dimming. The XBR8 TVs, the only LED models with RGB LEDs, trump competing full-array LED LCDs that use only white light. White LEDs reduce the intensity of colors and black levels.
Squeezed down
Mike Patton, product manager, LCD televisions at Sony Electronics, recalls his introduction to LED LCD technology: "The first time I saw an LED-backlit LCD HDTV was in a small lab (at) Sony headquarters in Tokyo.
"The electronics required to control all of the RGB LEDs took up more than half the room — one board for each LED. At the front of the room were two TVs that looked identical until they were powered on. It was truly amazing to see how 'not black' the black portions of the movie were on the traditional LCD when compared with the LED backlight utilizing local dimming. My reaction was, 'Wow! Now how are you going to fit this whole room's worth of electronics into a TV set?' Eight months later they had done it."
LED-lit TVs currently account for a small portion of HDTVs sold in the United States because of their higher prices and the limited number of models available. Industry analysts iSuppli believe that LED LCD sales will account for 4 percent of total LCD HDTV sales in 2009, while DisplaySearch puts the share at just 2 percent.
The future looks brighter. By 2013, LED-lit LCD sets should make up between 47 and 50 percent of LCD HDTV sales, the research firms say.
Not plasma's equal
For consumers looking for the best picture quality today, some experts say that even the best LED LCDs can't match the color gamut and black levels, two common quality benchmarks, of premium plasma HDTVs, such as the Pioneer KURO line (which starts at around $3,500).
Ben Drawbaugh, contributing editor at Web site Engadget HD, said he thinks that the new LED LCD sets "really don't compare to the Pioneer KURO. The new LED LCDs are much better than older LCDs, but still need some help to compare to the KURO."
"Infinite contrast is the ultimate goal," Drawbaugh said. "Who knows if it is even achievable? But as manufacturers work toward it, we'll continue to see incremental improvements like the LED LCD."