/ Source: The Associated Press
Indonesian rescue workers pulled bodies Thursday from homes buried in a landslide triggered by a powerful earthquake that killed at least 57 people and severely damaged more than 10,000 buildings.
At least 110 people were hospitalized with injuries from Wednesday's 7.0 magnitude quake, centered just off the coast of densely populated Java island, Disaster Management Agency spokesman Priyadi Kardono said. Ten were in critical condition.
"Everything is gone, my wife, my old father-in-law and my house ... now I just hope to find the bodies of my family," 34-year-old farmer Ahmad Suhana said as he pried at giant stones with a crowbar.
Heavy digging equipment had not reached parts of the worst affected district in West Java province, which President Susilo Bambang Yudhoyono visited Thursday. Police, military personnel and villagers used their hands to remove rubble.
Yudhoyono cautioned rescue workers to be wary of dozens of aftershocks "although they are becoming less powerful." He pledged $500,000 in national assistance to help victims.
More than 24,800 homes, offices, schools and mosques were damaged, about 10,000 seriously, the Disaster Management Agency said on its Web site. At least 3,100 people were forced into temporary shelters, and the Red Cross said it distributed 1,500 tents, as well as blankets, clean water and other provisions.
Some rural areas, particularly along the southern coast, could not be reached by telephone and there may be more victims and damage, officials said.
Many of the deaths and injuries were caused by falling debris or collapsed structures.
Death toll rises
The death toll continued to rise Thursday. More than a dozen bodies were dug out of the rubble in Cianjur district, where a landslide buried a row of homes in the village of Cikangkareng. Villagers were searching for more than 30 friends and relatives listed as missing and feared dead.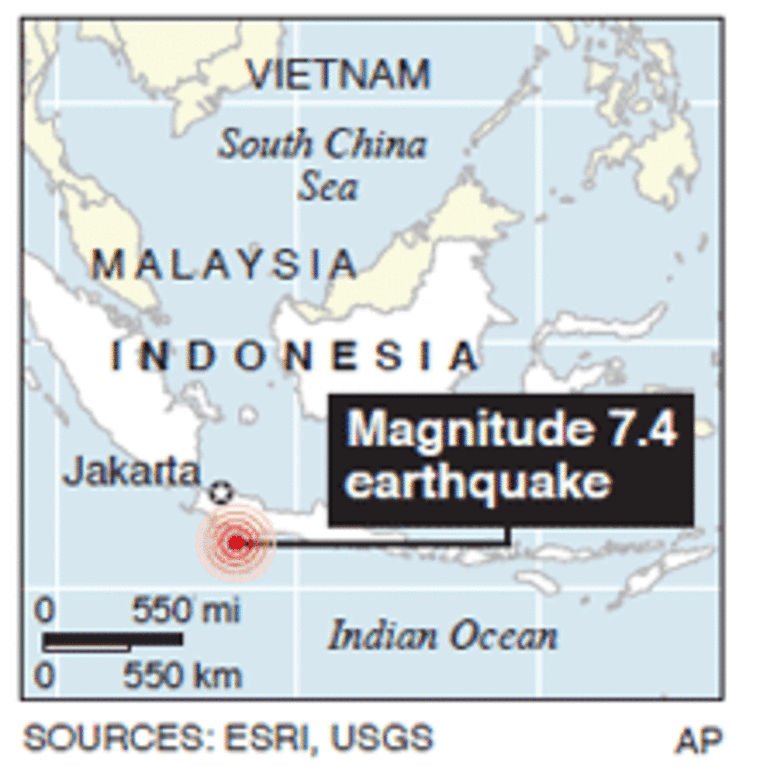 Maskana Sumitra, a district administrator, said 11 houses and a mosque were buried by the landslide.
"The chance of survival is so slim ... but we have to find them," Sumitra said.
When the quake struck Wednesday afternoon, it was felt hundreds of miles (kilometers) away on the neighboring resort island of Bali. In the capital, Jakarta, 125 miles (190 kilometers) north of the underwater epicenter, thousands of panicked office workers flooded out of swaying skyscrapers onto the streets, some of them screaming.
A tsunami warning was issued after the quake but was lifted an hour later.
Hospitals in towns and cities across West Java quickly filled with scores of injured people, most with broken bones and cuts.
In Cikangkareng, Dede Kurniati said her 9-year-old son was playing at a friend's house when the earthquake struck and is now "buried under the rocks."
"I lost my son ... now I just want to see his body, I want to bury my lovely son properly," she said, weeping.
Indonesia, a vast archipelago, straddles continental plates and is prone to seismic activity along what is known as the Pacific Ring of Fire. A huge quake off western Indonesia caused a powerful tsunami in December 2004 that killed about 230,000 people in a dozen countries, half of them in Aceh province.
More on: