/ Source: Forbes Traveler.com
If there's one constant in Las Vegas, it's change. Every year, the city bids farewell to one crop of performers to make way for another wave in the endless pursuit of giving visitors more reasons to come back.
Elton John and Celine Dion leave the $95 million building known as the Colosseum only to be replaced by spectacles from Bette Midler and Cher. Gone is the venerable ABBA hit "Mamma Mia!" from the Mandalay Bay, making way for Disney's "The Lion King." Ditto for "Stomp Out Loud" at Planet Hollywood, replaced by "Peepshow," Toni Braxton at Flamingo, replaced by Donny & Marie, and impressionist Danny Gans at The Mirage, replaced by singing ventriloquist Terry Fator. (Gans, a Vegas institution for more than a decade, moved to Encore Las Vegas in early 2009 but died at age 51 two months later.)
Even Cirque du Soleil, the most enduring name in Vegas entertainment, doesn't rest on its laurels, opening the magic show Criss Angel Believe at the Luxor in 2008 and debuting an Elvis-themed production at the Aria Resort-Casino, both of which open in winter of 2009.
And on it goes, perhaps even more so these days when the recession has put a kibosh on some of the biggest plans for new multi-billion-dollar resorts and hotel expansions. It leaves the stage as the one part of Vegas operations that can be varied with fresh spectacles for comparatively little extra money.
That's not to say it's inexpensive for visitors. Long gone are the days when Sin City's bosses made most of their profits at the tables and shows were loss leaders for casino play. Whereas Sinatra, Elvis and the like were bargains—often free!—to guests in their day, today the Vegas show ticket can be a significant expense. An annual survey by the Las Vegas Advisor in 2009 found the 80 so-called "A-title shows" on the Strip cost an average of $76.18 per seat. Twenty-five shows have at least one ticket option that exceeds $100. Compare that to 2006, when only 12 shows had any $100-plus seats.
It's more important than ever, then, to know which of these extravaganzas are worth your time and money. But, as with all things Las Vegas, which outing is right depends on your mood.
Say, for instance, you're in the market for a headliner. The more things in Vegas change, the more they stay the same—at least in terms of serving up the grandest variety of only-in-Vegas legends. Dion and John may be gone, but Bette's "The Showgirl Must Go On" is a witty and visual romp through the Divine Miss M's greatest hits and bits, while her fellow headliner at the Colosseum, Cher, models no fewer than 20 of her outlandish Bob Mackie gowns.
Those may be the biggest names on Vegas' biggest marquee, but plenty of others reside elsewhere. Barry Manilow's "Ultimate Manilow: The Hits" at the Las Vegas Hilton has been a smash for four years now, kept fresh each year with Manilow reshuffling his lineup and even the name of the show. The most famous Osmonds offer up old-school nostalgia in their sibling act at the Flamingo, TV star Wayne Brady keeps cracking them up at the Venetian and "America's Got Talent" winner Fator looms large with his singing turtle and uncanny Etta James impressions at the Mirage. Magic lovers can do no wrong by heading to the Monte Carlo for Lance Burton, another Vegas legend.
As we noted, Cirque continues to truck along. Nobody could have predicted back in 1993 when the first resident Cirque du Soleil production, Mystere, opened at the Treasure Island, that an empire would be born. Despite talk that it would close in 2011, Mystere—to many minds the gold standard of Cirque—just earned itself another contract through 2016.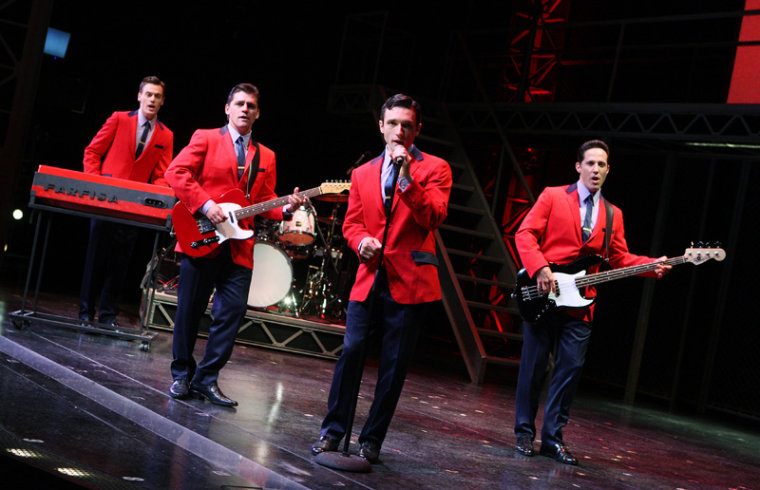 Other shows in the Cirque ouevre include the aquatic wonder "O" at Bellagio, the sultry cabaret of "Zumanity" at New York-New York, the techno-bravado of "Ka" at the MGM Grand, the Beatles-scored "Love" at the Mirage and "Criss Angel Believe" starring the eponymous "Mindfreak" star. The seventh, based on the music of Elvis, has yet to be named but boasts Broadway and music-video legend Vince Paterson as its creator. And, while it's not a Cirque show, "Blue Man Group" at the Venetian has significant Cirque elements of abstract comedy and visual flair.
Much has been made in recent years of the arrival of Broadway shows in Vegas, but the results are a mixed bag. Several have come and gone this decade—"Avenue Q," "Hairspray," "Spamalot" and "The Producers" among those—and it seems the key to success is blending Broadway's storytelling with Strip-style thrills. Take, for example, the aptly named "Phantom: The Las Vegas Spectacular." In this staging for the Venetian, Andrew Lloyd Webber himself shortened the original opera-house-spook classic to 95 minutes and added a one-ton chandelier that hurtles to within 10 feet of the audience.
Two more recent Tony-winning entries seem to be thriving, though, despite little Vegasizing. "Jersey Boys," the biography of Vegas-icon Frankie Valli and his Four Seasons as told through their music, is a consistent sellout at the Palazzo Resort-Hotel. And word of mouth has been strong for "The Lion King," also benefiting from a score of pop hits familiar from the classic Disney cartoon and lots of radio play.
A third Vegas mainstay, the showgirl production, has been enjoying a revival in recent years. The classic "Jubilee!" continues to kick up its topless heels after 25 years, while modern interpretations include the artistic female stripteases of Crazy Horse Paris at the MGM Grand and the burlesque stars of Caesars Palace's Pussycat Dolls Lounge. The biggest news in this area is "Peepshow," a burlesque production at Planet Hollywood featuring live singing of original songs by Tony-winning creator-director Jerry Mitchell and featuring a rotating duo of name-brand stars. The show opened, for instance, with ex-Spice Girl Mel B and "Dancing With The Stars" winner Kelly Monaco in the lead and moved on to former "Girls Next Door" star Holly Madison after that.
While it's true that Vegas shows are no longer the bargain they once were, heavy competition has yielded new ticketing methods. Two web-based services, ShowTickets4Locals.Com and HouseSeatsLV.Com, provide free day-of seats to members; reduced-price seats for most shows can be found at the various Tix4Tonight.com booths that dot the Vegas Strip. (Check the Web site for locations.)