The Wickaninnish Inn could be reasonably be described as a lodge at the edge of the world. Backed by rippling ridges and old-growth evergreens, the 75-room chalet is perched on a promontory overlooking the ocean. In the winter, well-heeled visitors gather behind sturdy windows and are warmed by a crackling fire as they watch ferocious storms batter the coastline.
It sounds like one would have to travel to New Zealand or Patagonia in order to observe such a spectacle. But the Wickaninnish Inn is nestled above Chesterman Beach in Tofino, a village on the western shore of Vancouver Island. And it's a mere 45-minute prop-plane ride from Seattle.
"Tofino is inhabited by artists, explorers and dreamers," says Monica Campbell-Hoppé of the Canadian Tourism Commission. "There's high-end luxury accommodation and gourmet cuisine at places like the Wickaninnish Inn and Clayoquot Wilderness Resort, plus hiking in virgin forests, kayaking, eagle watching and surfing — with a wet suit."
The western edge of Canada isn't the only part of the country where picky travelers can find an out-of-the-way treasure. Our list contains gems from British Columbia, Alberta, Manitoba, Ontario, Quebec, Newfoundland and Nova Scotia.
In order to come up with the 10 best, we polled a panel of experts on all things Canadian: Patricia Schultz, author of "1,000 Places to See Before You Die"; Laurie Creak, a Realtor for Prudential Sussex Realty in British Columbia; and the aforementioned Campbell-Hoppé.
Though all members of the triumvirate expressed regret at having to narrow down their lists in any way, each came up with 10 favorites. Our final list consists of the most common overlaps between the experts' selections.
Northern exposure
In some cases, getting to and from Canada's most intriguing or desirable spots can be challenging. There's no road access to Churchill, Alberta, home to the exhilarating Polar Bear Safari. But making the effort can be more than worthwhile.
Just southeast of the grain-exporting town, hordes of polar bears can be found congregating every autumn as they look for winter dens. Hire an outfitter to take you on a polar bear safari and watch as the bears tussle and play along Hudson Bay. Though air service to Churchill is available, Schultz recommends the 32-hour scenic train ride for those with some time on their hands.
Though it's at least seven hours by car from the nearest U.S. border crossing, intrepid travelers can quench their thirst for adventure by traversing the Cabot Trail, one of Canada's oldest scenic byways. Located along the edge of the Atlantic Ocean amid the stunning vistas of Cape Breton, the Cabot Trail also offers access to some of the best Celtic music in the world. Campbell-Hoppé recommends the Celtic Colours International Festival, which runs Oct. 9-17, 2009, focusing this year on the Irish, and features dozens of concerts and musical workshops.
Not-so-hidden gems
Not every one of the destinations on our list is hidden, per se. Drive north from Quebec City along the St. Lawrence River and you'll find yourself in Charlevoix, a stunning valley filled with quaint hamlets and jaw-dropping scenery. Once favored by American elites like William Howard Taft; more recently it spawned Cirque de Soleil in the early 1980s.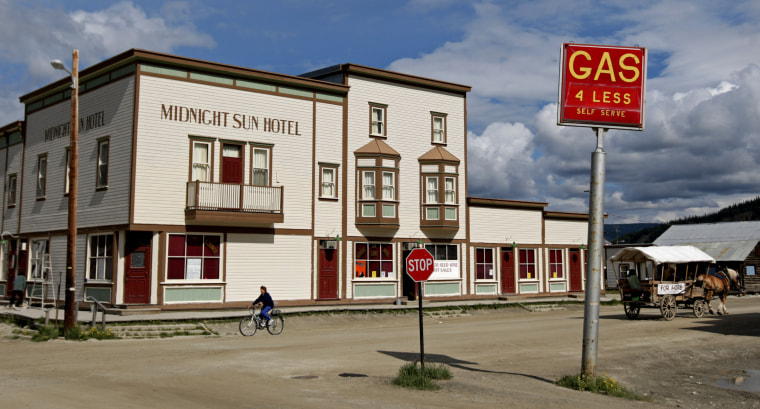 "An ideal stay in this beautifully scenic quarter of Quebec should begin at the Pisonniere, as simple as it is elegant," says Schultz. "But the real luxury is a meandering day in the car, exploring small towns and villages along the back roads with sweeping views of rolling farms."
Other gems, like Jasper and Banff National Parks, are fairly popular —  but still boast secret treasures inside.
"Everyone knows about the drive from Banff, through Lake Louise up to the Columbia Ice Fields and then on to Jasper," says Creak. "But it still takes your breath away to see those massive knife-edged granite walls thrusting into a golden sunset. What most people miss are the myriad hiking trails that run up into those same mountains along crystal clear cascading creeks."