/ Source: The Associated Press
The main library in this book-loving city is an architectural landmark: a daring, contemporary temple to the written word that draws tourists as well as literary locals and those who just want a place to sit, read, rest or think.
Just don't try checking anything out, returning an overdue book or even logging onto the online catalog this week. The city's entire library system — from its branches to book drops to Web site — is shut down to save money.
"I think it's a very sad day — week — for the city of Seattle that they can't access their local library, which is one of the most heavily used libraries in the country," said Nancy Pearl, the city's ex-librarian superstar and the author of "Book Lust," a best-selling tribute to the joy of reading.
"And even beyond that immediate sorrow is that people can't go in and check out or find a good book to read" in a time of economic trouble, she said.
System to reopen after Labor Day
All city departments have been told to reduce spending to make up a $43 million gap in Seattle's 2009 budget. The public library is trying to cut 2 percent, or about $1 million, and the weeklong closure of its downtown central library and 26 branches aims to save $655,000. About 700 library employees are forgoing a week of pay, with the system to reopen the day after Labor Day.
Libraries have been targets for branch closures, reduced hours and job cuts as cities scramble for cash during the economic downturn, said American Library Association President Camila Alire, adding that the group did not have statistics on similar closures around the country.
Among other places, cutbacks and closures have been proposed or instituted recently for libraries in Dallas, Philadelphia, Hawaii, Providence, R.I., and Norwich, Conn.
The reduced hours or closures come just as more people are using libraries for job searches, resume writing, to entertain themselves with a free book or movie, or for a place of refuge.
In western Washington, where gray, damp winters lead to introspection, books and the Seattle Public Library have always been a popular escape.
In the city of about 600,000, the library system estimates 80 percent of Seattle adults have a library card, and visits to libraries jumped from under 7 million in 2004 to more than 12 million last year. Friends of Seattle Public Library, a community support group, says that as of July, library visits were up 8 percent over the same period in 2008.
"It seems so bizarre for a city so steeped in its literature and cultural roots for its library to be closed," said Scottish tourist Cameron Burt, an architecture student at Glasgow's University of Strathclyde as he gazed at the building from the sidewalk outside its locked doors.
'Libraries should always be there'
Burt had hoped to stroll through the Rem Koolhaas-designed central library, whose angular, steel-and-glass walls enclose large, airy spaces that Seattleites have adopted as downtown's de facto living room since it opened five years ago.
"Libraries should always be there for everyone," he said.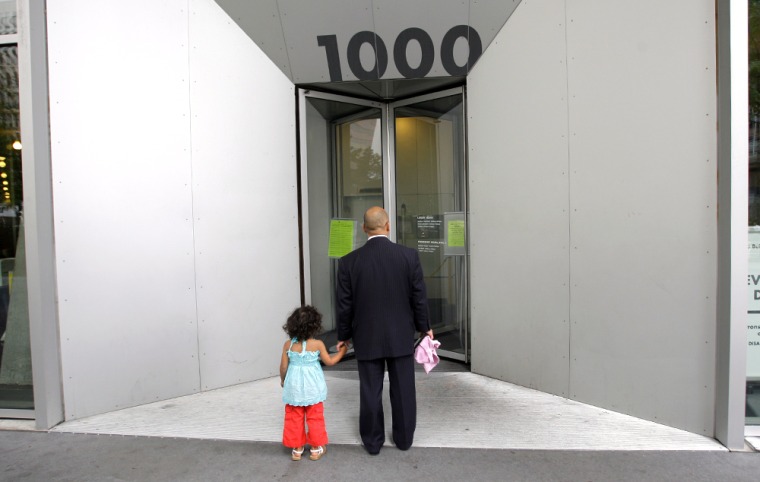 Seattle has closed its libraries before, for two weeks each in 2002 and 2003 during earlier economic downturns. The city announced this week's closure in April.
City Librarian Susan Hildreth said this week was chosen because school is not in session and general library use is low this time of year. Cutting branch hours could have saved the same amount of money, but the impacts would have lasted longer and meant layoffs.
The system also is reducing training, putting off buying some staff computers and cutting administrative costs, including a 4.5 percent salary cut for Hildreth and library directors.
Bill Dennis, a representative of the library workers' union, likewise said the closure was the most equitable way of handling a bad situation in which all city departments have had to share the pain, including jobs gone unfilled, reduced training and overtime, as well as deferred maintenance.
Because much of the library's budget is for personnel, that's where cuts had to be made, and weeklong furloughs were better than eliminating jobs outright, Dennis said.
"Simply to cut jobs and put people out on the street doesn't help anybody," he said.
Would-be patrons tried the locked doors
No materials will be due and no fines will accrue during the closure. Library officials especially cautioned people not to simply leave books or materials on library doorsteps, saying patrons will be responsible for any damage or thefts.
Despite the April notice that the libraries would be closed this week, a steady stream of would-be patrons still tried the doors or the locked depository bins on Monday.
Katie Gallegos, a baker who had just gotten off work around noon, was frustrated she couldn't get a book and check her e-mail before heading home for a nap. The closure is "stupid," she said, adding that it shows the city's priorities are out of whack.
"The city needs to spend its money more wisely and not let budget cuts close something like a library, a public service," she said.
Others seemed resigned to yet another consequence of the bad economy.
"It's more of an inconvenience than anything else," said Matthew Greenham, who had tried to drop off books and DVDs.