/ Source: The Associated Press
Life here is defined by the ocean. It's the ocean that feeds the livelihoods of the lobstermen. It's the ocean that dictates the weather. And it's 20 miles of ocean that separates Matinicus from the mainland and makes it a world apart.
The ocean's bountiful waters have also been a source of strife here for as long as anyone can remember.
Lobster fishermen have feuded for generations over who can set traps, and where. To protect their fishing grounds, the lobstermen here have been known to cut trap lines, circle their boats menacingly around unwelcome vessels and fire warning blasts from shotguns.
With lobster prices down, the animosity has been particularly shrill this summer.
On a July morning, it reached the boiling point when a longtime lobsterman and his daughter drew guns on two fellow islanders. The lobsterman fired, shooting a man he had known for decades in the neck, police reported.
The shooting has shone a spotlight on a long-standing territorial system all along the ragged Maine coast that gives fishermen unofficial rights to specified waters. The rights are legally unenforceable but important and usually accepted.
Nowhere are they more strictly enforced than around Matinicus Island, home to a fleet of three dozen lobster boats whose crews have a reputation for outlaw behavior.
"Every harbor in the state has a piece of bottom they call their own. I would be willing to bet every fishing harbor in the world does the same thing and has been doing it since man went out in a boat to fish," said Clayton Philbrook, a lifelong Matinicus fisherman. "It's just that we've gotten the reputation that we do seriously hold the line. We have to."
Matinicus has a reason for feeling that it's on its own. Slightly smaller than New York's Central Park, the island is the farthest offshore of Maine's 15 year-round island communities. It's so isolated that the ferry only comes once a month in wintertime, when barely two dozen people live there. There are no restaurants or gas stations, and islanders fax their orders to a mainland grocery store.
Hostility
Locals now want the state to create a special zone around Matinicus so only full-time residents can fish the waters. Such a move would cut down on the hostility while ensuring the island community's viability, lobstermen say.
"We have a golden area to fish in," Ron Watkinson said as he prepared to go out to his boat in Matinicus Harbor before sunrise one recent morning. "Instead of us having to enforce the boundaries, the Marine Patrol would enforce them."
Matinicus lobstermen fish with more than 20,000 traps and there's only so much ocean bottom to go around. Some liken the fishermen to the pioneers who claimed farmland in frontier America.
"The only difference between this place and the family farms that were settled out West is our land is covered with water," said Marty Molloy, who lives on Matinicus and runs a business buying lobsters from fishermen.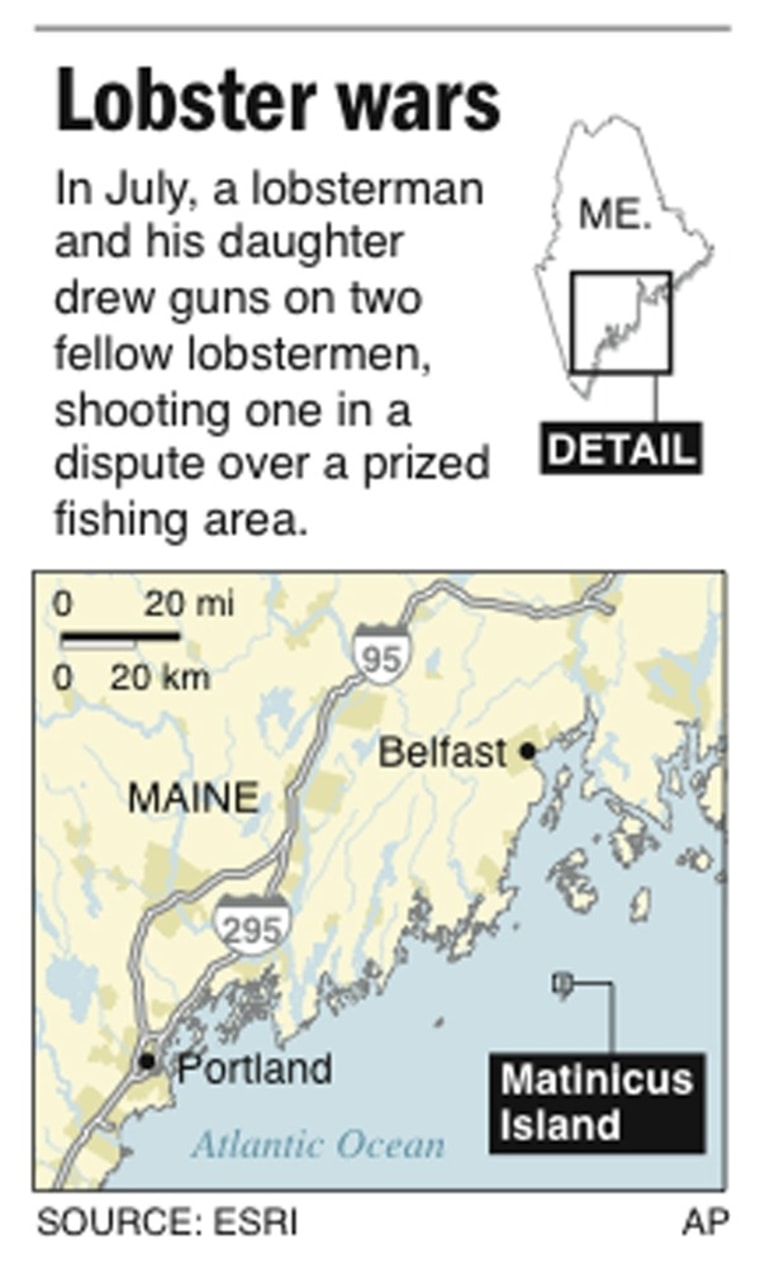 Marine Patrol Col. Joseph Fessenden said he respects the unofficial, self-policing territorial system that lobstermen live by — but laws must be respected.
"We don't let them do their cowboy thing," Fessenden said.
Vandalism and violence to enforce the unwritten rules have cropped up in many places. This summer, in Owls Head along the state's midcoast, somebody sank two lobster boats and partially sank a third. And once in Portland Harbor, a crew rammed their boat into another vessel, jumped aboard and struggled with the other crew before being tossed overboard.
Still, Matinicus has more than its share of run-ins — from smelly bait herring dumped in a gasoline tank, disabling a boat, to raccoons, considered pests, dumped on the island, apparently by a man prevented from fishing there. A few years ago, two island fishermen were charged after one fired a shotgun across the bow of the other's boat when it crossed his wake at high speed.
But this summer saw a more serious incident.
Alan Miller knew he wasn't welcome to set his traps in waters around Matinicus. Miller, 59, is from Wheelers Bay, a small mainland harbor 20 miles across Penobscot Bay, but he reckoned he was entitled to fish Matinicus waters because his wife, Janan, and his father-in-law, Vance Bunker, were lifelong Matinicus residents.
Secret ballots
Bunker, who has homes on the island and the mainland, shared his son-in-law's belief.
But others disagreed. Matinicus lobstermen had voted more than once against allowing Miller to fish around the island. The votes were cast in secret ballots at annual meetings fishermen used to hold the first Sunday of each June in the basement of the island's white-steepled church. (Fishermen put an end to the meetings two years ago after being accused of conspiracy in a still-pending federal lawsuit filed by a lobsterman who had been voted down.)
Nonetheless, Miller this year set hundreds of his traps with their Day-Glo pink buoys in Matinicus waters. Predictably, it wasn't long before somebody cut the lines to many traps, leaving them sitting on the ocean bottom. Replacing a trap can cost $70 to $100.
"He's from Wheelers Bay," said Matinicus lobsterman David A. Ames. "If I went to Wheelers Bay and set my traps, they'd be gone the next day."
Early on the morning of July 20, Marine Patrol officers were called to the island on a report of an altercation between Bunker and Chris Young, a 41-year-old Matinicus lobsterman.
Bunker, 68, grew up with Young's father and has known the son all his life. But tempers were hot that morning. Bunker told officers Young jumped on his boat at 5:45 a.m., accused him of cutting his trap lines and tussled with him, so he sprayed Young with pepper spray.
A short time later, officers received a report that Matinicus fishermen were circling their boats around Miller's vessel outside the harbor. Marine Patrol police responded, and Officer Wes Dean rode back into the harbor on Miller's boat as a precaution. They arrived at Steamboat Wharf at about 10 a.m.
That was when Bunker pulled up to the wharf in a pickup truck and confronted Young and Weston Ames, Young's sternman — and when Janan Miller stepped out from behind a stack of lobster traps and leveled a 12-gauge shotgun at Young and Ames, according to investigators' reports.
When Ames tried to push the shotgun barrel away, Bunker pulled a pistol from his holster and fired at him, police said. He missed.
Bunker turned, took aim at Young and fired again, investigators said. The bullet struck Young in the neck and he fell to the ground.
Dean, the Marine Patrol officer, scrambled up and ordered Bunker to drop his weapon.
Self-defense?
The wounded Young was flown to a mainland hospital, where he underwent surgery. The bullet fragmented upon impact, with parts of it coming within 3 millimeters of Young's spinal column, according to a lawsuit he filed against Bunker; it also said Young suffered serious neurological damage in his hands and arm.
Bunker said he shot in self-defense, claiming he had been threatened in the previous days and that he pulled his gun because he feared that he and his daughter were going to be shot when Ames grabbed for the shotgun.
"When there's a lot of verbal threatening going on and people threatening to kill you or threatening to beat you up or threatening to kill your family, I feel you better pay attention to make sure they ain't going do it," Bunker said in an interview with The Associated Press.
A pillar of the community on Matinicus, who won a prestigious Carnegie Hero award for helping save two crewmen from a sinking tugboat on a frigid January night in 1992, Bunker remains free on $125,000 bail.
The wharf encounter was the first time anyone remembers a lobsterman in Maine being shot in a dispute over fishing grounds.
"It gives us all a bad name," said Darlene Ames, who works as a sternman on her husband's boat.
The reality, islanders insist, is that Matinicus is a quiet community where people work hard and help their neighbors.
Nat Hussey moved from the mainland to Matinicus in 2006 with his wife and three children. Hussey is a lawyer, but he now makes a living on a lobster boat where he spends his days filling bait bags and banding lobster claws with rubber bands.
"Your neighbors aren't just people you wave to here," Hussey said. "They're people you rely on, and who rely on you."
Out here, not only does everybody know everybody, they know the sound each other's vehicles make while traveling the island's 4.1 miles of dirt roads. Islanders drive rusting pickup trucks with busted-out headlights and taillights and leave their keys in the ignition. They aren't required to get their vehicles inspected, and many don't have license plates.
Residents think of their 2-by-1-mile island — where just five children attended the K-8 school last year — as a world unto itself.
They jokingly refer to the mainland as America and have hung a "Matinicus International Air-Strip" sign at the island's 1,528-foot dirt-and-gravel airstrip. Penobscot Island Air flies a seven-seat plane from the mainland for $50 one-way, weather permitting; rain and fog often ground the flights. A water taxi will take you from island to shore for $50, again subject to the unpredictable weather and seas.
There's little tourism. A small bed-and-breakfast, a gift shop and a store where people can pick up sandwich makings, beer, chips and ice cream are about the only businesses.
For the most part, islanders like things just the way they are.
"We don't want a big influx of people coming to the island, because we can't accommodate it," said Donna Rogers, an artist who has lived here with her lobsterman husband for some 30 years.
Tough times
Maine accounts for 80 percent of the nation's lobster catch. The state's nearly 6,000 licensed fishermen caught nearly 70 million pounds in 2008. The most successful fishermen, known as "highliners," can make more than $100,000 a year after expenses, though many fall short of that.
The waters of Penobscot Bay, where Matinicus is located, are as productive as any. But times are tough these days. This summer, lobstermen have been getting under $3 a pound for their catch, about $1 less than in recent years.
It would help greatly, locals say, if the state would approve their request to create an official Matinicus fishing zone where outsiders would be barred from setting traps — similar to zones off two other Maine islands, Monhegan and Swan's.
Clayton Philbrook, whose family has been here since the 1820s, says he doesn't want his son, Nick — a 28-year-old who named his boat "Destitute" — to be the last of the Philbrook line to fish here.
"If we lose control of the bottom so people can't make a living, the town's gone. That's it," Clayton Philbrook said. "And we don't want that."