Each weekend this fall, 74,000 fans will pack Cleveland Browns Stadium to cheer their team. But 200 miles south of that, some 2 million people will, at some point, experience a much quieter — and less crowded — side of Ohio in Hocking Hills State Park, driving under thick boughs of hardwood leaves aflame with autumn color.
For a few short weeks each year, entire swaths of the country turn into patchwork quilts of red, purple and gold foliage. Along with Ohio's Appalachian Mountains, California's Sierra Nevadas and the White Mountains in Maine, both will soon be drawing day-trippers on the lookout for the first signs of fall.
Once cold nights and short days cue the coming winter, deciduous trees, in an effort to conserve much-needed energy for the winter, drain chlorophyll from their leaves — leaving behind the bright pigments that were masked there during the warm months.
Pat Quackenbush, naturalist for Hocking Hills State Park, says the 130 species growing in the region make for uniquely brilliant colors each fall, since the more species of trees around, the more diverse the leaf color in the canopy.
"Different trees produce different types of pigments, just like different people produce different types of pigments," Quackenbush says. "It's really impressive how many we have here, and the color changes you can get. Oranges and purples and yellows and reds: You name it, it's out there."
Planning a road trip among the leaves hinges simply on deciding which colors one wants to see. Aspens, like those found along Route 168 in the Sierra Nevada Mountains, turn yellow. The maples along Route 100 in the Green Mountains of Vermont turn red. And Independence Pass, near Aspen, Colo., has a little bit of everything, including evergreen pines and firs stashed in between brilliantly yellow and orange cottonwoods, poplars and birch trees.
Plan ahead
Elevation plays a key role in when and how quickly leaves change color. Higher elevations, like those of the 12,100-foot high Independence Pass, can see leaves change as early as September, while hill sides under 4,000 feet are likely to have leaves that change in October and even November.
Patrick Eisert, the innkeeper at the Berry Springs Lodge in Gatlinburg, Tenn., recommends driving the 5,100-foot Newfound Gap Road in mid-October, and then heading down to Cade's Cove, at less than 2,000 feet, a month later. That extended season is what makes the Smokey Mountains such a draw for fall tourists.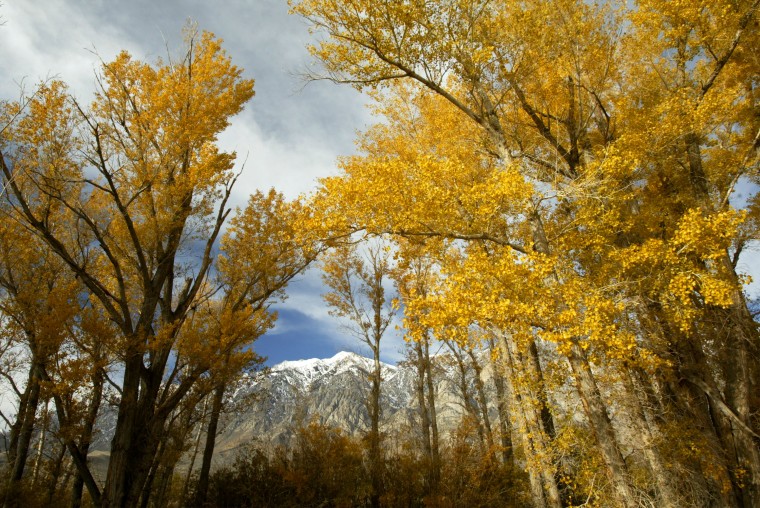 "It's not like up north, where everything changes real quick, and you have to hit it just right within a week," Eisert says. "Here, because there're so many different elevations, you come earlier and the higher elevations are going to give you color. And as time goes on, the color goes down lower and lower."
The best way to plan a trip to see leaves — to view the most vivid changes — is to set aside the date first, and then, based on that date, determine where to go. Foliage directories like the Foliage Network and mainefoliage.com keep daily and weekly tabs on the best places for viewing, so a phone call or e-mail a few days before starting out is a good idea.
Stuart Crocker, architect and owner of the Crocker Pond House in Maine, has long worked as a foliage spotter for the Foliage Network. He recommends driving Route 113 in Maine near the end of September, when the air has already cooled and the days are likely to be clear and crisp. The route winds through rural western Maine toward New Hampshire, and the views of the oaks, maples and elms will be memorable, he promises.
"The interesting thing about the road is it's not open in the winter, so the trees grow very close to the road," Crocker says. "You're driving through this tunnel of trees, and then it goes out to the height of land and opens up over this valley. It's just magnificent."