/ Source: The Associated Press
Luigi "Giggino" Nocerino once stalked tourists through the tight alleys of this southern Italian city, snatching bags and valuables to fuel his drug addiction.
Now he looks after his former prey, escorting them through bad neighborhoods and giving tips on how to avoid muggings and where to eat the best pizza.
Nocerino is one of 70 former convicts, including muggers, drug traffickers and con artists, hired by authorities to guide tourists through the art-rich but crime-plagued city and use their inside knowledge of the local underworld to keep visitors safe.
Officials say the six-month experiment that began in May is succeeding in reducing petty crime and preventing the ex-cons from falling back into old habits or joining the ranks of the Camorra, the powerful mob syndicate that runs global drug rings out of Naples.
"I used to hunt for tourists. How things have changed," Nocerino marvels, recalling how he spent more than 10 of his 43 years serving prison terms for drug-related offenses.
Nocerino and his fellow guides roam tourist-filled areas, like the historic center of Naples or its port, wearing bright yellow vests identifying them, in somewhat mangled English, as "Operator for the Urban Tourist Assistance."
Some speak basic English and Spanish but most use Italians' expressive hand gestures to get the message across. They walk around in groups accompanied by a supervisor, usually a private security guard, who knows them and reports on their performance.
Their job can include pointing the way to a monument, helping tourists negotiate a cab fare or walking them to a specific pizzeria or a pastry shop. The service is free and tips are not encouraged.
Giovanni Aspride, a 53-year-old former counterfeiter, said he and his colleagues usually wait for tourists to approach them, though they may come forward if somebody seems desperately lost or to tell a visitor to remove a gold watch or tuck a wallet in a safer pocket.
Though their criminal record does not have to be revealed, the guides are not shy about discussing it if it comes up in conversation.
On a busy shopping street on Tuesday, Aspride pointed an American couple just off a cruise ship toward baroque churches in the area, then checked that they weren't wearing any jewelry that could attract unwanted attention.
"You OK," he told them in broken English.
The tourists were unfazed when told Aspride had served time.
"It's a great way to reintegrate them into society," said Brooke Cervine March, 37, of Santa Fe, New Mexico. "Everybody deserves a second chance."
Her husband, Scott Cervine, said a fellow cruise passenger bought an MP3 player from a street vendor, only to find out later that he'd been conned.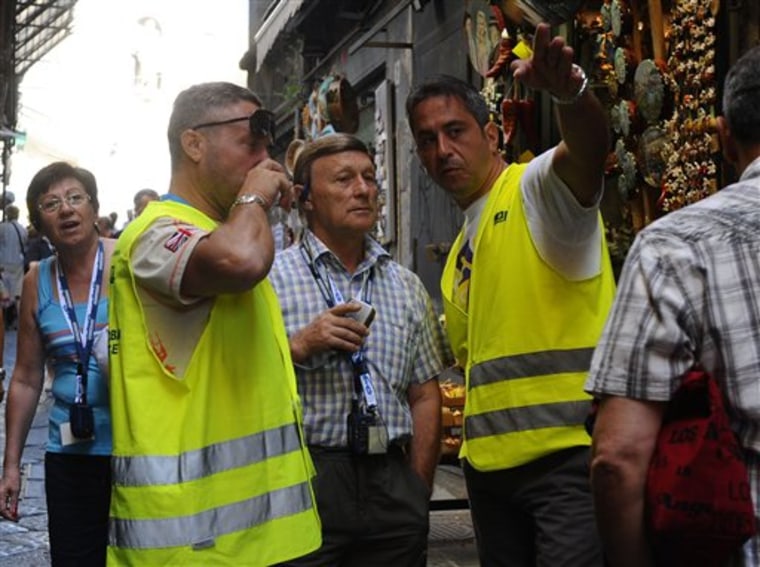 Aspride smiled as he recognized the trademark "pacco" — the package trick. Unscrupulous street vendors will display a high-tech gizmo, then place it in a box, which at the last moment is switched with one that's empty or contains a heavy object.
The guides must call police if they see anything suspicious, but officials say that in some cases they have taken matters into their own hands, chasing off muggers or returning lost property to tourists.
When the government of the Campania region, which has Naples as its capital, started the project the idea caused uproar.
Applicants went through interviews and were chosen based on any previous working experience and language skills. Serious offenders including murderers, rapists and mobsters were ruled out.
Still, critics complained the ex-cons could be a danger to tourists and tarnish the image of a city already reputed as unsafe.
"We were accused of putting the wolves in charge of the sheep," said Corrado Gabriele, the regional official in charge of labor issues. "I think convicts should not be marked for life and, once they have served their sentence, we have a duty to help them."
The project has had its rough moments: one of the ex-cons was arrested on the job — but that was after the slow-paced Italian courts sentenced him for a crime committed more than a decade ago.
None of the convicts has committed any crime since the project started and the initial distrust has largely dissipated, said Alessandro Maria Vecchioni, head of an education agency that runs the scheme.
He proudly showed letters of thanks from tourists helped by the guides and citizens' petitions to increase their numbers and hours.
For now the guides work 20 hours a week for a monthly salary of euro500 ($725), paid by the Campania region with European Union funds.
"By escorting tourists to restaurants and shops in areas previously unsafe for visitors they help revive the area's economy, and then the locals are the first to turn against petty criminals," Vecchioni said.
Though it's too early to draw conclusions, Vecchioni said initial figures show crimes like muggings are down 85 percent in some of the areas covered by the guides.
"They bring customers and some extra safety," said Salvatore Eder, who runs a food store in downtown Naples. "There should be more of them."