/ Source: msnbc.com staff and news service reports
Canadian Prime Minister Stephen Harper on Wednesday met with President Barack Obama at the White House, bringing with him some environmental baggage: Activists back home were squatting at a huge open pit mine used to get oil from tar sands, while a company this week pleaded not guilty to charges it was negligent in the deaths of 1,600 birds that flew into a tar sands waste reservoir.
Harper is eager to protect the oil sands industry, which has spurred a booming economy in western Canada in recent years.
Environmental groups want Obama to get tough with Canada over the issue, but the president wants to reduce America's reliance on Middle East oil and has said he would like to work with Canada on developing carbon capture and storage to help deal with the massive emissions from the sands as well as the U.S. coal industry. The new, largely unproven technology would bury harmful emissions underground.
Harper said in Parliament on Wednesday that the U.S. coal industry is 40 times bigger than the output of the oil sands. Harper also noted the oil sands are a huge source of jobs in Canada and said they are working with the Obama administration on a clean energy dialogue.
Industry officials estimate the oil sands in northern Alberta could yield as much as 175 billion barrels of oil, making Canada second only to Saudi Arabia in crude oil reserves.
But the extraction process requires uprooting forest and produces a high amount of the greenhouse gases blamed for climate change. Experts say producing a barrel of oil from sand results in emissions three times greater than a conventional barrel of oil.
Critics say the growing industry also threatens Alberta's rivers and ecosystems.
Greenpeace protest at mine
On Tuesday, 20 Greenpeace activists shut down a massive Shell oil sands mine in northwest Alberta by chaining themselves to giant earth-moving equipment.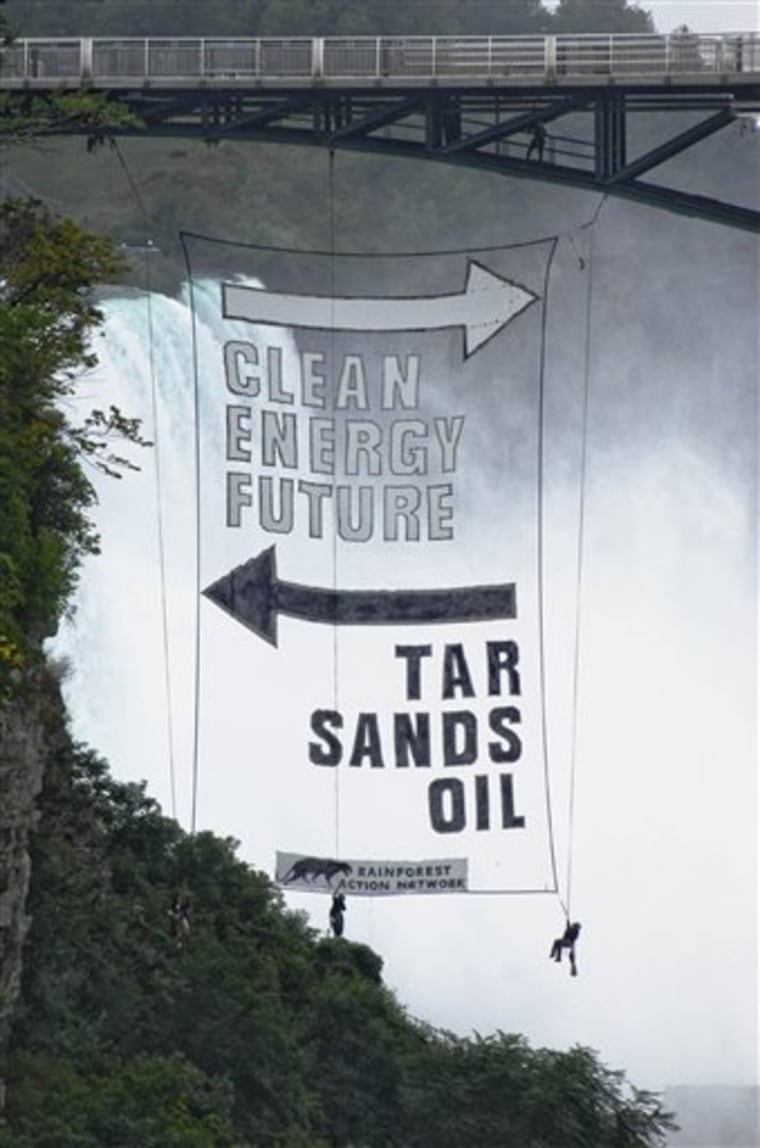 Shell temporarily suspended operations to ensure the safety of the activists and of Shell staff, while it negotiated with the protesters.
Shell and the Royal Canadian Mounted Police were eager to see a peaceful end to the demonstration as it stretched on through most of the day. Shell spokesman Paul Hagel said the company invited the protesters to unchain themselves and come to a nearby office to discuss their concerns. Shell also offered them food, water and bug spray.
RCMP Constable Karolina Malik said the protesters were very polite, so there was no rush to cut the chains or make arrests.
But Greenpeace resisted Shell's attempts to negotiate an end to the protest and said its activists were still at the site Wednesday.
Mike Hudema, one of the Greenpeace leaders who chained himself to a massive dump truck, said they wanted "to send a very strong message to President Obama and Prime Minister Harper that climate leaders don't buy tar sands."
Activists with Rainforest Action Network staged their own protest, unfurling a 70-foot banner from a bridge at Niagara Falls on the U.S.-Canadian border.
Obama's argument
The tar sands, or oil sands, issue also came up when Obama visited Harper in Canada last February.
Just before traveling to Ottawa, Obama told the Canadian Broadcasting Corp. that he had concerns about the emissions from oil sands.
"What we know is that oil sands creates a big carbon footprint. So the dilemma that Canada faces, the United States faces, and China and the entire world faces is how do we obtain the energy that we need to grow our economies in a way that is not rapidly accelerating climate change," Obama said in February.
"I think to the extent that Canada and the United States can collaborate on ways that we can sequester carbon, capture greenhouse gases before they're emitted into the atmosphere, that's going to be good for everybody," Obama added.
Obama has criticized America's dependence on Middle East oil and has said he'll get serious about energy independence.
Canada has warned Washington would lose energy security if it doesn't take Alberta's oil. Daily production of 1.2 million barrels from the oil sands is expected to nearly triple to 3.3 million barrels in 2020.
Company charged in duck deaths
The Harper-Obama meeting took place the same week that a Canadian company pleaded not guilty to charges relating to the deaths of 1,600 ducks on its toxic waste pond last year.
Syncrude on Monday told a Canadian court that it did everything it could to prevent the incident and has since installed better technology to ensure it doesn't happen again.
At the time of the incident, Syncrude said it was having problems with its electronic cannons, which were used to scare the birds away from the oily waters. The cannons were not operational at the time but have now been fixed.
"It is not possible for anybody to do more than Syncrude has done to ensure that it never happens again and so we've pleaded not guilty," said Syncrude lawyer Robert White.
The company insists that it is not legally responsible in the incident, but the prosecution, along with environmental groups, firmly disagree.
"The prosecution in our view is still necessary because I don't think the public would be accepting that they've simply made some changes and that's good enough," said prosecutor Kent Brown.
"What we're going to see here is a lot of legal wrangling as they try and wrangle and weasel their way out of their responsibility," added Bruce Cox with Greenpeace Canada.
The Alberta provincial and federal government served Syncrude with joint charges under the Migratory Birds Convention Act and the Alberta Environmental Protection and Enhancement Act.
The provincial charge carries a maximum fine of $500,000, while the charge from Environment Canada, the country's environmental agency, could cost the company up to $300,000.
Activists have called the maximum fines given the huge profits the company has reaped in recent years.
The trial is scheduled for next March.
The flock of ducks landed on the tailings pond in April 2008. Such ponds, which contain billions of gallons of water left tainted after being used to remove oil from sand in the area, sit along the flyways birds use to migrate to and from northern nesting grounds.
Only a handful of ducks survived. Syncrude, which had initially reported 500 ducks were involved, later admitted the actual number was triple that amount.
Dozens of tailings ponds have been building up over 40 years in northern Alberta, but an action plan announced recently aims to force companies to clean up the sludge over several decades.
Environmental groups say this go-slow approach will do little in the short term to reduce the size of the toxic ponds, which are so large they can been seen from space.