/ Source: The Associated Press
U.S. Customs officials returned to China on Monday fossils dating from as early as 100 million years ago that had entered the country illegally. They included bones of a saber-toothed cat, a partial skull of a dinosaur and eggs of several other dinosaurs.
The undocumented relics had been shipped in two loads and were confiscated by customs agents in Chicago and Richmond, Va., the Homeland Security Department said.
A department announcement said the fossils were found during routine inspection of arriving cargoes. Some are suspected of being intentionally brought in in violation of U.S. import laws, the department said.
John Morton, an assistant secretary of Homeland Security, said "the attempt to remove them from China ran up against a network of national and international customs laws that are in place to protect against the theft of cultural property. We are pleased to return them to their rightful owners, the people of China."
Experts at Chicago's Field Museum said the dinosaur fossils confiscated there date from 100 million years ago. The fossils were from a Psittacosaurus lujiatunesis, a two-legged dinosaur less than six feet long with a distinctive skull that had a prominent parrot-like beak and high nostrils.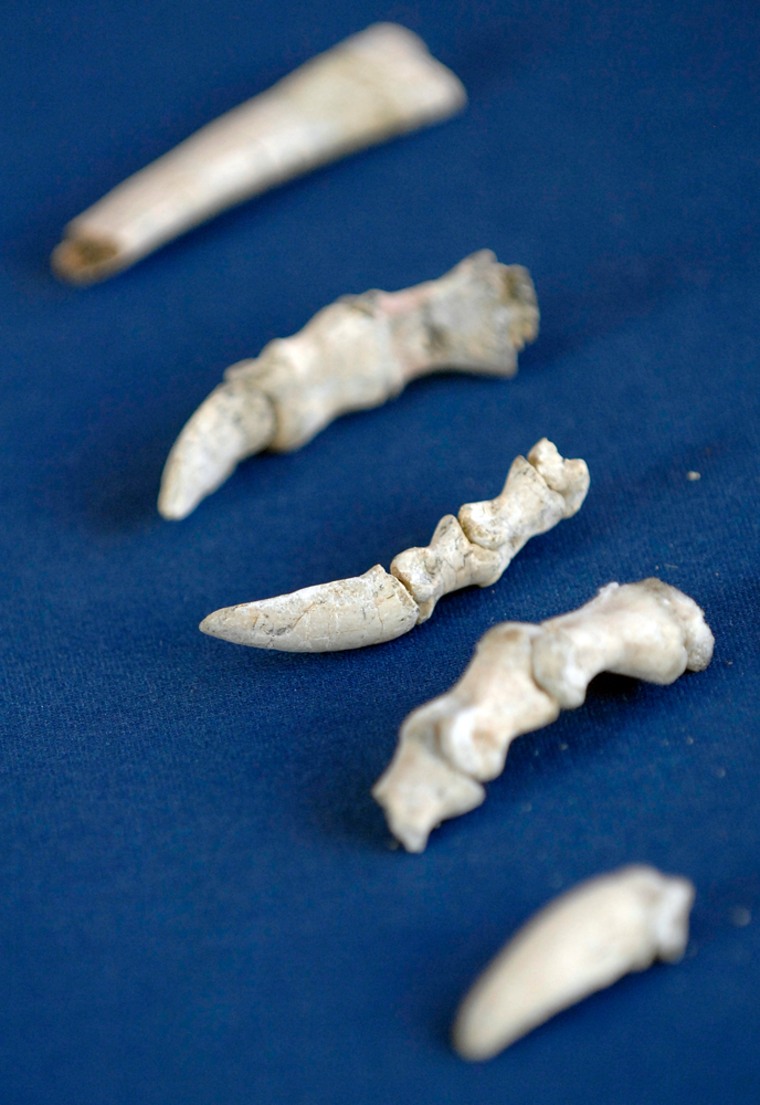 The 24 fossilized dinosaur eggs were authenticated by experts from the Virginia Museum of Natural History to date from about 60 million years ago.
The contraband fossils were turned over in a ceremony at the Chinese Embassy in Washington. The embassy's deputy chief of mission, Xie Feng, expressed gratitude to the U.S. government.
"In recent years, China and the U.S. have developed close cooperation in law enforcement and made steady progress and prominent achievements, particularly in the fields as counterterrorism, drug enforcement as well as combating other transnational crimes," Xie said.
Homeland Security said U.S. Customs officers found the first cache of fossils in three parcels at the Chicago O'Hare International Mail Facility in December 2006 and October 2007. The parcels were confiscated after X-ray images did not match the declared contents. They were handed over to U.S. Immigration and Customs Enforcement for further investigation.
The Chinese Consulate in Chicago determined the fossils were cultural relics that should not have been exported. The Ministry of Land and Resources in China requested that they be returned, and the items were seized.
The fossilized dinosaur eggs entered the United States through Washington Dulles International Airport outside Washington and were shipped to Richmond, where they were seized by CBP officers and determined to be protected property.
Chinese officials are being sent to the United States to escort the fossils back to China.
ICE, the largest Homeland Security investigative agency, investigates cultural artifacts that appear to have been imported illegally and often show up for sale in the U.S. market.