/ Source: The Associated Press
Five weeks after Taiwan's worst storm in a half-century killed hundreds of people and buried hundreds of village homes in mudslides, the massive task of reconstruction has only just begun.
Sections of densely forested mountain slopes are bare where mudslides cascaded down. The foundations of bridges that were destroyed by torrential waters lie on river beds lined with large boulders. The remains of a collapsed building teeter on a river bank.
Workers using large bulldozers are gradually removing the debris and wreckage. They are rebuilding downed bridges and repairing severed roads in the southern, upland regions worst hit when Typhoon Morakot slammed into the island Aug. 8-9.
The storm dumped 6 feet of rain in some locations in southern Taiwan, triggering massive flooding and mudslides in and around some 40 villages. About 700 people died.
The government has earmarked $3.6 billion for reconstruction work over the next three years. That will include building houses for the 7,000 people whose homes were washed away or otherwise destroyed.
In the district of Kaohsiung, workers face the gigantic job of rebuilding 30 destroyed bridges and repairing many parts of a 370-mile road winding through the mountains.
Its two main rivers, Laonung and Cishan, and many tributaries breached their banks. Scenic spots, including waterfall and hot springs resorts, were buried under mudslides, along with village houses, orchards and vegetable plantations.
"Nothing could stand intact when such massive floodwaters and mudslides came rushing down," said Huang San-che, an official supervising the reconstruction work, said as he pointed to the craggy foundation of the destroyed Jiashian Bridge.
Planning for 'more frequent' events
"Such flooding may become more frequent," he said. "We will have to build the new bridges taller, wider and stronger. The embankments will also be reinforced."
Rains dumped by Morakot in the two-day period surpassed the amount of rain that normally accumulates over an entire year. Meteorologists fear that such torrential rains could inundate the island more frequently in future as a possible result of climate change.
Taiwan is hit by up to 10 typhoons each year between July and October. With the huge damage and casualties it caused, Morakot has drawn attention to long-ignored problems caused by over-farming and intensive development.
Part of the reconstruction funds will be used to acquire land from private owners, who had grown sugar canes and banana trees along the river banks that blocked the flood water flow, said Peng Chih-hsiung, an official in charge of water resources.
"The embankments will be made taller and plantations will be barred," Peng said, adding the work is set to complete before the typhoon season next year.
Problems with erosion
President Ma Ying-jeou has ordered a review of the land erosion problem and said that development projects will be halted if necessary. "We must not steal land from the mountain and the river," he has said.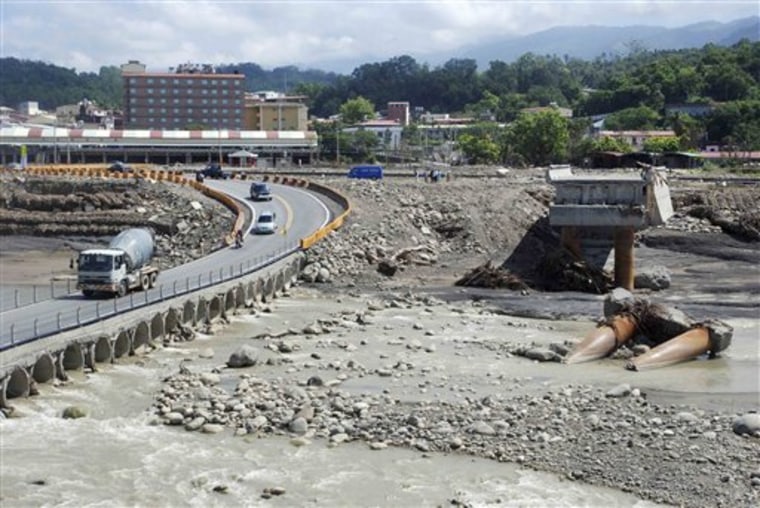 Yet authorities face a tough task to persuade typhoon survivors to abandon their flood-prone villages and relocate to lower and safer lands. Most of them are indigenous people who have farmed these mountains for generations.
"We cannot make a living on the low land," said Hsieh Yi-chen, of the Bunun tribe, whose home was destroyed. She is still staying at an army academy that serves as temporary shelter for 1,300 typhoon survivors.
About 70 houses in her village of Chin-ho were buried by mudslides, Hsieh said. Villagers are negotiating with the government to rebuild their homes in the mountains but also provide them with summer housing in the lowlands for when typhoons hit, she said.