/ Source: The Associated Press
The number of newly laid-off workers seeking unemployment benefits fell last week to the lowest level since early July, evidence that job cuts are slowing.
The Labor Department said Thursday that initial claims for unemployment insurance dropped to a seasonally adjusted 545,000 from an upwardly revised 557,000 the previous week. Wall Street economists expected claims to rise by 5,000, according to Thomson Reuters.
The decline is the third in the past four weeks. The four-week average, which smoothes out fluctuations, dropped 8,750 to 563,000. Despite the improvement, that's far above the 325,000 per week that is typical in a healthy economy.
The number of people claiming benefits for more than a week rose by 129,000 to a seasonally adjusted 6.2 million. The continuing claims data lags initial claims by one week.
When federal extended benefits are included, 9.01 million people received unemployment insurance in the week ending Aug. 29. That's down from 9.16 million the previous week. Congress has added up to 53 weeks of extended benefits on top of the 26 weeks provided by the states.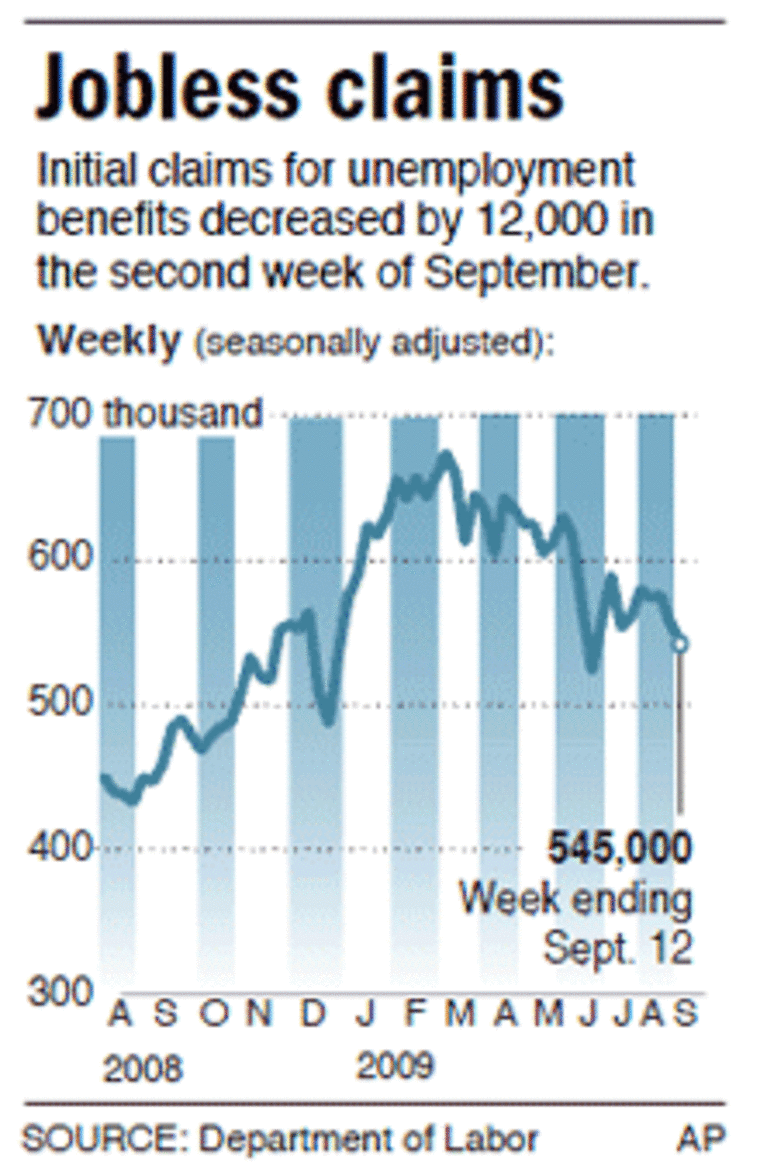 Thursday's report comes a day after the Federal Reserve said production by the nation's factories, mines and utilities increased for the second straight month in August, the latest sign the economy is recovering.
But the economy isn't improving fast enough to spur greater hiring. Fed Chairman Ben Bernanke on Tuesday said the recession is likely over, though he noted that the economy isn't likely to grow fast enough to lower unemployment anytime soon.
The jobless rate is widely expected to peak next year above 10 percent, up from its current 9.7 percent. Some analysts say that claims need to drop below 400,000 before the unemployment rate will start to decline.
More job cuts were announced this week. Drugmaker Eli Lilly & Co. said Monday that it will cut 5,500 jobs over the next two years, 14 percent of its work force, as it restructures the company into five business units.