/ Source: Forbes Traveler.com
It's a time of back-to-school sales and new primetime lineups, of pennant races and pumpkin pie. For most Americans, the rites of fall are as familiar as the living room sofa. But if the crisp autumn chill in the air stirs up a taste for adventure, there's no better time to hit the high seas.
For Bill Panoff, publisher and editor-in-chief of Porthole magazine, the fall foliage is the perfect excuse to set sail.
"A lot of cruisers who have traveled all around the world will come [to the States] to take a foliage cruise, because the scenery is so spectacular," says Panoff, an industry veteran who has sailed as a cruise director, a shipboard musician and a paying passenger. "People are flying in from other parts of the world to experience the fall foliage by cruise ship."
Between gridlock and soaring gas prices, the traditional fall drive is losing its luster, giving cruises added appeal. What's more, leaf peeping aboard a chartered yacht or a cruise ship can be as memorable as the foliage itself. On a voyage up the New England coast, the elegant teak promenade of the Crystal Symphony not only provides a perfect vantage point for the fall colors, but it also conjures romantic images of the great luxury liners of a century ago.
The experience includes elegantly furnished staterooms, five-star cuisine and enough opulence to appease your inner Astor. Smaller cruise lines like American Safari Cruises and Cruise West offer trips as intimate as a Sunday drive in the family mini-van, but with an added level of comfort (and a bit more elbow room).
Whether you opt for a big boat or a smaller ship, the experience has as much to do with the historic ports-of-call as the foliage itself.
"[It's] really perfect for people who aren't from the East Coast," says Paul Motter, a California native, and editor of CruiseMates.com. He notes that cultural excursions bring a different type of local color to the leaf-peeping experience. A typical itinerary might include heritage tours of Boston's colonial roots, or explorations of the old whaling industry in coastal Maine. For Motter, that makes the foliage cruise as enriching as it is entertaining. "When I finally got a chance to see Newport and Boston in my 40s, it was a whole new experience for me."
In searching for a new experience, think small — many of the best foliage cruises are offered on smaller vessels. "When you're on [a smaller boat], you're getting a much more personalized service," says Motter. "The crew will remember every passenger onboard. They'll greet you by name, and they get to know your preferences, and that's just a bigger benefit."
The difference doesn't just extend to the intimacy of your service. From customized itineraries to hands-on excursions, the small-ship experience offers a chance to explore in a more personalized way. And while the larger cruise lines stick to traditional ports-of-call like Boston, Newport and Halifax, smaller ships take passengers to the offbeat destinations.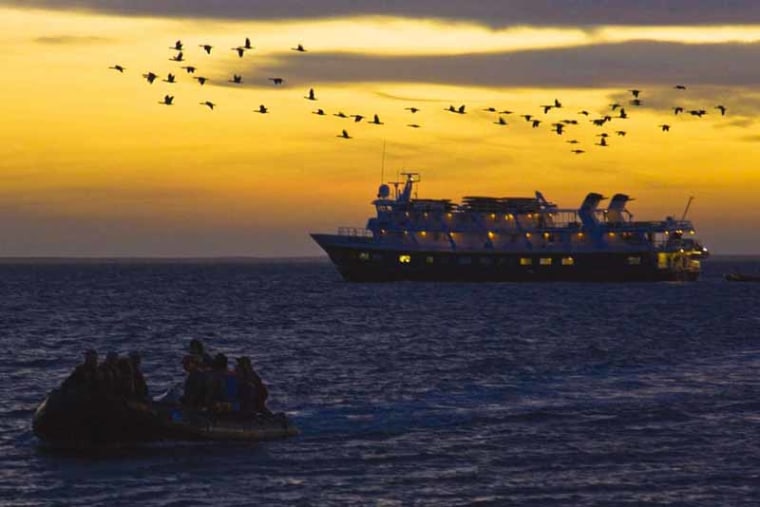 "Some of these smaller boats go into ports that the larger ships can't get into," says Panoff, citing the picturesque fishing villages of Newfoundland and Nova Scotia. Smaller vessels are also best for exploring America's inland lakes and rivers. Aboard the ships of American-Canadian Caribbean Line or American Cruise Line, foliage fans can explore colorful routes along the Hudson River, the Erie Canal or the Chesapeake Bay. On the West Coast, American Safari Cruises offers luxury yacht trips along the Columbia and Snake Rivers, while Lindblad Expeditions explores the foliage in California's wine country.
Then there are private yachts, which offer "customization and personalization," according to Kim Kavin, editor of CharterWave.com, which follows the yacht charter industry. Crewed yachts offer a fully staffed boat that allows for hassle-free sailing; though it sounds expensive, the per-person price is comparable to "a nice suite on a higher-end cruise ship," says Kavin. It's an ideal way for families or small groups to enjoy the foliage together, allowing them to plan spur-of-the-moment side-trips or linger for an extra day in a pleasant port.
Yacht charters aren't without their drawbacks. With the season in New England hitting its peak during the summer, most boats have already left for the Caribbean when the foliage begins to turn. Kavin recommends finding a knowledgeable, reputable broker, such as Maine-based company Ed Hamilton & Co., who have "a finger on the pulse of which boats are staying, which boats are going, and who might be around to show you the fall foliage."
Of course, the most adventurous leaf peepers can ditch the crews and itineraries altogether. From the gold-leafed aspens along the Colorado River to the bursting birch and maple of Michigan's Great Lakes shores, seeing the foliage is a great excuse to explore the Great Outdoors. Pick up a paddle, rent a raft or hoist a sail over the nearest lake. With thousands of miles of waterways around the country, the fall foliage is just a short float away.