/ Source: The Associated Press
A vastly updated version of the boxy, smoky Trabant compact made in communist East Germany could be in production by 2012 as an electric powered green machine — but only if the company finds the right investor.
A concept version of an all-electric Trabant, dubbed the Trabant nT, is on display at the Frankfurt Auto Show.
The nT retains the simple shape of the old version, the P 601 Universal Trabant, but will substitute its loud, two-stroke engine with a plug-in electric motor. Solar panels on the roof will power some of the car's functions.
"NT stands for new thinking, new technology and new Trabi," said Klaus Schindler, the chief executive of the Trabi nT project and also the director of Herpa Miniature Models GmbH. The company bought the rights to the vehicle, nicknamed Trabi, and came up with the idea to bring it back into modern production.
Three million Trabants were made before East Germany ceased to exist at Germany reunification in 1990 at the end of the Cold War.
Schindler said he presented a scale model at the Frankfurt Auto Show in 2007 and 94 percent of 12,000 show participants responded positively to a survey on whether to bring the car back.
"I think we hit a nerve. People love the culture, the history behind this brand and the car," Schindler said. "The new Trabi will become a trend setter; it seems to suit a lot of people and we're getting a lot of positive feedback."
The four-seater's lithium-ion battery pack will have a charging time of about eight hours and a range of 100 miles. The car will have a maximum speed of 80 mph. The company warns it will be sparse, "with no unnecessary gadgetry," though it appears to have everything one needs to drive arranged smartly.
The nT project notes that driving the car about 30 miles a day would cost just $1.50 to recharge.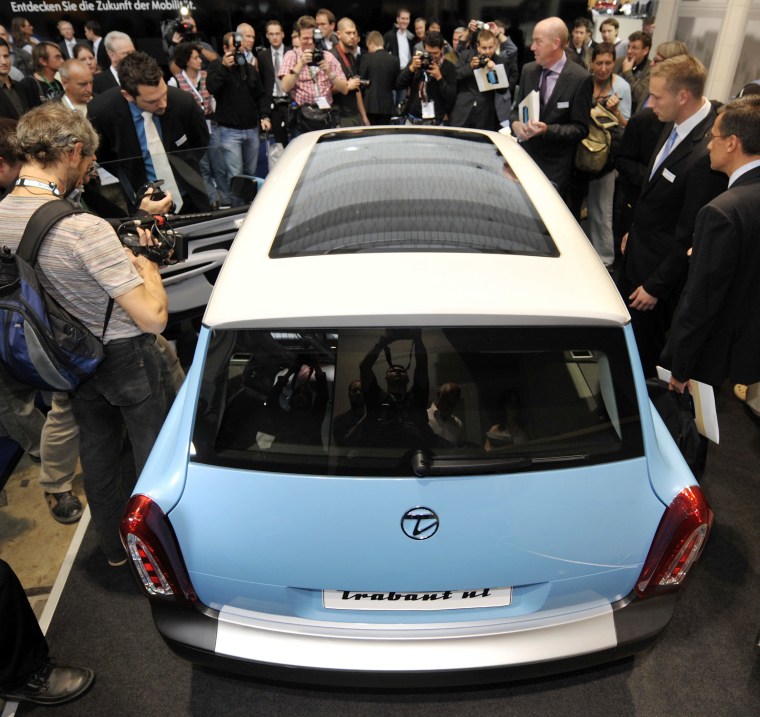 Schindler said a German investor would be good but that he had "a whole row of interested partners" out of eastern and western Europe and Asia.
He said if an investor wanted a license to build a gasoline engine version of the Trabant, that would be possible too.
One thing that is still holding the market back is the cost. Schindler said the price for the car would probably be somewhere in the $37,000 to $51,000 range because the technology — mainly the battery — is still very expensive. Battery prices should come down in the next few years though, he said.
Schindler also hopes electric cars will be subsidized by the German government in some form in the future.