/ Source: The Associated Press
Jack Harold Glenn was a World War II fighter pilot who was killed during a firefight as he flew a mission over Germany in 1944, his body coming to rest in a field in a rural village.
The silver bracelet Glenn was wearing was given to a 16-year-old boy who helped retrieve his body. He held onto the bracelet ever since, a remembrance of the fallen American airman.
Sixty-five years later, the bracelet is returning to Glenn's sister in Alaska thanks to an enterprising World War II veteran who uncovered the relic on a recent trip to the German village.
Helen Glenn Foreman of Anchorage says she will receive her brother's bracelet in a week or so and plans to send it to a museum in Matagorda County, Texas, where Glenn grew up.
"Anything that's gone to the museum may inspire or make people grateful or add to history," Helen Glenn Foreman said Wednesday. "I think we're all better people if we know and appreciate history."
Foreman heard of the bracelet for the first time last week from family and friends of 90-year-old Bernerd Harding, a New Hampshire man who traveled this month to Klein Quenstedt, Germany, a village southwest of Berlin, on a quest to find his pilot's wings.
His B-24 bomber was shot down the same day as Glenn's. Harding bailed out and was captured and held in a farmhouse. Fearing he'd be beaten or shot because he was a pilot, Harding dug a shallow hole in the dirt basement and buried his wings.
He didn't find the wings on the trip but he was handed the bracelet by Heinz Kruse.
'Broke apart in the air'
On July 7, 1944, Kruse was planting potatoes in a field owned by his father when an American B-24 bomber appeared overhead. German fighters were close behind, raking the bomber with machine gun fire.
"It broke apart in the air, and fell to the ground," Kruse said.
Kruse, then 16, rushed home. At midday, an adult told him to help a schoolmate driving a horse-pulled wagon retrieve the body of a dead American airman that had landed in a field outside the town.
As they loaded the body onto the cart, the boys noticed the soldier was wearing the silver bracelet. They presented the bracelet to the mayor, who wrote down the name, Jack H. Glenn, and gave the bracelet back to Kruse.
"He said, 'You can keep it as a remembrance,'" Kruse said.
For 65 years, that's what Kruse did.
"It was always a souvenir ... it was certainly a grave incident in my life story," said Kruse, now 81 and still living in Klein Quenstedt. "That's why I kept it."
An older sister
When he saw Harding, he decided to see if the bracelet could be returned to Glenn's family.
The only living member of his immediate family is his sister Helen, older by 17 months. She was 22 when Glenn was reported missing in action.
She was already married, waiting in Seattle to join her husband in Alaska. He got a job at Elmendorf Air Force Base in Anchorage, but Helen as a dependent was not allowed to follow until she got her own Alaska job in military personnel.
She remembers she had not worried about her brother.
"We don't worry," she said simply. "As I said to somebody else, we're Christian and we trust in the Lord, and he was doing good work."
A few weeks later, she learned Jack had died.
"My family was told my brother's chute didn't open," she said.
In his short life, Jack had been a quiet, industrious boy, Foreman said with a sister's pride.
Their father operated a second-hand store that was the drop-off point for the Houston Post and other newspapers. Helen made morning deliveries, Jack made afternoon deliveries.
When he was just 15, he began working on seismograph crews in the emerging oil industry, she said. After high school, where he was salutatorian, he worked at a pharmacy until he had enough money to enroll at Texas A&M. He finished one semester when he got his draft notice.
'He was genuine'
Glenn's body stayed at a U.S. cemetery in Belgium. Foreman keeps a picture of Jack and his grave marker on her wall. Foremen remembers a letter he wrote after she married, and his wishes for her to have a happy life.
"He to me is what every parent of a son would want," Foreman said. "You can't say a man is sweet, but he was genuine."
The bracelet wasn't Kruse's last brush with the war.
In January 1945, he was drafted into the German army. Just four months later, his unit was overtaken by the Russian Army in Pritzwalk, northwest of Berlin. He was sent to a Russian prisoner of war camp.
In July 1949 he was released and returned to Klein Quenstedt, where he went back to work as a farmer.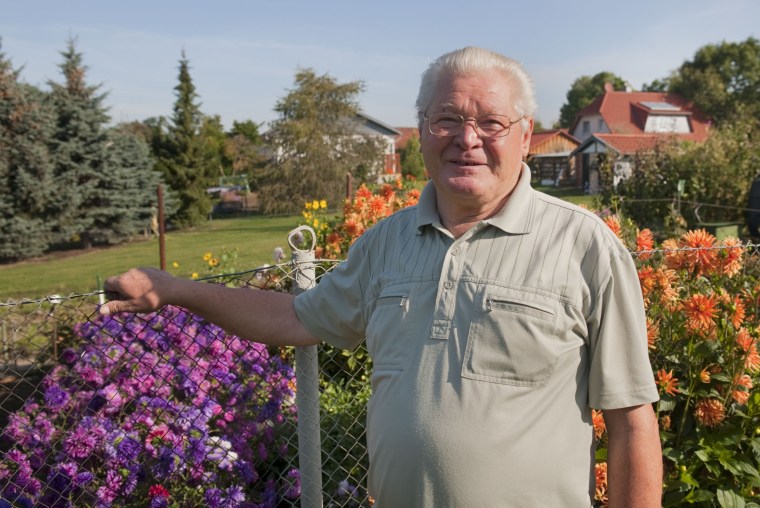 Kruse said he never thought to return the bracelet or contact any living family Glenn might have, in part because for so long Klein Quenstedt was part of East Germany, cut off from the broader world by the Iron Curtain.
"And now, I'm so old that I don't have such grand ambitions anymore," he said.
Kruse does not speak English. The language barrier meant he and Harding, the American pilot, couldn't talk directly about a day in their youth that affected them both so deeply, but he felt that Harding appreciated the gesture.
"He was deeply moved," Kruse said.
The bracelet gives Glenn's friends another chance to honor him.
"Jack was loved and respected," said Bobbie Gaspard, a high school classmate in Bay City. "Everybody knew what his circumstances were, but he was industrious and he gave his life for this country. That's the kind of person he was."