/ Source: The Associated Press
Athens is no longer a discount destination.
Cab fares, taverna meals and other costs have steadily crept up. Many Greeks blame the euro for higher prices following the demise of the unsteady drachma, Europe's oldest currency.
But Athens, noisy and densely populated, remains a place where outdoor enjoyment is a way of life: open-air cinemas, restaurants and bars with little care for closing time, and late-night walks made safe because so many people remain outside at all hours.
Of course ancient sites abound, and not just the Acropolis that looks over Athens and is spectacularly lit at night. You'll bump into marble monuments and centuries-old churches all over and even below ground: on the new subway system, ancient artifacts are displayed where they were excavated.
Public transport is reasonable and subsidized. Once-shabby hotels have been smartened up since the 2004 Athens Olympics, and have kept their rates down because of the economic downturn.
And don't buy a guidebook that says Athens is heavily polluted. It hasn't been for more than a decade, since cleaner cars were introduced and factories were pushed out of urban areas.
Getting around
Crammed with apartment blocks, Athens offers residents little tranquility, but its compact city center is easily toured on foot.
A new walkway, sometimes called the grand promenade, was finished for the Olympics and takes you around the Acropolis Hill for a half-hour stroll through the ancient center to Thisseio, a district where main streets are lined with bars and cafes. The walk is a good starting point for a visit.
Public transport is integrated. A $1.50 (euro1) ticket gives you a 90-minute pass to hop on and off buses, trams and subways.
Yellow taxis are everywhere but no longer cheap, with daytime fares set to rise to $1.05 per kilometer next year. Most but not all cab drivers are honest; they can occasionally be heard bragging about overcharging tourists. The most common scam is to turn off the meter and quote an inflated price. Don't be surprised if taxi drivers pick up other passengers on a long fare — technically illegal, but a common practice seen as a courtesy by stranded commuters.
The global franchise City Sightseeing runs tours with open-top double-decker buses. Tickets are priced at $26.30 for the tour that's ideal if you're short on time. Several mini-train rides, like Sunshine Express, priced at $7.30, are popular with families.
The sites
The marble monuments on the Acropolis date from the height of Athens' power and influence, 2,500 years ago. The Parthenon is the main building, dedicated to the city's ancient protector, goddess Athena, and is the iconic image most visitors simply call "the Acropolis" — Greece's greatest monument. Over centuries, it was turned into churches, then a mosque, and was more seriously damaged by wars than time. Sculptures were removed — out of greed or for protection, depending on whom you believe — and are now in the British Museum.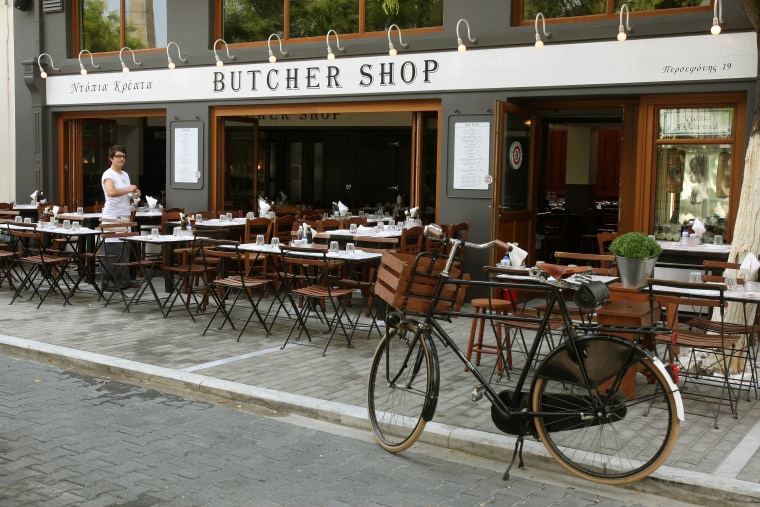 In June, Athens opened an enormous new museum to display and protect some 4,000 statues and ancient artwork from the Acropolis and to press Greece's standing demand for the return of the Parthenon sculptures from London. A ticket to the New Acropolis Museum is $1.50, but the price goes up next year. (Female visitors: don't go in a skirt. The museum has glass floors!)
Other must-sees: the National Archaeological Museum, which has many of the most important ancient finds from all over Greece; the Herod Atticus Theater, restored in the 1950s and used for open-air concerts in summer; the ancient Agora or marketplace, a great place to view the sites while finding shade from the summer sun; and the marble Panathenian Stadium, restored for the first modern Olympics in 1896 and still used for important events. It's the finishing point for the annual classic 26-mile race from Marathon to Athens.
The best one-stop option is the excellent Benaki Museum, located at Koumbari 1, $8.80, free on Thursdays.
Food
Athens offers an abundance of dining options. Every neighborhood has a weekly street market for fruit and vegetables and good traditional restaurants, or tavernas, where tables remain stacked with side dishes and pint-size copper jugs with house wine, well past midnight. The meat is always well done.
Many tavernas run good scooter-delivery services, while wine from the barrel can be bought at corner shops. Except for busy tourist areas, tavernas rarely pinch on their portions. Meat-loving Greeks eat late, take their time, and tip about 10 percent.
Foreign cuisine tends to be hit-and-miss and overpriced.
For something different, try Archaion Gefsis with recipes made from ingredients only used in ancient Greece (22 Kodratou, book at 210-5239661); or a classic meal at Kappari (36 Doreion, book at 210-3450288) which offers a great mix of traditional and modern food. Ask about specials. Tzitzikas kai Mermingas, just off Athens' main Syntagma Square, is another good choice (Mitropoleos 12, 210-3247607). Hotel rooftop restaurants, often overlooked but usually expensive, offer great views.
For a cheap meal, sit outside Thanassis Kebab restaurant, off Monastiraki Square, or get a kebab to go for less than $3. The souvlaki, a stout version of the eastern kebab, is meat, sliced tomatoes and onions rolled up in grilled flat bread, served in wax paper.
Good, though sometimes pretentious, restaurants can be found at main areas where Athenians gather at night — trendy Psyrri and Thisseio, edgy Exarchia, or fast-expanding Gazi, which is also part of the city's relatively new gay scene. All these areas are packed with bars and clubs.
Plaka, the city's historical neighborhood under the Acropolis, also has places to eat, but many establishments are overrun by tourists.
Though Greeks love their creamy chocolate cake, many sweets are eastern, like the syrup-drenched baklava, made with phyllo pastry sheets and chopped nuts. Eastern sweets are sold at Chatzis, near Syntagma Square (Mitropoleos 5, 210-3222647).
Ice cream parlors have jumped onto the 1,000-flavor bandwagon. For something Greek, try a cake shop that sells pistachio flavor ice cream, or "pagoto kaimaki" made chewy and melt-resistant by adding mastic, an edible gum-like resin.
Drink
Greece makes great white and red wine, often sold from the barrel, but quality varies greatly.
Amethystos and Domaine Vassiliou are good bottled brands, found at wine shops and good supermarkets. The national spirit, anise-flavored ouzo, turns cloudy with added water and is served with seafood. Try equally potent tsipouro for better odds at escaping a hangover.
Greeks don't rush their coffee, generally drunk strong and sweet, so cafes usually overcharge. Iced instant coffee — or frappe — is a national favorite, and competes with many sugary modern variants. Greek coffee (known as Turkish coffee to the outside world) is made by boiling water, sugar and ground roasted coffee beans, leaving a layer of foam on top and sludge at the bottom of the plain white cup.
Shopping
Souvenirs run from elegant jewelry and fine carpets to the nasty Acropolis fridge magnet. Walk down the main streets of Monastiraki and car-free Plaka for the full experience. Leather goods and silverware are well-priced. Most store owners don't enjoy aggressive haggling but may respond to a polite request for a "better price" if possible. Ruby's jeweler in Plaka (Adrianou 105, 210-3223312) is a welcome break from the irritating salesmen.
Athens also maintains its tradition of kiosks, miniature hubs of commerce that sell beer, ice cream, baby wipes, aspirins, umbrellas and other small necessities, including sometimes international newspapers and magazines.
See all that the country has to offer, from ancient sites steeped in history and religion to modern-day attractions that awe and relax.
Many old tailors and craftsmen still have shops in the city's commercial triangle, bound between Stadiou, Ermou and Athinas streets. They're hard to spot, but ask a store owner to direct you. The tailors' skills are dying, but there are still places where you can show a seamstress a wedding gown from a magazine and they'll make you an exact copy for a bargain.
The classic shopping strip is Ermou Street, in the heart of Athens. It's filled with shoe shops and departments stores, including outlets of European clothing chains. Head to the Kolonaki district for upscale stores. Or if you must, go the "the mall," a ridiculously large and teenager-filled shopping complex near Athens' Olympic stadium (take the subway to Nerantziotisa station).
Lodging
Athens is no longer just a stop en route to the islands, thanks in part to the overhaul of the hotel industry for the 2004 Olympics. There are many decent downtown hotels. If booking on the Internet, generally avoid the area around Omonia Square and around Patission and Athinas Streets unless you thoroughly check the reviews. Hotels there, billed as central, are often seedy.
One hotel popular with young travelers is Athens Studios, with clean and simple rooms, near the New Acropolis Museum, and its own laundry facilities. Also popular is the Tempi Hotel in Monastiraki, offering good rates and location. Slightly farther from the center is the Hotel Tony, on a quiet street in the Koukaki neighborhood.
Stay out
Last word: When you visit Athens, stay outdoors as much as you can. Watch a vintage movie at an open-air cinema, eat at a taverna garden and fill your table with starters, sip Greek coffee at Syntagma Square while you use the free Wi-Fi, catch a show at Herod Atticus and walk around the center as much as you can. Or catch elaborately dressed presidential guards outside Parliament holding a changing of the guard ceremony on the hour, with the full ceremony Sundays at 11 a.m.