/ Source: The Associated Press
Crews staged heavy air attacks Thursday to halt the spread of a Southern California wildfire that has chewed through more than 25 square miles of bone dry brush, destroying some farm fields while threatening dozens of homes and valuable oil fields.
Heat and very low humidity were keeping the fire danger high Thursday, although the National Weather Service said the dry Santa Ana winds that spread the flames through rural Ventura County are weakening. Temperatures were expected to top 100 degrees.

More than 20 helicopters are working the fire along with air tankers, bulldozers and 1,800 firefighters.

Ventura County Fire spokesman Bill Nash called it a "full attack."
Crews also kept an eye on five big electrical transmission lines that supply Ventura and Santa Barbara with electricity.
The wind was a crucial factor in fighting the blaze as it burned through grass and light brush,  Nash said. "It burns very quickly, almost like a fuse," he said. "It'll burn just as fast as the wind can push it."
Firefighters focused Thursday on the fire's eastern and western flanks just north of Moorpark, about 40 miles northwest of downtown Los Angeles.
The 16,400-acre blaze was 40 percent contained and moving away from populated areas, Nash said.
Fewer homes threatened
Mandatory evacuation orders for some areas were lifted Wednesday night.
Seventy-five homes remained threatened, down from 1,000 homes a day earlier, Nash said.
"We had a pretty good night. The fire did flare up a little bit on the east end. It didn't grow much," Nash said.
"We think we will lose the strong east winds," Nash said. "We are a little hopeful. If the weather cooperates ... we think today could be a really good day for us."
More than 1,800 firefighters were on the line, along with 21 bulldozers. Twenty-one helicopters were expected to renew the aerial attack. Nash said firefighting costs had topped $3 million.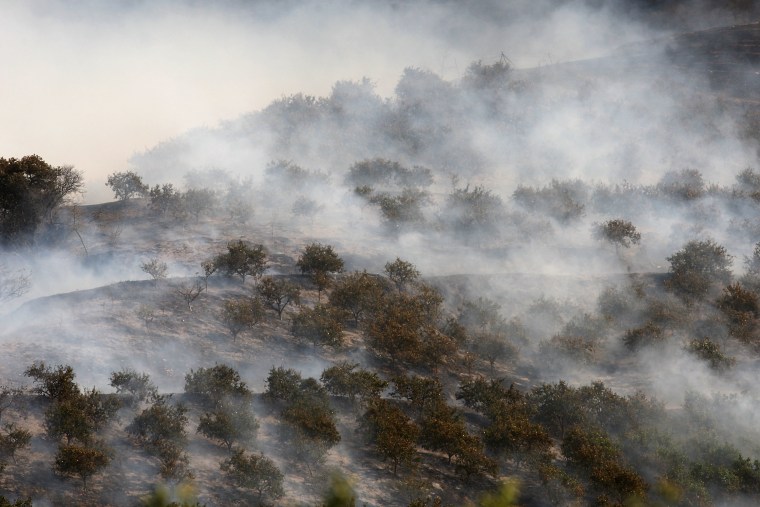 On Wednesday, the helicopters dumped water on flames moving toward orchards. Ground crews doused burning shrubbery at the edges of avocado and citrus groves.
"A lot of the ranchers would rather see their homes burn down than their orchards, because that's their livelihood," said Ventura County fire Capt. Ron Oatman.
The produce industry in Ventura County was valued at $1.6 billion last year.
Firefighters were also concerned about a 36-inch natural gas pipeline and oil production fields at the top of a ridge, Oatman said.
Fire officials said the blaze began near an agricultural mulch pile, but the cause remained under investigation. The Sheriff's Department earlier said it was apparently caused by spontaneous combustion in a pile of manure at a ranch. When manure breaks down it emits volatile gases which, when combined with the late summer heat and sunshine, can explode and catch fire.
Two outbuildings were destroyed but no homes had been damaged.
The 15,000-student Moorpark College and two elementary schools were closed because of the fire.
'A serious wind' During a calm period early Wednesday, Marieke Lexmond stood with her dog Flynn and recalled the scary rush of fire and smoke past her rented Balcom Canyon home.
"It was a serious wind and the fire came out of the hills and it was burned out in 30 minutes," she said.
Lexmond and neighbors gathered horses into a corral in preparation for evacuation.
"We have the cars packed and we are ready to go. When it comes this close, you don't care. You take your passport and papers and animals and go," Lexmond said.
An animal evacuation center at the county fairgrounds had 136 horses, three donkeys, three pigs, two goats and a lamb.
Fires elsewhereThe blaze was the largest of several fires that erupted in Southern California on Tuesday as the Santa Anas blew in from the northeast, pushing back the normal flow of cool and moist ocean air.
In San Bernardino County, a 16-year-old boy was arrested for investigation of starting a 450-acre wildfire Wednesday afternoon near Yucaipa in San Bernardino County. The fire was 40 percent contained.
The teenager was spotted on a bicycle where the blaze started, said Bill Peters, a spokesman for the California Department of Forestry and Fire Protection.
The hot, dry winds also increased fire activity in the San Gabriel Mountains, where remnants of a month-old, 251-square-mile wildfire still smolder. The blaze destroyed 89 homes and caused two firefighter deaths in August.
Completion of containment lines around the giant blaze was expected Thursday, "but we'll be here for a long time after that," Forest Service fire spokesman Bob Poole said.