/ Source: The Associated Press
When the tow-truck driver had finished pulling the car out of the ditch and onto a wrecker, he offered the 20-year-old driver a ride.
As the two men made small talk, the truck driver was almost overwhelmed by an odor, a stench he later concluded was that of rotting flesh. "He stunk like the devil," he says.
That young man, an aspiring rapper who wrote macabre lyrics about the thrill of killing people, is now suspected in the slayings of four people whose bludgeoned bodies were found in a home in this quiet Virginia town.
Richard "Sammy" McCroskey III told deputies who responded to the desolate stretch of Poor House Road early Friday that the car belonged to his girlfriend's father. Police say he appeared to be turning around when he backed into the ditch. The car wasn't damaged, but because McCroskey had no license, the car had to be impounded.
The truck driver, 52-year-old Elton Napier, asked the youth where he was from. He said he was visiting from California to see his girlfriend.
Napier could see what appeared to be red hickeys or "love bites" all over his passenger's neck. He couldn't resist asking.
"My girlfriend did that," McCroskey replied.
Napier chuckled. "She was about to eat you up, wasn't she?" he said.
McCroskey just grinned.
He did not tell Napier that he and 16-year-old Emma Niederbrock, a local Presbyterian minister's daughter, had found each other through their mutual love of "horrorcore" music, an obscure hip-hop genre obsessed with mutilation, murder and satanism.
Throughout the conversation, Napier did his best to ignore the powerful stench emanating from the passenger seat. He had noticed it inside the Honda when winching it out of the ditch.
Despite rolling down both windows, Napier heaved visibly twice.
Napier dropped McCroskey at a local gas station, and that was the last he saw of him — until footage of the arrest appeared on television.
Hatchet in hand on MySpace
On his MySpace page, McCroskey is hooded, his face obscured by a skull bandanna. He stands before a Gothic church in a lightning storm, a hatchet in his raised right hand. In a song posted on YouTube, the Castro Valley, Calif., man growls about the "evil voices inside my head."
"They just want me to murder continuously.
"They want me to take lives on a mass murder spree.
"They love the smell of a body that's rotten and decayed.
"That's what I think about when I'm stalking my prey."
Fellow horrorcore artist Andres Shrim cautions against reading too much into such lyrics.
Shrim, who goes by the stage name SickTanicK the Soulless, writes about killing Christians and dismembering people. While he acknowledges the genre's words and imagery can seem "brutal," he says the songs only reflect "the reality of the world we are living in."
"If life imitated art," says Shrim, the owner of Albuquerque, N.M.-based Serial Killin Records, "there would be a lot of dead people in the world."
On Friday, authorities found four bodies in a quaint Dutch Colonial home in this rural college town about 50 miles southwest of Richmond.
Victim's identified
Emma Niederbrock lived there with her mother, Debra Kelley, an associate professor of criminal justice and sociology at nearby Longwood University. On Tuesday, officials identified the victims as the 53-year-old Kelley, Emma, her 50-year-old father, Mark Niederbrock, and Emma's friend and fellow horrorcore fan Melanie Wells, 18, of Inwood, W.Va.
McCroskey was arrested at the Richmond airport on Saturday and charged with murder in Mark Niederbrock's death. Police are still analyzing evidence and expect more charges.
Farmville police Capt. Wade Stimpson says authorities are looking into McCroskey's "disturbing" songs. But it's clear horrorcore had arrived in Farmville long before McCroskey came to town.
Shrim says he met Emma and Melanie at a horrorcore festival a couple of years ago in Chicago. Emma's mother brought them.
Little information has surfaced about Emma. She was home-schooled. And unlike McCroskey's MySpace page, her site is marked private, except for photos of a pretty girl with long, pink-colored hair.
Wells and her family moved to West Virginia from Louisville, Ky., just before Wells was to enter high school. She dropped out but was studying for her high school equivalency diploma, says friend Marcella Kennedy.
"Melanie had so much character and imagination," she says. "She sported the kind of optimism that didn't leave a sickly sweet taste in your mouth, if that makes any sense."
Cavorting in cemetaries
But a darker Wells emerges from the pages of her MySpace page.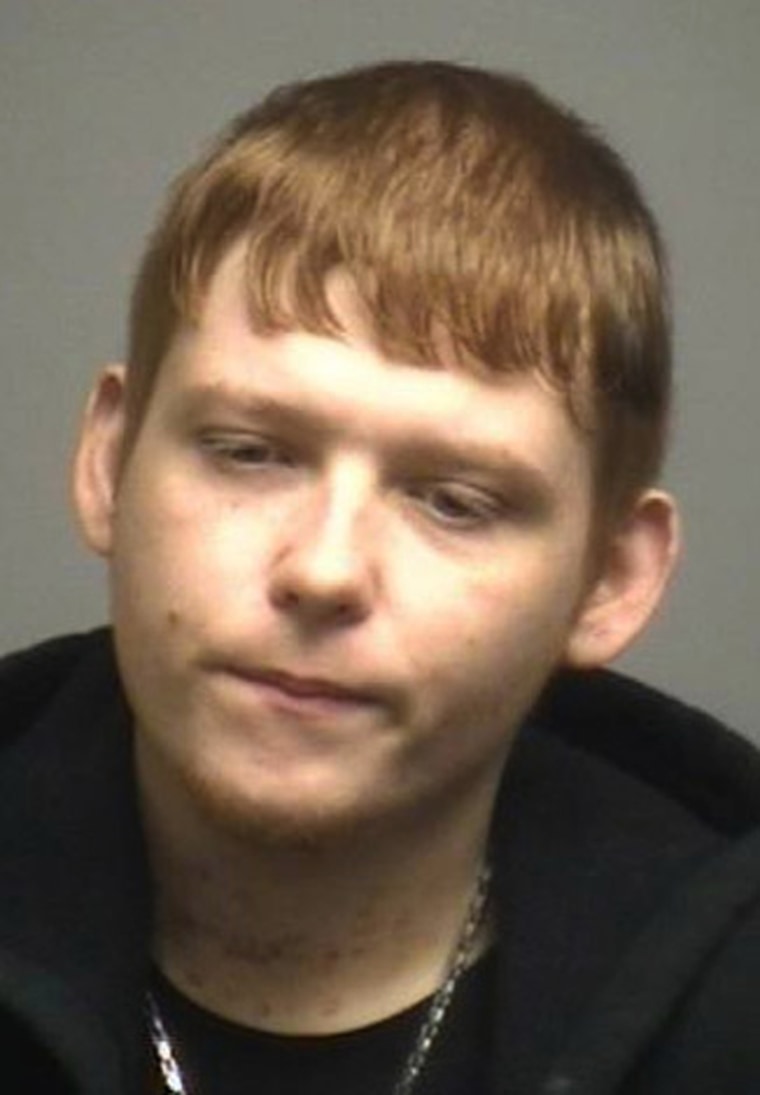 On the site, she lists her religion as LaVeyan Satanism, in which there is no deity but one's self. She posted violent poems in which she details torturing and killing boyfriends who have been unfaithful, and photos show her cavorting in cemeteries and lying atop gravestones.
Under interests, Wells listed, among other things, "cigarettes, alcohol, partying, sex, drugs, metal, SKR (Serial Killin Records), lust, restorative arts, blood and gore, open graves, dead people, animals."
Her musical tastes ran from the Backstreet Boys and bubble-gum pop star Aaron Carter to Marilyn Manson and groups such as Bullet For My Valentine and Cradle of Filth. Her favorite movies include "The Texas Chainsaw Massacre" but also "Pretty In Pink."
It appears she and Emma got to know McCroskey online.
McCroskey's sister, Sarah, says their dad, a rock guitarist, raised her and her brother on a steady diet of heavy metal bands like Insane Clown Posse, Metallica and Primus. A 5-foot-9, 200-pound kid who took bullying without fighting back, "Sammy" spent most of his time in his room, composing music on his computer, designing Web pages or playing video games such as Halo and World of Warcraft, his sister says.
McCroskey had been into horrorcore since 1999, but decided several months ago that he wanted to "contribute to the genre."
Syko Sam born
Thus, he wrote on MySpace, was born his horrorcore alter ego: Syko Sam.
Sarah McCroskey says her brother met Emma about a year ago, at a concert near San Diego. They were on the phone so much after that, Sarah had to buy herself a cell phone.
She says her brother was devastated when his father asked their mother to move out about five months ago. But he was excited for a planned trip to Virginia to see Emma. Clearly, Emma was eager, too.
The "next time you check your myspace, YOULL BE AT MY HOUSE!" she posted Sept. 7, the day after he left California. "i love you sooo SO much baby; forever and for always."
The group were all heading to Southgate, Mich., for the Sept. 12 Strictly for the Wicked festival. Among the acts slated to play were Mental Ward, SCUM and Dismembered Fetus.
Shrim says Kelley — who studied violence against women — drove them. This time, he says, the father came along.
Sarah McCroskey says her brother's friends told her that he and Emma had had some kind of falling out at the concert. If anything happened, Wells didn't let on.
"SFTW was (expletive) amazing," she wrote on MySpace at 10:43 p.m. on Sept. 13. "back in Virginia now, be back in West Virginia on Wednesday. I MISS EVERYONE!!!"
She never made it.
On Thursday, McCroskey called home and left a message. He said he wanted to make sure everyone was OK.
'I love you, guys'
When he ended with "I love you, guys," his sister knew something wasn't right.
"We weren't like lovey-dovey and stuff," she says, "like a 'Leave-It-to-Beaver' kind of family."
That same day, Wells' family contacted authorities to say they had not heard from her.
Sarah McCroskey acknowledges that people might listen to her brother's songs and watch his videos and think him capable of the slayings. But she insists he is not his music.
Since the news broke, horrorcore fan sites have been awash in tributes to Emma and Melanie. The girls who reveled in satanic imagery have been eulogized as "fallen angels."
When McCroskey was brought back to Farmville, a reporter for WRIC television heard him say, "Jesus told me to do it."
But in one of his videos, he said his mistakes began elsewhere.
"It's not my fault, those bad (expletive)-up choices," he rasped. "Don't blame me. You can blame all the voices."