At the Wal-Mart annual meeting in June, it was showtime for Mike Duke as he made his debut as CEO in front of 16,000 Wal-Mart employees and shareholders at the Bud Walton arena in Fayetteville, Ark.
Duke, 59, is the fourth CEO in Wal-Mart's 47-year history. He's a polite man, but not above a little bragging — making a point to remind the crowd about the company's record $400 billion in sales for the latest year.
"I really love to compete, but only when we win," he told his cheering audience. "So that we can continue to be aggressive in helping our customers to save money and live better."
But if there is one threat to Wal-Mart's success, it may come from a desire on the part of its own employees to live better — with higher pay and more affordable health insurance. When that desire leads to talk of a union, Wal-Mart fights back hard.
Since its earliest days, the company has succeeded in keeping unions out. But that could soon become more difficult.
Sen. Tom Harkin, D-Iowa, has proposed a federal law — the Employee Free Choice Act, or EFCA — that would make it easier for workers to form unions and harder for management to block them.
"We are introducing legislation that puts power back into the hands of the people who are truly the backbone of our country," Harkin said in March when the bill was introduced.
If EFCA were to become law — which is far from certain — it could, over time, upend the low-cost, low-price model that Wal-Mart is built on.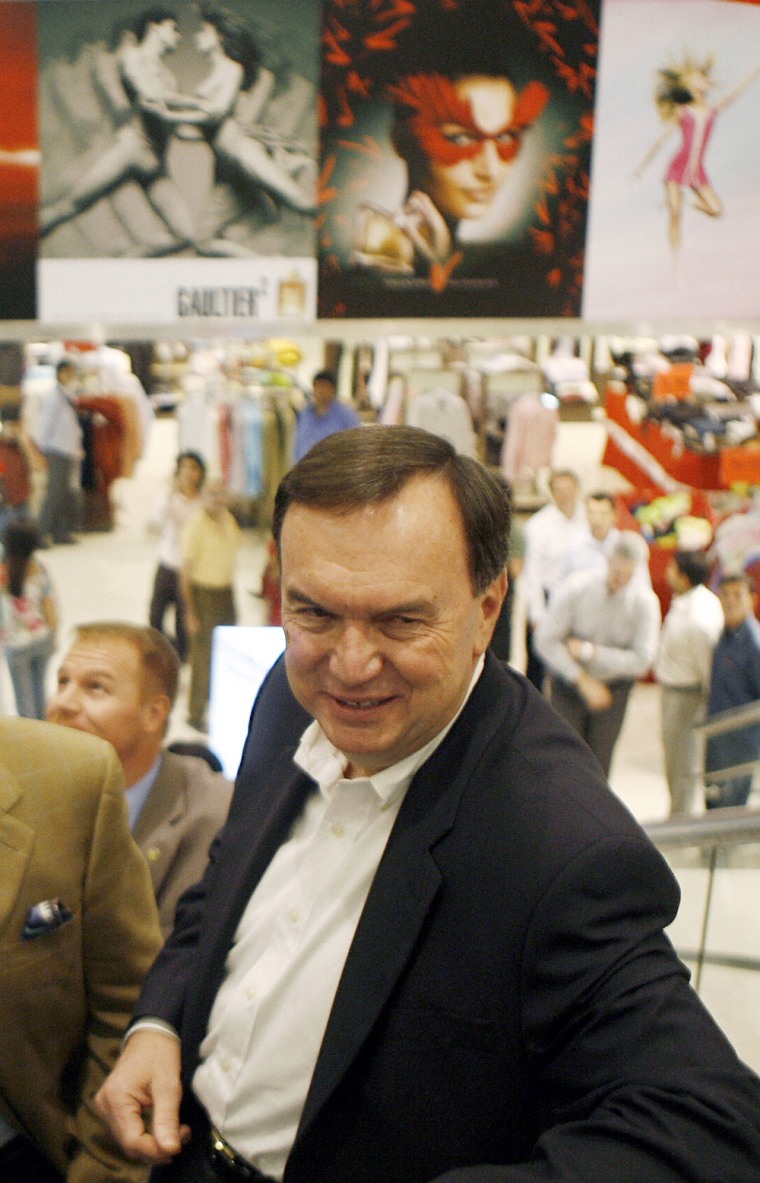 "Thousands of businesses are opposed to the Employee Free Choice Act, and Wal-Mart would be opposed also," said Duke.
That unyielding resolve puts Wal-Mart's management squarely at odds with an energized group of pro-union activists who have been galvanized by the prospect of EFCA becoming law.
From rallies to signature drives, union organizers like Meghan Scott are working behind the scenes to keep up the pressure. Scott runs "Wake-up Wal-Mart" — a group funded by the United Food and Commercial Workers union.
"We feel that Wal-Mart, because of its size, because of its success — it's continuing to make record profits in these tough economic times — they have a responsibility and an ability to do things that other companies can't necessarily do," said Scott. "So if Wal-Mart started paying a livable wage, if they started providing health care that their workers could afford, everybody else in the industry would basically follow suit."
Wal-Mart counters that its average wages are often as good as or better than a comparable union job. Still, there are employees who say they're just not paid enough to get by. In April, 75 of them from across the country descended upon the Capitol hoping to influence members of Congress to support the Employee Free Choice Act.
At breakfast, associates swapped stories about why they made the journey.
"I can barely pay for my ... medications, much less pay my bills," said one worker.
Wal-Mart workers and union activists staged a rally at the North Miami store in July to support the effort to unionize the store and bring awareness to EFCA legislation. So far, almost a third of the Miami store's 476 employees have signed cards in favor of a union, which organizers say is an unusually large showing. (Wal-Mart did not permit CNBC's cameras inside the North Miami store.)
Among those wanting to be heard at the rally was Eugene Hart, a 33-year-old associate. Hart has spent three years at Wal-Mart unloading trucks for $11.15 an hour, below the retail industry average of $12.95 an hour. He says with that kind of pay he can't afford a car or Wal-Mart's health insurance.
"Imagine being in our shoes and you have a premature child," Hart told a press conference also attended by fellow workers. "And the company you work for can't pay for it. And you've got to turn to Medicaid to pay for it. We need the Employee Free Choice Act to pass. We're going to bring respect back to Wal-Mart!"
Hart said he wasn't paid by the union and spoke out "solely because that's what I want to do."
"The UFCW put nothing into my head," he said. "I cry at night, because I ask myself, 'I work for this company, and why they can do better for their associates?' "
But Wal-Mart CEO Duke disputes claims that the company isn't doing enough for its workers.
"Actually, what we really do is we just love our relationship with our associates, the direct relationship we have, where we're a family; we don't want to see the family broken up," he said. "Every visit I go to the stores — I feel it even more. Every trip I make, I come back saying, 'This is the largest family in the world,' and it really is that way."
But Hart says he doesn't consider Duke family.
"I don't know the man," he said. "But he's not my family"
Hart figures a fair wage for his work would be $13 an hour — less than $2 an hour more than he's making. For a company that earned $13.4 billion last year, that doesn't sound like a big hit to the bottom line.
"That's not true," said Duke. "As a matter of fact, I might mention, retailing is a very, very competitive business. And a big, big reason that Wal-Mart is successful, the reason we have customers, is because we run efficient operations. And we can give customer savings. If we raise prices, we would lose customers."
And raising wages could force the company to raise prices.
"The formula really is necessary that it's a very delicate balance," said Duke. "It is true for all retailers."
But now, with a new occupant in the White House who's been a fierce proponent of the union movement, that balance could tip.
"I don't mind standing up for workers and letting Wal-Mart know they need to pay a decent wage and let folks organize," President Barack Obama said in an April 2007 campaign speech. "When Wal-Mart fails to provide health care for more than half of its employees, that puts workers and their families all across the country at risk of losing their health care, too."
Hart says, on his hourly wage, he can't afford Wal-Mart's health care plan.
"I can't eat, I can't pay my bills, I can't do the things I want to do," he said. "The insurance is garbage. Before they kick in, you've got to pay a $350 deductible. Come on."
But Duke says he's pleased with the progress the company has made on providing health care to its employees.
"I would say that what our own associates tell us is the dramatic improvements we've made in our health care coverage plan has been fantastic," he said.
Wal-Mart has made strides in offering its employees greater access to health insurance. Some 82 percent of its workers are eligible for benefits, and about half of its employees are actually insured by Wal-Mart's plan. That's slightly above the retail industry average.
It turns out, the politics of health care makes for strange bedfellows. Though Wal-Mart and Obama are at odds over the issue of unions, they agree on the need for health care reform. In July, Wal-Mart endorsed a key part of the president's plan to overhaul health care.
"The cost of health care has been escalating, for all businesses, including Wal-Mart," said Duke. "So this model that we have today does need to be changed. It needs reform. That's why we are working with our elected officials and visiting Washington."