/ Source: msnbc.com staff and news service reports
Vice President Joe Biden on Friday pledged the federal government would help Georgia recover from the severe weather that swept through the Southeast, even as rain and the threat of more flooding was forecast for the weekend.
Biden toured the metro Atlanta area by helicopter and saw portions of the city still under water from the deluge earlier this week. At least 11 deaths in Georgia, Alabama and Tennessee were blamed on the storms.
"It's not Katrina in its scope, by any stretch of the imagination, but the impact on their lives, on your lives, we understand it is Katrina," Biden said.
President Barack Obama was closely monitoring the situation from the G-20 economic summit in Pittsburgh, Biden said. After touring the devastation that washed out roads and highways, the vice president visited residents who have been staying at a Red Cross shelter in Cobb County.
Latoya Smith, 28, was in her car when the storms hit, and the mother of five managed to get her children out just before rushing water swept it away.
Smith greeted Biden at the shelter with her 3-year-old daughter Paris and 2-year-old son Lacarlo Clincy in tow. The vice president hugged the family and said help was on the way.
"I'm so glad he came and reassured us that, no matter what the situation is, we're going to be taken care of," Smith said. "I was so concerned but he made me feel like we're blessed, and it's going to be a better day."
Deanna Grabett, 41, said she made it out of her mobile home in Austell, one of the hardest-hit areas, with her work clothes, orange juice and milk.
"I've lost everything I have," she said. "I only lived there a year. It was only a little tin can but I made it look like something."
More rain on way
Meanwhile, the region braced for another round of rain.
The National Weather Service issued a flash flood watch for the metro Atlanta area and parts of Tennessee and Kentucky, warning the ground was still soaked.
"The problem is we're just so saturated that if rain hit in the right spots we could see more flooding," said hydrologist Kent Frantz with the National Weather Service. "We just want everyone to be watchful."
Forecasters said rain would likely start Friday afternoon and intensify into the night with an 80 to 100 percent chance of rain Saturday, including heavy showers that could dump several inches in some places.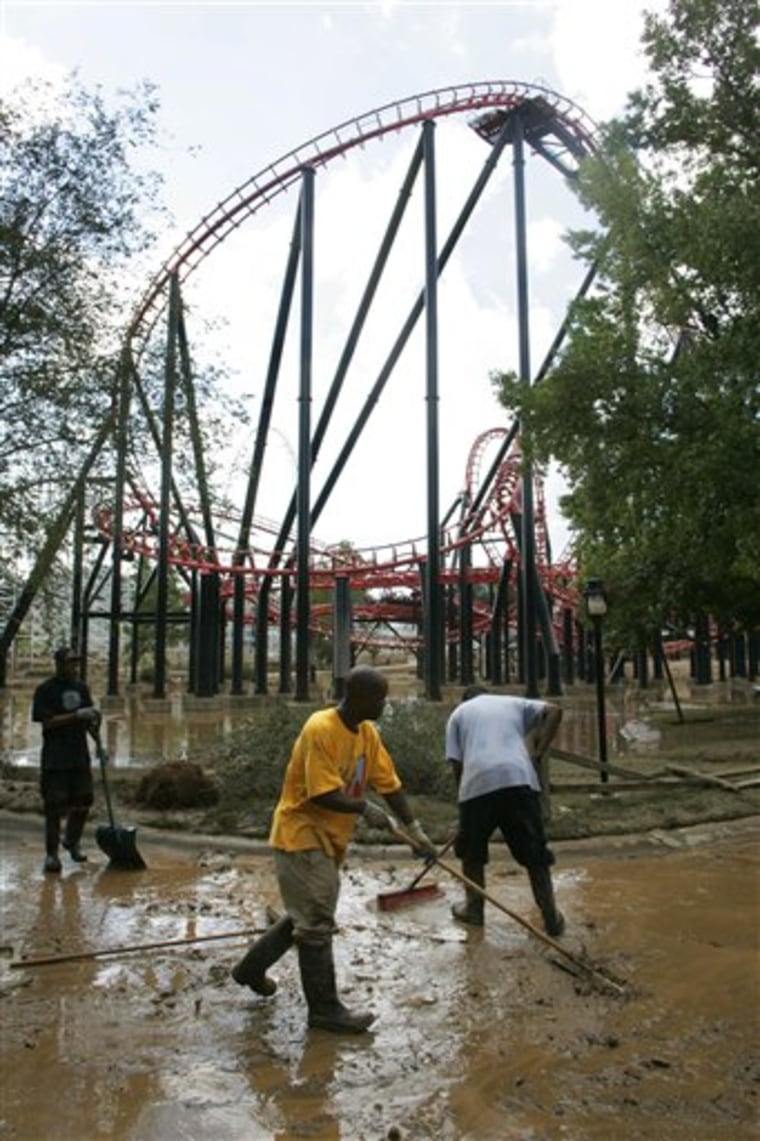 In Austell, residents wore masks and gloves Friday as they attempted to dry their belongings under the sun. Water-logged items were piled high on the curb.
"What more damage can be done?" said Joe Spann, whose three-bedroom house was flooded. "Nothing here is salvageable. If it rains, it rains."
Six Flags Over Georgia planned to reopen Saturday after some of its roller coasters were partially submerged in the brown, murky waters.
"Our employees have been working around the clock to get things cleaned up," said park spokeswoman Kendell Kelton. "To see the park today as compared to Tuesday, it's really just incredible."
Also, Tennessee authorities said Friday that they had found the body of Sylvester Kitchens Jr., 46, of Chattanooga, who jumped into an overflowing drainage ditch Sunday after bragging he could swim the swift current.
Hundreds go to shelters
Federal Emergency Management Agency Administrator Craig Fugate and Homeland Security Secretary Janet Napolitano traveled with Biden, along with U.S. Sens. Saxby Chambliss and Johnny Isakson, both Republicans from Georgia.
"I have to say this administration responded in a very magnificent way and in a very quick way," Chambliss said. "For Vice President Biden to take the time to come down here today ... we, as Georgians, just say thank you for your commitment to helping people right here in our part of the state. With your help we're going to survive this and come out better."
The American Red Cross said shelters in Georgia and Tennessee on Thursday night took in nearly 400 people whose homes were affected by the recent flooding. The Red Cross said they have sheltered more than 650 people since the flood began.