/ Source: Forbes Traveler.com
Hard to believe, but...
As airlines slap on new fees for everything from checked bags to blankets, it's hard to imagine anything new about air travel that could shock or surprise passengers.
Actually, there's one: Flying may be getting—gasp!—more pleasant these days.
Some of this may be due to the recession: Airports are less crowded, and airfares have stayed low because demand is down. Airlines have also loosened some of the restrictions on frequent flier awards. American Airlines, for example, has introduced one-way award tickets and United has dropped its fees on award flights booked within three weeks of departure.
And airlines are doling out bonus miles right and left, even for such basic transactions as bookings made through their web sites. Those benefits may vanish once the economy improves, of course. But the good news for fliers is that airlines are also rolling out services and technological advances that will make air travel more tolerable when the crowds return.
"It makes perfect sense: The airlines are cutting back on airport staff, so they've got to go to the self-service model," Ira Weinstein, a New York-based consultant to airport managers.
He estimates that about half of all travelers in the U.S. are checking in either online or via an airport kiosk; at some Western European airports that percentage may be even higher.
In fact, it may soon be possible to go from your home to the plane without standing in a single line other than at security. The International Air Transport Association, which represents more than 200 airlines, is pushing for paper-saving innovations such as mobile phones than can double as boarding passes by displaying a bar code that can be scanned at the gate; some airlines are already offering this option, which has the additional advantage of buffing their 'green' credentials. Some airports are functioning as test kitchens for these innovations; Las Vegas McCarran International has teamed up with some of its major airline tenants to showcase the advantages of the mobile boarding pass.
Steve Lott, a spokesman for IATA, said that by the end of 2010 the typical paper boarding pass with a magnetic strip on the back could be a thing of the past. Another advance that is catching on rapidly, he said, is a souped-up airport kiosk that can scan your passport and spit out luggage tags when checking in for international flights.
"Often it takes just one major airline getting the ball rolling, and once their competition takes notice, it spreads rapidly." Lufthansa, for example, is surging ahead with "self-boarding turnstiles," at airport gates, much like those at subway stations, where fliers can scan their own boarding passes and proceed down the jetway. The German carrier reports that this can dramatically speed up the boarding process.
Online check-in is also an idea whose time has truly come. First introduced a few years ago for domestic passengers without luggage, it's so popular, airlines say, that consumers can get frustrated when it's not available—for foreign flights, for instance. But that's changing; some airlines are allowing the online option for those with checked bags and on some international routes as well.
Of course this wouldn't have been possible without the e-ticket—the now ubiquitous travel tool that, incredibly, was dismissed as far-out not long ago because it was thought people would be unwilling to give up the security of a paper ticket. (Paper airline tickets were eliminated worldwide last year and will live on only as an exhibit in the Smithsonian.)
For fliers who get the hang of it, these moves should cut down on time and aggravation.
But there are signs the airlines also understand they can't remove everything that consumers once took for granted without offering something new in return. So while hot meals in coach on domestic flights are a distant memory, wi-fi access is rapidly spreading across airline fleets and may be almost universal in a year. American, Delta, US Airways and Southwest are wiring their planes, and Virgin America already offers internet access on all flights. Naturally, the service isn't free—fees range from $6 to $13, depending on the length of the flight—but at least it's something that many passengers want.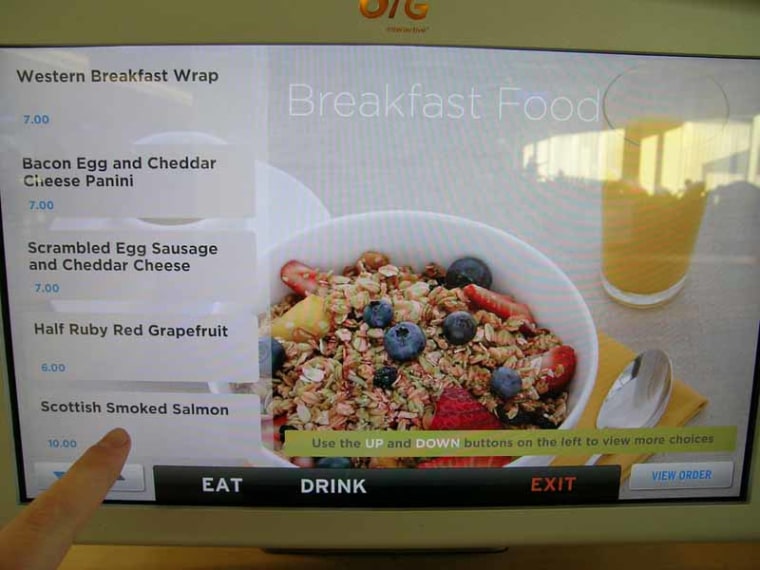 And speaking of food, some airlines are making it easier to grab a meal at the airport; at JetBlue's new terminal at Kennedy Airport, you can order a takeout meal from banks of computer consoles in the concourse and it will be delivered to your gate shortly thereafter.
Other aspects of air travel may be harder to change, namely, the government's role. While the Transportation Security Administration has tried sorting fliers by their experience level, so that frequent fliers don't get stuck on the same lane as the Clampett family, those efforts have had mixed results. Meanwhile, a private-sector "registered traveler" security program recently shut down at more than 20 large airports.
But there may be some relief in store for international travelers: The Customs Service is quietly expanding a "global entry" program that expedites clearance for returning travelers, who pass a background check and pay an annual fee. And travelers flying back to the U.S. via Dublin or Shannon can now clear all formalities in Ireland—and arrive in the States as if they just landed on a domestic flight.
Occasionally, some of the air travel "advances" can seem extreme: Ryanair, the scrappy Irish discounter, is eliminating airport check-in altogether—to cut labor costs, but then again, it's the same airline that claims to be seriously considering pay toilets aloft.
Even jaded air travelers might be shocked by that one.