/ Source: The Associated Press
The U.S. and five other world powers go to the table with Iran on Thursday to demand a freeze of its nuclear activities, and a senior U.S. official said Washington may seek rare face-to-face talks with Iranian diplomats.
Even as they prepared for Thursday's talks, the U.S. and its allies were contemplating new and tighter sanctions on Tehran, in a clear signal of expectations that the negotiations may again end in failure.
Secretary of State Hillary Rodham Clinton suggested all six — the five permanent U.N. Security Council members and Germany — were of one mind on the need for Iran to meet international concerns on its refusal to stop uranium enrichment and heed other U.N. Security Council demands.
"We support what the international community has said with a unified voice," she told reporters at the United Nations.
Iran's choice, she said, is to agree to measures that "would guarantee that what they're doing is solely for peaceful purposes — and the alternative track, which is greater isolation and international pressure."
One-on-one negotiations?
With the stakes raised by Tehran's revelation last week of a secret uranium enrichment site, a move by the U.S. to break precedent and meet directly with Iran would reflect the Obama administration's determination to get results at Thursday's gathering.
Briefing reporters in Geneva, a senior U.S. official raised the possibility of a meeting between the Americans, represented by William Burns, the under secretary of state for political affairs, and Iran's chief negotiator Saeed Jalili. He demanded anonymity because of the private nature of the talks.
Such one-on-one negotiations would "offer an opportunity to reinforce the main concerns that we'll be emphasizing in the meeting," the official said.
Also Wednesday, Iran's foreign minister, Manouchehr Mottaki, made an unusual visit to Washington after being granted a visa with striking speed by the State Department. The U.S. and Iran have not had formal diplomatic relations since the 1980 Iranian revolution.
State Department spokesman P.J. Crowley played down the significance of the U.S. move, saying Mottaki visited a Pakistani government office that represents Iranian interests in Washington and had no meetings with U.S. officials.
A door to dialogue?
With Russia and China resisting previous calls for additional U.N. sanctions on Iran, the potential loomed for new East-West disagreement if Thursday's negotiations ended without progress. U.N. sanctions must be approved by all five of the permanent Security Council members.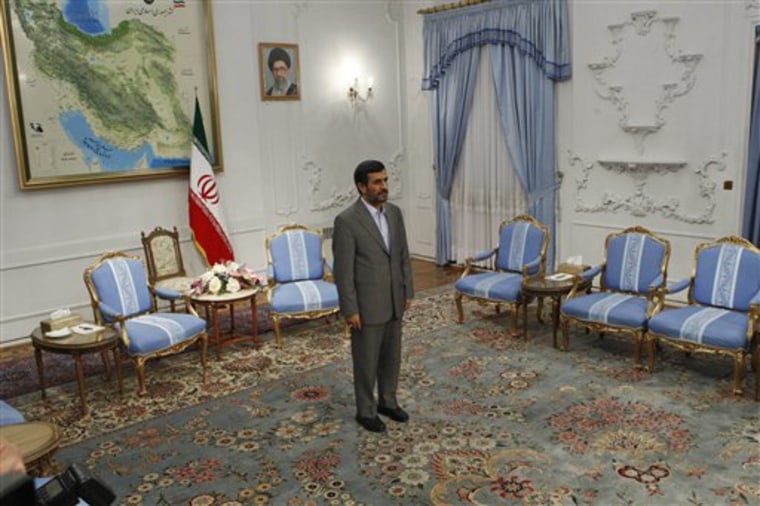 Repeating Clinton's message, U.S. National Security Council spokesman Mike Hammer suggested the focus was on diplomacy — at least for now.
"Right now we're focused on trying to make diplomacy work and we'll see if the Iranians are prepared to start a process that could lead to them being reintegrated into the international community, or whether they choose a path of isolation," he told AP Television News.
Staking out positions ahead of Thursday's meeting, the State Department stressed its hope that the session would open the door to more in-depth dialogue.
If Iran is willing to address the nuclear issues, then there likely will be subsequent meetings, State Department spokesman P.J. Crowley said in Washington, noting that President Barack Obama has said he plans to take a few months to assess Iran's position and consult with U.S. negotiating partners before deciding what steps to take next.
"We're not going to make a snap judgment on Thursday," he told reporters in Washington.
Asked about Iran's view of the talks, President Mahmoud Ahmadinejad — who has repeatedly said uranium enrichment is not up for negotiation — said he saw them as a "test" of the six powers' respect of Iran's rights.
Threat of more sanctions
Since Iran's secret enrichment program was revealed seven years ago, the Tehran government has shrugged off three sets of Security Council resolutions imposing sanctions meant to punish it for continuing to enrich. It has set up more than 8,000 centrifuges at its cavernous underground facility at Natanz, with the majority of them churning out enriched uranium.
The centrifuges are producing low-enriched uranium, which Tehran insists it needs for a planned network of nuclear reactors. But the U.S., Israel and others fear it could reconfigure the Natanz plant to produce weapons-grade uranium for warheads — or start making it at a secret facility.
Iran's Sept. 21 disclosure to the International Atomic Energy Agency that it has covertly built a second enrichment plant has strengthened such concerns.
If Thursday's talks fail, the U.S. and its Western allies will renew their push for a fourth set of U.N. Security Council sanctions, officials from two of the delegations said.
The initial set of sanctions in 2006 focused on banning trade with Iran in materials, equipment, goods and technology that could contribute to Iran's uranium enrichment program.
They were expanded in March 2007 to include a ban on arms exports from Iran and a freeze on the financial assets of 28 individuals and entities. Sanctions were again extended in March 2008, restricting the import of dual-use technologies that can be used for both civilian and military purposes.
All three resolutions were watered down following resistance from Moscow and Beijing, which did not want to jeopardize their economic and strategic ties with Tehran.
Possible options
Russia has spoken more harshly about Iran's nuclear defiance since Obama canceled plans two weeks ago to set up a missile system in Eastern Europe that the Kremlin viewed as a threat.
But Russian officials have been careful to avoid the word "sanctions" ahead of the talks. China, which appears most opposed to new U.N. sanctions on Tehran, is sending a relatively low-level representative to the talks.
Washington, London, Paris and Berlin are keen to maintain at least outward unity with Moscow and Beijing on dealing with Iran. But the officials — who discussed confidential Iran strategy only on condition of anonymity — said the four Western countries are ready to go ahead without Russia and China if they again block new U.N. sanctions out of economic or political considerations.
They said discussions have already begun on tightening existing U.N. and European Union sanctions and enacting new ones. "Our approach will be that if we cannot get something in the Security Council, we will not wait but will be certainly actively looking for other measures," a senior official from one of the six powers said.