Galvanized by fears that Islamic militants within U.S. borders could carry out attacks on Americans, the government has ordered men from 25 mostly Islamic and Arab nations to report to the Immigration and Naturalization Service for fingerprinting and mug shots. But if they don't register, the INS has little way to find them.
There is "a widespread militant Islamic presence" within the United States with several hundred extremists linked to the al-Qaida organization, FBI Director Robert Mueller warned in testimony to the Senate Intelligence Committee last week.
But the government has no database of fingerprints and photos that federal agents, state troopers or local police could use to find all those who have overstayed or violated the terms of their visas.
Mueller seemed to allude to this problem when he testified that "finding and rooting out al-Qaida members once they have entered the United States and have had time to establish themselves is our most serious intelligence and law enforcement challenge."
BUILDING A DATABASE
The Justice Department is now building a database called the National Security Entry-Exit Registration System (NSEERS) focusing on foreign visitors who come from countries with a known presence of al-Qaida or other terrorist organizations.
The leading immigrant lawyers group has criticized NSEERS and urged Congress to cut off its funding. "Special registration targets people based on national origin, race, and religion rather than on intelligence information," said Jeanne Butterfield, the executive director of the American Immigration Lawyers Association, in a letter to members of Congress.
But the INS and Justice Department say Butterfield's characterization is not correct. "Registration is based solely on nationality and citizenship, not on ethnicity or religion," the INS says.
Justice Department spokesman Jorge Martinez said the list of 25 countries whose citizens are required to register was based on intelligence data.
As of last week, 38,412 foreign visitors fitting the criteria have been registered, photographed and fingerprinted at U.S. ports of entry.
Another 37,939 who were already in the United States have checked in with local INS offices in the NSEERS "domestic enrollment program."
Henceforth if a person in this registry overstays his or her visa, "NSEERS would automatically put up a red flag," said Martinez.
What about those who entered the United States before NSEERS was created and who decide to lay low? If the INS catches them, they could be charged with a criminal violation and deported.
But even after a foreign visitor has been ordered deported, the INS has difficulty in carrying out the order.
INS Associate Commissioner Johnny Williams told the Senate Finance Committee last month that the agency's Absconder Apprehension Initiative, launched last year, is trying to find more than 300,000 illegal aliens who have been ordered deported but who have apparently blended into the U.S. population.
Among those 300,000 are 5,900 aliens from countries where al-Qaida operates and recruits, Williams told senators.
Those visitors who decide to not check in to the the NSEERS domestic enrollment program will likely be hard to find. "For those who have overstayed their visa, there is very little way to know if they are here or not," said Martinez.
FUZZY ESTIMATES
In a report issued last month, the INS estimated that as of Jan. 1, 2000, there were 42,000 illegal visitors — people who'd slipped into the country illegally or overstayed their visas — from Pakistan, Egypt, Morocco and Lebanon, four of the countries where Islamic extremists have been active.
There are hundreds more from al-Qaida originating countries, such as Saudi Arabia, according to the INS.
Prior to launching its NSEERS domestic enrollment program, the INS figured that there were about 3,000 visitors from the first group of countries — Iran, Iraq, Libya, Sudan and Syria — who were required to check in under the program.
Yet by the deadline of Feb. 7, more than 6,000 visitors from those countries had checked in, 100 percent more than the INS thought were in the United States, an indication of how imprecise an estimate the agency has of who is in the United States and who has left.
WHO IS EXEMPT?
Although it will go a long way toward making certain which foreign visitors from Arab and Islamic countries are in the United States, the NSEERS domestic enrollment program has exemptions for:
Women.
Foreign visitors who have an application for political asylum pending or who have already been granted asylum.
Lawful permanent residents of the United States, also known as "green card holders."
Those who entered the United States illegally but have been granted permission to stay under a program called Temporary Protected Status.
The attorney general can designate foreigners to be eligible for TPS if he determines that conditions in their home country pose a danger to them due to civil war or a natural disaster.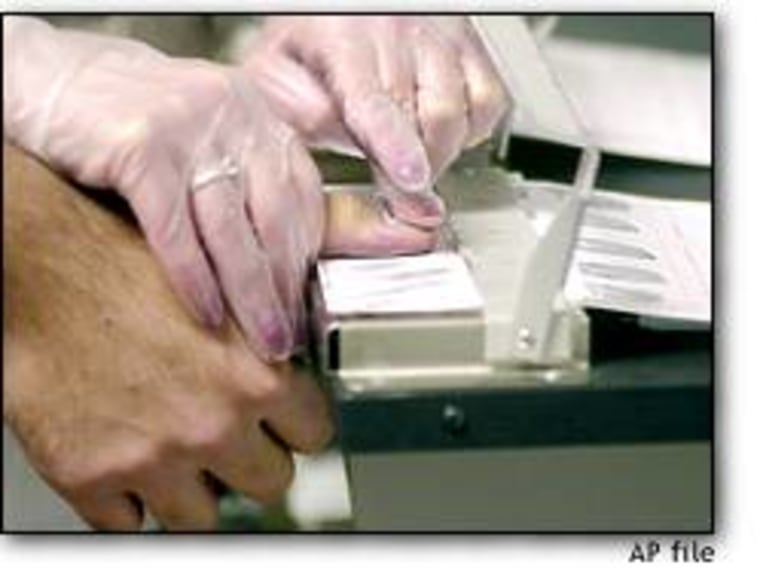 Countries currently covered by the TPS program include Sudan and Somalia. According to Sandy Berger, President Clinton's former national security adviser, Sudan in the late 1990s was "a sanctuary, training base and active supporter for a range of Islamic terrorist organizations."
Al-Qaida terrorist training camps also operated in Somalia until the late 1990s.
Those eligible to stay in the United States under the TPS program must register with the INS and be photographed and fingerprinted.
VISITING FROM BRITAIN Another category of visitors that is exempt from the INS check-in requirement: those who come to the United States from European countries such as Great Britain, Germany and France, which have large Islamic and Arab populations.
For citizens of 28 countries - including France, Germany and Great Britain - it is relatively easy to enter the United States because they may come in without a visa, ostensibly for stays of less than 90 days, through the Visa Waiver Program.
The INS says it is now reassessing the eligibility of certain countries to participate in the program.
One beneficiary of the visa waiver program: Zacarias Moussaoui, a French citizen who came to the United States from Britain in February of 2001, who has been indicted for conspiracy to commit air piracy and terrorism.
Last year Moussaoui acknowledged that he is a member of al-Qaida but denied he was part of the Sept. 11 plot.
Some advocates of tighter controls over foreign visitors charge that the INS and State Department, which grants visas, have been lax for years.
"The United States has failed to take even the most elementary steps to deter people from overstaying their visas and to locate them and force them to leave" if they do overstay, said Steven Camarota, director of research at the Center for Immigration Studies, a Washington advocacy group that favors tighter limits on immigrants and foreign visitors.
SCRUTINIZING VISA APPLICANTS
One way to prevent visa overstays is to be more cautious in granting visas.
Among the tools the State Department officials in embassies could use, Camarota said, is a provision of immigration law called "214(b)," which says that a visa applicant who appears to lack a strong attachment to his residence overseas should not be granted a visa.
Camarota says several of the Sept. 11 hijackers fit the 214(b) profile.