Even with armed sea marshals stopping and boarding more ships than ever at the nation's busiest ports, security experts and port officials warned Thursday that the nation's seaports still remain critically vulnerable to infiltration and attack.
EXPERTS AT A CONGRESSIONAL hearing Thursday highlighted the dangers to America's seaports by detailing the ways that the cargo container industry could be exploited by terrorists. Nearly half of the 12 million cargo containers in the world eventually pass through U.S. ports during any given year, a fact that poses a staggering challenge to those trying to secure cities along America's coasts and rivers against attack.
"That fact alone represents a challenge for homeland security and an opportunity to be exploited by those who wish us harm," said Asa Hutchinson, undersecretary for homeland security. Despite increased scrutiny of these containers since Sept. 11, 2001, Hutchinson said, only 4 percent of all containers ever get inspected.
"Cargo containers offer a frighteningly simple and anonymous way to smuggle weapons of mass destruction into the United States," said Sen. Susan Collins, R-Maine, who chaired the hearing.
Historically, customs officials inspected less than 2 percent of all containers arriving at U.S. ports. In the aftermath of 9/11, inspectors are now using sophisticated X-ray technologies and physically inspecting more containers, Hutchinson said. In addition, a handful of Customs agents - now working under the auspices of the Department of Homeland Defense - are working on assignment at major foreign ports doing "pre-screening" of containers, Hutchinson said.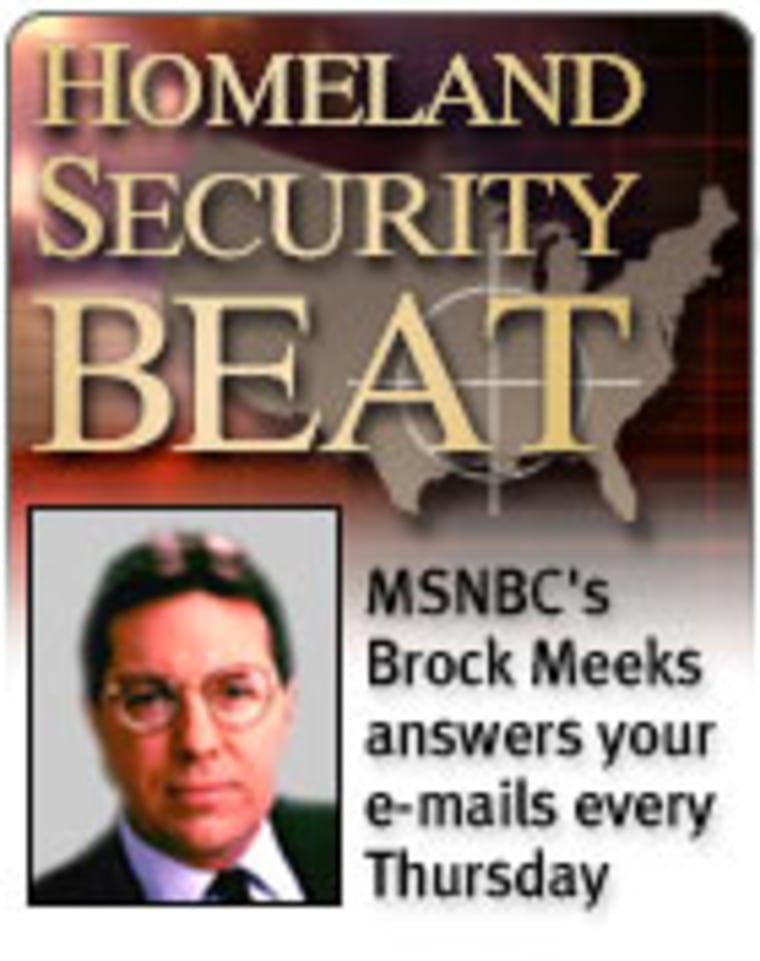 "Now we can identify high-risk containers prior to the ship leaving the foreign port," Hutchinson said. Previously, Customs may not have known details of the cargo until 10 days after it arrived at a U.S. port.
PAPER THIN PROTECTION
But some questioned what 16 Customs agents posted to six foreign ports can realistically accomplish given the size of the potential problem. "This has not revolutionized our ability to inspect," said Stephen Flynn, a senior national security expert at the Council on Foreign Relations.
"The bottom line is that anybody in the world right now who has about $1,600 to $3,000 and 30 tons of material can order a box, have it delivered to their home or to their workplace," Flynn said. "They can load it to the gills, close the doors, put a 50-cent lead seal on it, and it's off to the races. There is no requirement that there be any adult supervision at that loading point," he said.
Officials at the nation's shipping terminals said they worry these gaps will be exploited. "Our ports remain critically vulnerable," said Capt. Jeffery Monroe, director of Ports and Transportation for Portland, Maine.
Monroe blasted the system for a major amount of security problems at U.S. ports, including "a lack of coordination among agencies regulating seaport commerce, a lack of standardization of procedures among and within agencies, a continuing lack of intelligence information available to port managers."
The solution? More people and more resources dedicated to policing ports and containers, said Michael O'Hanlon, an analyst with the Brookings Institution. Current budget increases are projected in the 10 percent range, O'Hanlon said, but that equates to a few thousand extra customs officers, "when what's really needed is 15,000 to 20,000 more people."
PORTS TIGHTEN UP
Across the United States, port authorities have ramped up their security measures following the move by Washington raising the terrorist threat level to high risk or "orange."
In Tampa, Fla., the state's largest port, an increased presence of armed patrols is the most visible sign that security concerns have been ratcheted up, said George Williamson, director of the Tampa Port Authority. Even before the war with Iraq started, the port had all but shut down to casual visitors.
"This port used to be a wide-open port, had public streets in the middle of it. People used to take their families out to the port on Sunday and watch the ships go by," Williamson said. "They don't do that anymore." Now access is limited to people with the proper badges, which require background checks and fingerprinting to obtain.
Tampa is a huge jumping-off point for the cruise industry, too. Each cruise ship passenger is subjected to seven different kinds of checks, Williamson said. "But the passenger isn't aware of most of those."
STATES PICKING UP SLACK
Up the coast, the Virginia Marine Patrol, a state-run agency that mainly oversees inland waterways, have been pressed into action working with the Coast Guard to patrol sensitive harbors and military ports. And the Virginia Port Authority has stepped up scrutiny of vendors making deliveries on the docks by having police physically check all deliveries.
Out West, armed sea marshals are riding ferries in San Francisco and are boarding many more cargo ships in San Francisco Bay, but officials decline to detail just what percentage of ships are being boarded. And on San Francisco's famous piers, passengers, visitors and workers are being more closely scrutinized. And the port authority has restricted some kinds of vehicle traffic on the piers.
Across the bay at the Port of Oakland, the fourth-busiest seaport in the nation, officials have activated a new multimillion-dollar closed-circuit TV system as well as laying in extra security measures that again, officials declined to detail.
Port officials say privately they are doing the best they can with the little they have, stretching thin resources even further to met the demands of new Washington regulations that don't come with federal dollars attached.
"I think for the time being we have to say that America, as open and wide and diverse as it is, is a target-rich environment," Department of Homeland Security Secretary Tom Ridge said Thursday testifying before a House appropriations committee. "We have to do vulnerability assessments to draw some conclusions as to where we should put additional resources."
Brock N. Meeks is chief Washington correspondent for MSNBC.com.