/ Source: The Associated Press
High above the spiky sandstone spine known as Comb Ridge, archaeologist Winston Hurst treads carefully through the ancient dwellings, carved into the cave more than a thousand years ago.
To a stranger the puebloan ruins seem breathtakingly intact — walls and windows and rooms still standing, storage chambers strewn with thousand-year-old corn cobs, and brightly colored pottery sherds scattered throughout.
Hurst sees only destruction.
Driving to the ridge across a plain dotted with sagebrush and cottonwood, Hurst points to trashed "pit houses" dating from 500-700 A.D. — distinctive mounds in the brush, where looters have dug for the ancient Indian tools, pottery, and jewelry traditionally buried with the dead.
In the cave, more desecration. Centuries-old rock petroglyphs depicting animals and people are daubed with modern graffiti, from "H.E.E." (the Hyde Exploration Expedition of 1892) to "Liz Jones, age 8, 2003."
A few yards away, another signature: the archeologist's own name, scratched into a rock when he was a 12-year-old boy and scrambling through ruins collecting arrowheads was a way of life.
The name is barely legible, gouged out by local artifact hunters who consider Hurst a turncoat. "I have been where they are ... they have not been where I am," Hurst, 62, says sadly.
Preserving vs. collecting
Growing up, one of Hurst's closest friends was Jim Redd, who went on to become a beloved rural doctor. But their friendship faltered as Redd continued digging and collecting, while Hurst became a champion of preservation.
This summer 150 federal agents swooped into the region, arresting 26 people at gunpoint and charging them with looting Indian graves and stealing priceless archaeological treasures from public and tribal lands.
Seventeen of those arrested were from Blanding, including some of the town's most prominent citizens: Harold Lyman, 78, grandson of the pioneering Mormon family that founded the town. David Lacy, 55, high school math teacher and brother of the county sheriff.
And 60-year-old Jim Redd, along with his wife and adult daughter.
The next day, the doctor killed himself by carbon monoxide poisoning. Another defendant, from Santa Fe, N.M., shot himself a week later.
The suicides horrified this town of about 4,000 with many bitterly blaming the government.
But the recriminations and grief masked more complicated questions — questions that have dogged the town for decades.
Here, in one of the country's richest archaeological regions — where the ruins of ancient pueblos are tucked into towering sandstone cliffs and "pot-hunting" has been a way of life for more than a century, how should the past be protected and preserved? And who, if anyone, owns that past?
Evil spirits
"Chindi" is how the Navajo describe the evil spirits they believe inhabit the bones and possessions of the dead — spirits that can poison a person or place if they are disturbed, spirits that some believe have poisoned this town.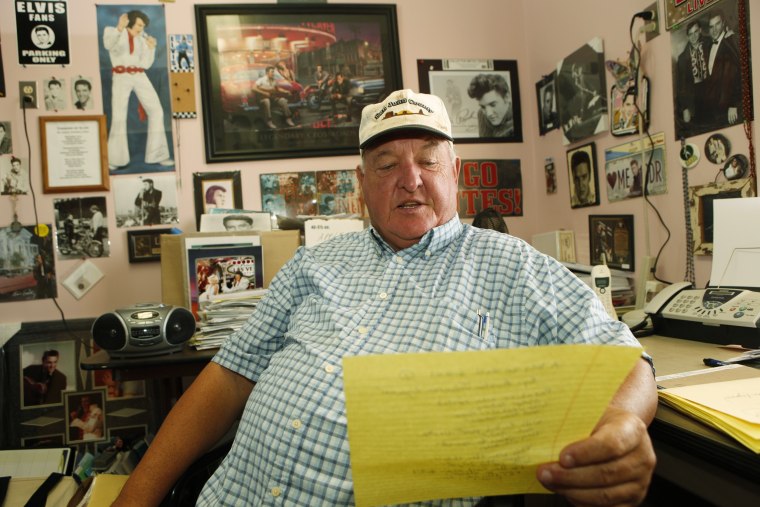 Even Navajo patients who revered Redd spoke sorrowfully of how the chindi had ruined his life. And though many voiced unhappiness about the arrests, there was little doubt the Redds — who had been charged with grave digging in the past — knew they were breaking the law. After the raids, authorities removed two moving vans full of artifacts from the Redd home. Redd's wife, Jeanne, was sentenced to three years probation and a $2,000 fine after pleading guilty to seven counts of trafficking in stolen artifacts and theft of artifacts on government and tribal lands.
It is a felony to take any artifact from public land. There are also laws requiring the repatriation of human remains and sacred ceremonial artifacts to tribes.
But laws can't change attitudes or traditions or make much of a dent in a thriving black market where prehistoric Indian artifacts can fetch hundreds of thousands of dollars. And in the vast cliffs and mesas of these parts, where a handful of rangers from the National Parks Service and the Bureau of Land Management oversee millions of acres, prosecution is practically impossible.
Archeologists like Hurst say it's up to them to try and change "hearts and minds." But there many who believe the arrests have only hardened the very hearts and minds that need to change.
In his senior center office, case worker Austin Lyman voices vehement opinions about the raids in his own unique way:
"Like Jackals from hell they came,
With bullet proof vests and guns,
They came to arrest old men."
Lyman, a burly, ruddy-faced man of 62, penned "Paradise Has Been Raided Again" on June 10, the day of the raids. He reads it aloud, voice cracking with emotion.
Behind him, taped to a cabinet, is a smiling picture of Redd, Lyman's personal physician and one of his best friends. Three of Lyman's brothers — Harold, Dale and Raymond, all in their 70s — were arrested, and Lyman is still bitter about a similar raid in 1986.
Lyman's grandfather, Walter, founded the town in the early 1900s and the family name is one of the most respected in the region. "These weren't hardened criminals or grave robbers, just harmless old men who like arrowheads," Lyman huffs.
Prosecutors paint a far different picture, describing a tight-knit ring that plundered archaeological sites, desecrated Indian graves and stole ancient artifacts, selling them to dealers and collectors connected to the network.
Sting operation
Authorities won't comment directly on the investigation. But court documents describe a 2 1/2-year sting in which undercover informant Ted Gardiner, wearing wires and taking photographs, ingratiated himself into the network, spending more than $335,000 on Anasazi pottery, ceremonial masks, a buffalo headdress, jewelry and sandals associated with ancient burials.
With the FBI watching every move, Gardiner (identified only as "the source" in documents, though his identity is well-known in town) infiltrated a secretive world of diggers and dealers who looted by moonlight, flew in small planes searching for ruins, and thought nothing of kicking out skeletons and skulls. He paid suspect David Lacy more than $11,000 for a digging stick, a turkey feather blanket, and a menstrual loincloth, among other items.
Lacy's brother is San Juan County Sheriff Mike Lacy, who called the raids "the biggest grandstanding stunt I've ever seen in my life," and who has demanded a formal investigation.
"Blanding will never get over it," he says.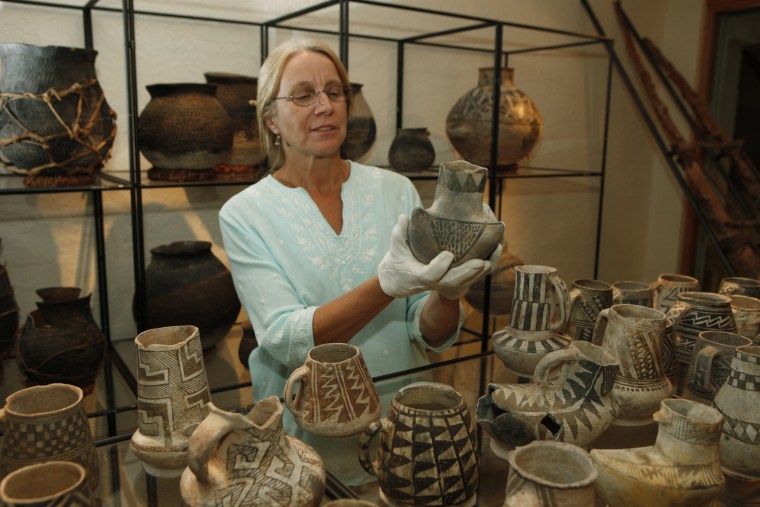 The Edge of the Cedars museum is filled with cases of exquisitely decorated pots, baskets, tools and jewelry — one of the largest collections of Anasazi artifacts in the Southwest.
Most displays have an official note identifying the artifact, describing where it was excavated, and the era it dates to. But the largest collection of ceramic pots — dazzling in their colors, shapes and geometric designs — has a note that states "Provenience Unknown."
Though the collection is stunning, it is worthless in an archaeological sense.
"When things are looted you lose the context and the story of the piece in addition to the archaeological record," curator Marcia Hadenfeldt says.
There are signs throughout the museum explaining the laws, exhorting visitors to be good cultural stewards by leaving artifacts in place. "This is not just a good thing to do," the signs say, "it is the law."
There are dozens more artifact collections around town, in private homes, in trading posts, some from legitimate collections and dealers. It is legal to own artifacts that have been in circulation for decades, before laws protecting them were passed.
Bob Hosler's Thin Bear Indian Arts trading post is crammed with traditional Indian jewelry, arrowheads, baskets and pots. Some are ancient artifacts that Hosler, 75, says he found on his property. Others he has owned for years.
"It's not moral to dig in graves, but you can find this damn stuff everywhere," says Hosler, who calls the raids "government entrapment of old men."
Like other traders, Hosler believes illegal digging will persist because it's ingrained in the local culture and because the market is so lucrative. High-end galleries in Santa Fe can sell Navajo blankets and kachina dolls for hundreds of thousands of dollars. There are dozens of sites selling Indian artifacts on the Internet. As recently as May, Sothebys auctioned a classic Navajo blanket for $53,000.
The raids have only cemented attitudes about pot-hunting and about federal interference, Hosler says, as a couple of Navajo traders, bearing trays of jewelry, walk into his store.
"We were taught not to touch artifacts, not to dig, to leave the dead alone," says Melinda Cottman, 38. "To do otherwise is to bring sickness and bad luck."
"We all own the past," argues Ramona Morris, spokeswoman for the Antique Tribal Art Dealers Association, which represents collectors and dealers around the country.
Morris, a collector from Virginia, says the raids sent a chill through association members, many of whom have been dealing in artifacts for decades. Though they can claim legitimate title and scrupulously follow the laws, she says, they fear the entire industry has been branded as unscrupulous, and criminal.
She describes collectors as "caretakers" trying to preserve a collective heritage.
Desecrating graves?
Many Navajo disagree.
In his gallery in Bluff, 25 miles south of Blanding, Navajo artist Curtis Yanito, 42, has no sympathy for pot-hunters or collectors. He is impatient with those who argue that digging used to be legal; slavery was once legal, too, he says.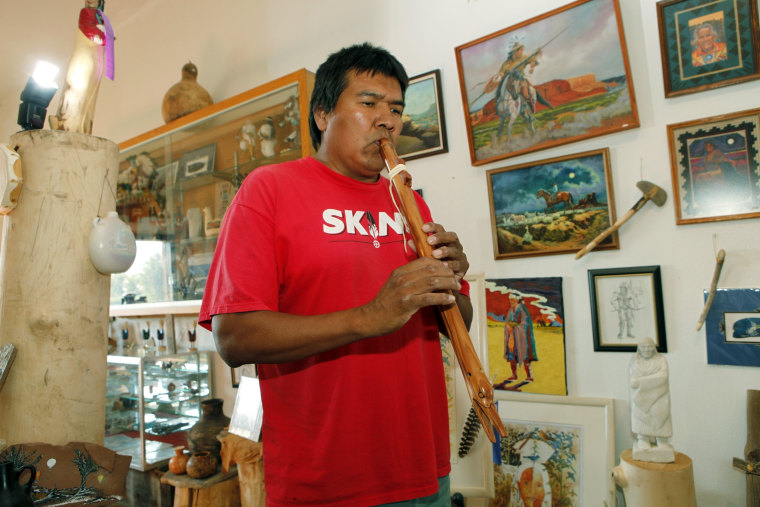 Yanito's gallery is filled with beautifully crafted contemporary pieces — traditional blankets and bowls, sand paintings and jewelry, most of it handmade by Yanito's extended family. There are no prehistoric pots or arrowheads. Yanito wouldn't dream of entering a ruin.
"The cliff dwellings are ALL grave sites and everyone knows that," he says.
Yanito grew up in a traditional hogan on the nearby reservation where he still lives. He knows the history of the region as well as anyone. He knows the laws designed to protect native artifacts and burials — from the 1906 Antiquities Act which introduced penalties for people taking artifacts without permission, to the 1990 Native American Graves Protection and Repatriation Act (NAGPRA), which called for the return of ancestral remains, burial objects and cultural items.
And he knows the objections of dealers — that NAGPRA is too vague, that its penalties are too great, that any tribe can claim an object is sacred and demand it back.
Yanito believes that all ancient artifacts, ruins and burials — including those on private lands — should be left undisturbed. Why should individuals be entitled to artifacts? he asks. Why should someone think it is OK to own an ancient menstrual cloth, he continues, his voice filled with disgust. "That is pure evil."
Yanito picks up a handcrafted traditional flute and starts playing, a slow, haunting Navajo tune about living in harmony with nature, and with each other.
There is no harmony when there is looting, Yanito says, after he finishes. There is no harmony in Blanding these days.