President Bush is campaigning Saturday for two Republican gubernatorial candidates trying to replace Democrats in tight races in Mississippi and Kentucky. In Southaven, a car penetrated the security perimeter around the arena where the president was speaking and rammed the building. Bush was inside the building when the incident happened and was not hurt.
BUSH'S DAY PLANNER in the South includes appearances in Desoto County and Gulfport, two GOP strongholds on either end of Mississippi, to lend support to former Republican National Committee Chairman Haley Barbour, who is trying to unseat Democratic Gov. Ronnie Musgrove.
"I'm proud to stand with this man," Bush said.
"He's proud of this state, and that's the kind of governor you need — somebody who relates to people from all walks of life," said Bush, who was greeted by supporters who chanted "Four more years! Four more years!"
Thousands of people jammed to the rafters the sports arena where the rally was held. Along the front rows, audience members screamed their support for Bush and Barbour through plexiglass boards left over from a hockey game.
Barbour walked to the edge of the stage and said Bush was in Mississippi to pay off an IOU, reminding the crowd — and Bush — that he had supported Bush's gubernatorial campaigns and his presidential run in 2000.
Bush's Texas twang got thicker as he addressed the Mississippi crowd.
"He's reaching out," he said, talking about Barbour. "He understands his job is to represent everybody when he gets to be the governor in three days."
CAR RAMS BUILDING
The vehicle rammed the building shortly after Bush spoke.
Authorities swarmed the car with weapons drawn and took away the driver, a woman, and three children who were with her. The president left the arena shortly afterward from an exit about 40 yards from the car.
No shots were fired from or at the car, White House spokesman Trent Duffy said. "There was a vehicle that did crash into the side of the building," Duffy said, although it was "not close" to the president's car. Bush was kept a room inside the center until the situation was brought under control, Secret Service spokesman Ann Roman said in Washington.
"The president was never in any danger and is keeping with his schedule," Duffy later told reporters aboard Air Force One as Bush flew to Paducah, Ky.
He would not say whether Bush saw what happened or say what the president's reaction was.
Roman said the driver failed to obey police commands to stop approaching the building.
The woman was not immediately identified. A witness, Linda Neeley, 40, a teacher from Horn Lake, Miss., said the woman was white, 35-40 years old, with blonde hair. She said the children, all boys, were about 10 years old.
LONG DAY OF CAMPAIGNING
The president is fond of saying, "The political season will come in its own time." Saturday seemed to usher it in officially: Bush's day of campaigning, door-to-door, was be 13½ hours.
In Kentucky, the president was to visit Paducah and London to lend support to Rep. Ernie Fletcher, considered the Republicans' best chance in years to capture governor's office it hasn't won since 1967.
Victory for both candidates on Tuesday would raise the number of Republican governors to 29, including California Gov.-elect Arnold Schwarzenegger, to the Democrats' 21.
RNC Chairman Ed Gillespie says the apparent strength of Barbour and Fletcher — they're ahead of their Democratic opponents in most recent polls — is a good sign for the Bush-Cheney team in 2004. He stops short of suggesting a national wave of support for Republican candidates because of Bush's standing, but he says he's confident about the GOP's chances in Kentucky and Mississippi, and a runoff election in Louisiana Nov. 15.
White House press secretary Scott McClellan twice dodged questions Friday about whether Bush is risking political capital by inserting himself into governors' races in two states he won handily in 2000 with more than 55 percent of the vote.
This is Bush's fifth trip to Kentucky and third to Mississippi.
"The president strongly supports those who share his compassionate conservative philosophy, those who are committed to improving education and strengthening our economy and committed to reaching out to faith-based groups to help people in need," McClellan said in Crawford, where Bush is staying at his ranch.
A GOP victory in Kentucky would hand Republicans the governorship for the first time in three decades. Fletcher is promoting himself as an agent of change to Democratic incumbent Gov. Paul Patton, who is barred from seeking a third term. His Democratic opponent, Attorney General Ben Chandler, is trying to convince voters that he stands apart from Patton, who admitted to an extramarital affair and is being sued by a former mistress.
In Mississippi, the GOP has dispatched Republican leaders throughout the state to help Barbour unseat incumbent Musgrove.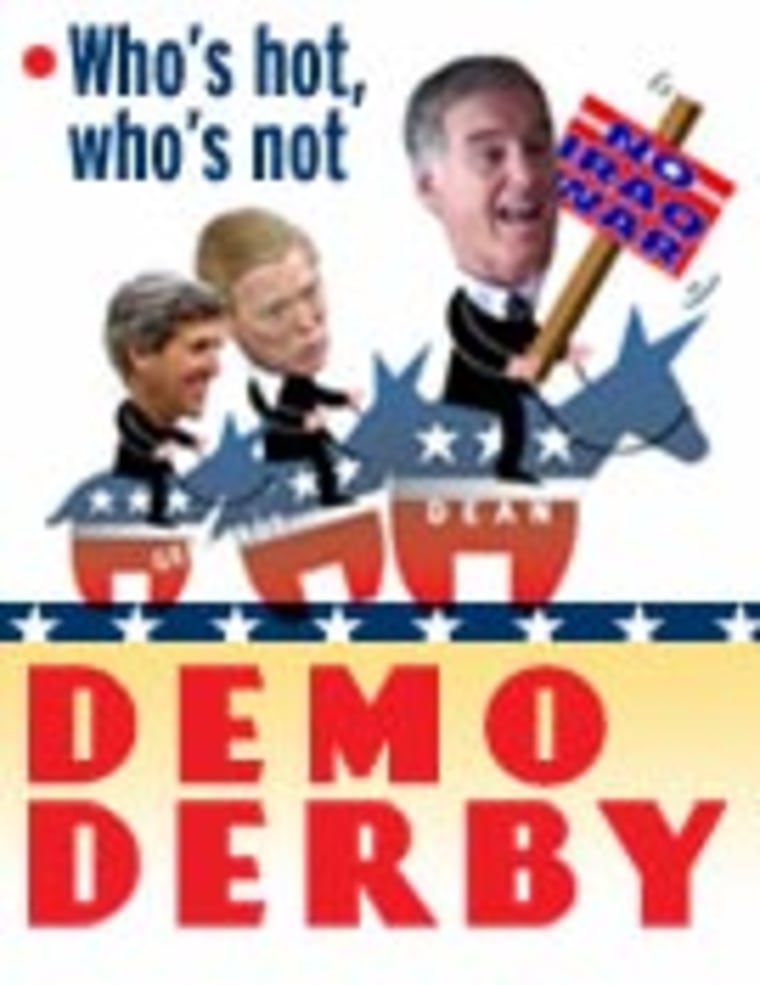 Among the backers: Vice President Dick Cheney, former Senate Majority Leader Bob Dole, former New York Mayor Rudolph Giuliani, former Rep. J.C. Watts of Oklahoma, Sen. Elizabeth Dole of North Carolina, former White House press secretary Ari Fleischer and Florida Gov. Jeb Bush.
Musgrove countered Bush's visit by promoting his candidacy in the Democrats' weekly radio address Saturday.
"Our leaders need to vigorously go about the business of uplifting our economy, creating jobs, improving education for our children, making prescription drugs more affordable and fighting for our troops," the Mississippi governor said.
"And they need to fight for these things as hard as they fight on the campaign trail."
© 2003 Associated Press. All rights reserved. This material may not be published, broadcast, rewritten or redistributed.