John Edwards and I have little in common. He's rich, I'm not. John Edwards is a trial lawyer and a United States Senator. I'm neither. John Edwards wants to be president. I don't. But he and I do share one special bond — "Harold and the Purple Crayon."
IN A RECENT campaign Web site blog, Edwards wrote this:
"This morning, Saturday morning, before I left for the airport, it was my turn to interrupt Emma Claire and Jack while they were watching a cartoon. 'Harold and the Purple Pig,' I thought Emma Claire said it was, although after a couple of comments from me, she set me straight: 'Harold and the Purple Crayon.' I wasn't paying much attention to Harold, for it took me some time before I noticed that the cartoon characters were speaking Spanish — Univision or Telemundo, I guess — and yet the children seemed completely absorbed until Emma Clare wailed, 'What are they all talking about?' But Jack didn't mind and he remained glued to the set. I asked him if he spoke Spanish. 'Only on hay rides,' he said without taking his eyes off the screen. I turned to Emma Claire for an explanation, and she shrugged."
What's Edwards talking about in there? Here's the back story: Emma Claire is Edwards' 5-year-old daughter. Jack is his 3-year-old son. That leaves Harold. Who's Harold and what's this about a purple crayon? Here's how the HBO Family Web site explains it:
"'Harold and the Purple Crayon' is an Emmy-award winning 13-part HBO Family series centered on Harold, a curious 4-year-old whose imagination — and ubiquitous purple crayon — lead him into a world of his own invention. Each episode of "Harold and the Purple Crayon" revolves around a theme or issue pertinent to 4-year-old Harold and the preschool audience: curiosity about nature, independence and exploration, fears, and so on. Like all young children, Harold needs to explore in order to learn and grow. His development comes through trial and error, as he takes risks and overcomes obstacles."
HUGE FAN I'm a huge "Harold and the Purple Crayon" fan. He fascinated me growing up. It was the most influential book of my childhood. And I want my daughter, who's only a few weeks old, to watch the show, too — and not just because Sharon Stone is the narrator. And I want my daughter to read and re-read the book, which I hope Edwards' kids are doing.
(By the way, my daughter just got her Social Security card. I don't have the heart to tell her that Social Security won't be around in 67 years. I'll tell her to make her retirement plans based on the tooth fairy.)
I admire John Edwards for raising kids who embrace "Harold and the Purple Crayon" — even more so for tackling the Spanish version. It's a great way to understand the world. And to understand their daddy's presidential campaign.
Here's how each story typically begins: "One evening, after thinking it over for some time, Harold decided to go for a walk in the moonlight. There wasn't any moon, and Harold needed a moon for a walk in the moonlight." So Harold draws a moon with his purple crayon. He uses his purple crayon again for this part: "And he needed something to walk on. He made a long straight path so he wouldn't get lost. And he set off on his walk, taking his big purple crayon with him."
EDWARDS NEEDS A CRAYON That kind of initiative can likewise rescue Edwards. Sometimes, watching John Edwards in action, you almost wish he had a magic crayon. Imagine this. He tells the crayon: "Draw me a third-place finish in Iowa. Write off New Hampshire. Then scribble a purple line that will magically set me off on my walk right to South Carolina on Feb. 3." And the crayon complies. Maybe the magic crayon also draws a few more rich trial lawyers to keep the campaign plane fueled.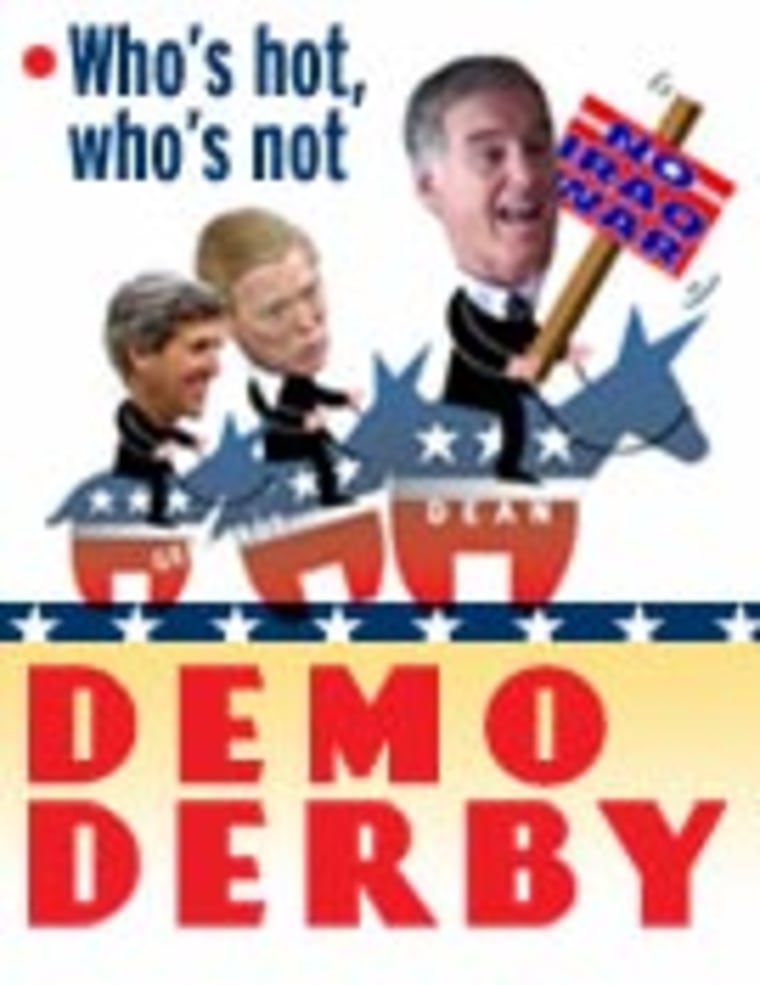 That's not merely a dream. John Edwards is Harold. Both get bored just sitting around — Harold is 4 years old, roughly the same amount of time Edwards spent in the Senate before setting out for the White House. Harold wants to explore, just like Edwards wants to campaign. And Harold is typically all by himself being ignored, which pretty much sums up Edwards' poll numbers.
A WONDERFUL TREND Edwards has set a wonderful trend here. All presidential candidates should mention children's books and TV shows so we can see how they relate to each other. For example, "Bob the Builder" sounds like Dick Gephardt making an appeal to trade unions and "Sleeping Beauty" sounds like the snoring back rows at that speech. "Baby Einstein" is a young Howard Dean booster reading the Sunday New York Times. "Thomas The Tank Engine" reminds voters of Gen. Wesley Clark's military experience, and hopefully not Michael Dukakis' fateful ride in one. And the confusing, unfocused "SpongeBob SquarePants'" title makes you think John Kerry and Iraq.
The only part of Edwards' blog entry that I couldn't comprehend was the part about Jack his son only speaking Spanish on hay rides. Kids can be so random. Or it could be a play for the Latino vote. Daddy's crayon just has to draw a purple line to California.
Howard Mortman, a former editor and senior columnist for National Journal's Hotline, is a producer for "Hardball with Chris Matthews." Tune into "Hardball" at 7 p.m. ET, M-F, exclusively on MSNBC cable.