Democratic presidential front-runner Howard Dean appeared on the brink of a major triumph Thursday, as the nation's largest labor union said it would either endorse him or no Democratic contender when its board meets next week. Service Employees International Union president Andrew Stern said, "It is becoming clear that the passion of the members lies with Governor Dean, and that ultimately the decision before the board will be to either endorse him or endorse no one."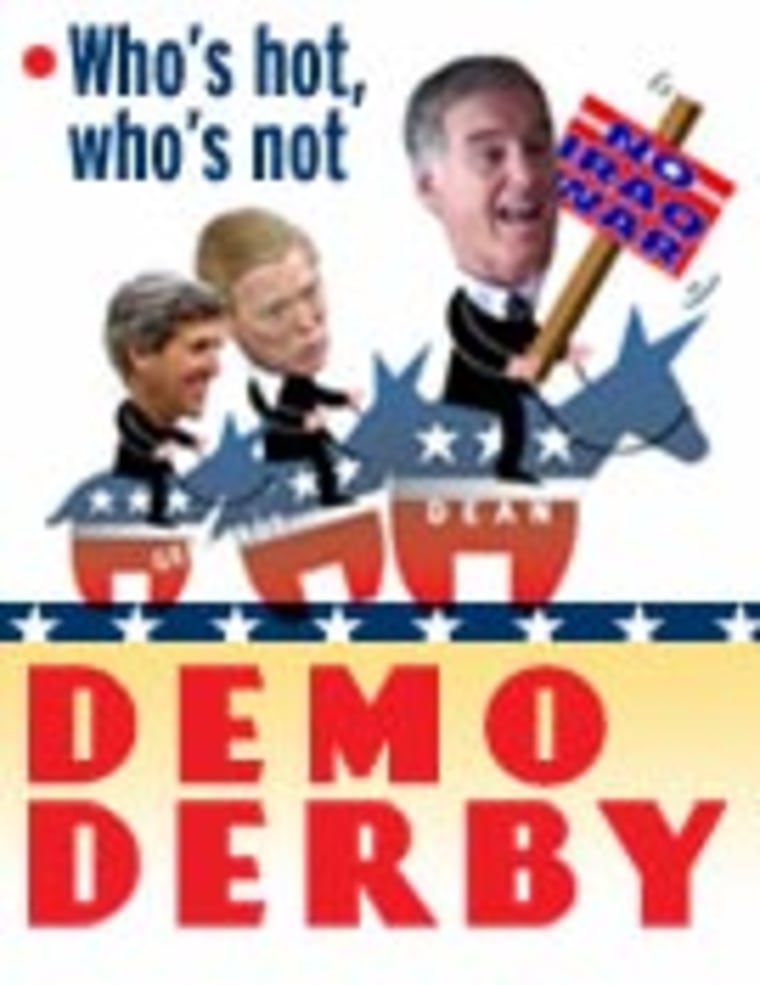 STERN CAUTIONED that until next Thursday's board meeting takes place, "any speculation as to what the result of that vote will be is just that: speculation."
The 1.6 million-member union represents nurses, security guards, janitors and other service-sector workers across the United States.
The union includes in its ranks many Latinos, blacks and immigrants who would add more ethnic and economic diversity to Dean's constituency.
If Dean does get the union's backing, it will give him a major boost toward clinching the Democratic nomination as the contenders sprint toward the first-in-the-nation caucuses in Iowa on Jan. 19.
'SIGNIFICANT EFFECT' "Stern has one of the best political operations in the union movement," said Bob Borosage, co-director of Campaign for America's Future, a progressive Democratic advocacy group with ties to organized labor. "If they gear up and work for Dean, it will have a significant effect in the early primary states."
SEIU has about 3,000 members in Iowa and about 10,000 in New Hampshire, where it is the state's largest union. The New Hampshire primary takes place on Jan. 27, one week after the Iowa caucuses.
Polls in Iowa show Dean in a statistical tie with Missouri Rep. Dick Gephardt, who has long been a stalwart ally of the union movement.
Dean is well ahead of all his rivals in New Hampshire, where his principal opponent is Massachusetts Sen. John Kerry.
A Democratic campaign aide, speaking on condition of anonymity, told MSNBC.com, "All the campaigns have courted the SEIU, but the truth is, this was Dick Gephardt's endorsement to lose. His strategy all along has had two parts: Propose a big health-care plan to win labor backing, and second, use labor muscle to get the nomination. No union has made health care a greater litmus test than SEIU has. Now that Gephardt's on the verge of losing them, it throws his whole strategy for winning the nomination into question."
NO COMMENT FROM GEPHARDT The Gephardt campaign had no comment on the SEIU announcement, but if the union does endorse Dean it will come as no surprise to that campaign or to the others who are battling Dean. At an SEIU meeting in early September, Stern lauded Dean and said his members were enthusiastic about him.
Gephardt has earned 20 major union endorsements so far, but was unable to secure backing from the entire AFL-CIO labor confederation because unions such as SEIU had reservations about his candidacy.
Still up in the air is the endorsement of the American Federation of State, County, and Municipal Employees. AFSCME president Gerald McEntee has had warm praise in the past several months for Kerry and retired Gen. Wesley Clark, but McEntee has made no recent comments about which way the union is leaning.
An AFSCME board meeting is scheduled for Dec. 4 and 5. AFSCME spokeswoman Roberta Heine said a presidential endorsement is "absolutely possible" at that meeting.
Dean, has pledged to repeal all the tax cuts enacted by Congress in 2001 and 2003 to expand health insurance to uninsured Americans.
His proposal would establish a new group insurance option for individuals and small businesses based on the Federal Employees Health Benefits Program. It would also increase the number of children covered under the existing CHIP program.
According to health care financing expert Kenneth Thorpe of Emory University, who has analyzed all the contenders' proposals, Dean's plan would cost taxpayers $932 billion over 10 years.
Gephardt has proposed a more comprehensive plan that would provide a 60 percent tax credit to employers, doubling the size of the current employer subsidy. Employers who do not currently offer insurance to their workers would be required to do so. Workers with low incomes would get subsidies to help them pay the cost of the insurance premiums.
The Gephardt plan would cost taxpayers $2.5 trillion over 10 years, according to Thorpe.
The Associated Press contributed to this report.